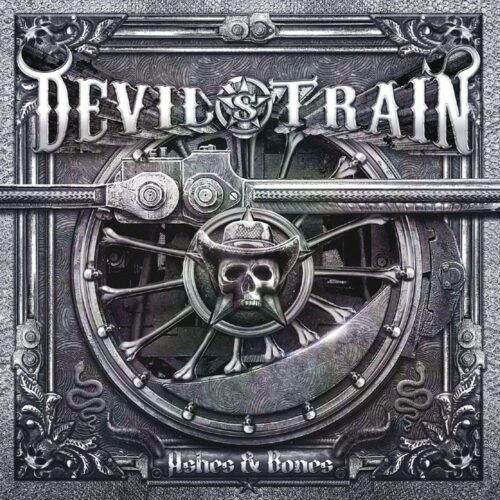 Review | Devil's Train – Ashes & Bones
Rock Of Angels Records
When you write in your biography that you are the European answer to Black Label Society, The Dead Daisies and Black Stone Cherry you automatically raise the expectations to a certain level. Devil's Train is the brainchild of singer RD Liapakis (originally from Greece I believe) who started this outfit some ten years ago when the first album simply called 'Devil's Train' came out, followed by 2015 album 'II'. The current participants in this group are pretty experienced guys. Bass player Jens Becker and guitarist Dan Baune have earned their laurels while drummer Jorg Michael is a true veteran in the genre (he also played on the first Devil's Train record), being once active with for instance Axel Rudi Pell.
AMERICAN TOUCH
When you look at the history of this band and look at some of their older and even more recent clips you will notice a big American rock and metal touch in the looks and music. Sexy chicks galore, raunchy dancers and a certain cocky attitude mostly displayed by vocalist Liapakis sure does not make you think that these boys are European. The music is more 'internationally' based. Hard, rough, aggressive, naughty lyrics and also (especially on their first two records) a bit of a southern bluesy feel right up there in the music.
WORKING FORMULA
I must admit that Liapakis and his boys have developed a good working formula on 'Ashes & Bones'. The approach is simple yet effective and very hard edged. Jorg Michael has always been a power basher and together with Becker he sets a hard rocking base that delivers space and room for Baune to impress with his acrobatics on the six strings while Liapakis sounds rough, aggressive and gritty, but he also has that subtle melancholic touch in his voice. The songs may not always be extremely inventive and at times maybe even predictable (especially on the lyric front) but the pace and relentlessness of songs like the title track (with some slight southern influences), ,,Hold The Line'', ,,Smell Sex Tonight'', ,,Rising On Fire'', ,,Man With A Gun'' and opener ,,The Devil & The Blues'' really appeal.
There is not much wrong with this album that brings us good old hard edged hard and heavy rock with pace, power and a certain cheekiness. Might not be everybody's cup of tea perhaps but every now and then it just feels great to hear a band that has no false pretences and just rocks out and has fun doing it. Because that is exactly what these dudes are doing.
Release date 24 June 2022