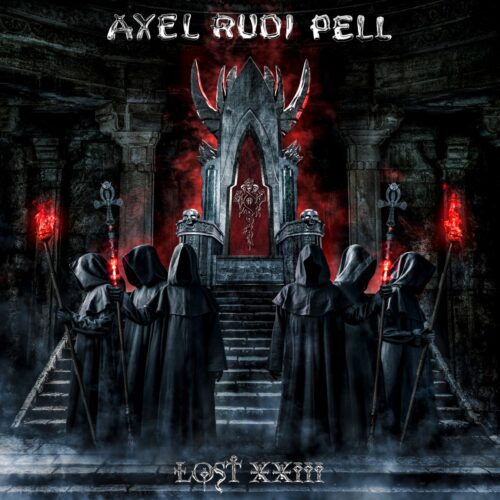 Review | Axel Rudi Pell – XXIII
Steamhammer / SPV
Although I have a fair idea what to expect from a new record of German guitar ace Axel Rudi Pell, I always look forward to hear more and new material from the man and his band consisting of drummer Bobby Rondinelli, bass player Volker Krawczak, keyboardist Ferdy Doernberg and top vocalist Johnny Gioeli. This line-up has been working together for a number of years now, has gelled together and is finally ready to hit the road to promote 'Lost XXIII' and a few predecessors who due to the pandemic had to settle with videoclips and interviews.
BUSINESS AS USUAL
For Axel himself it has been business as usual composing all the songs and sending his ideas to the others musicians with guidelines but also with a certain amount of freedom. His musical style is set with a few nuances here and there but you know that you can count on a relentless portion of melodic classic rock inspired by the seventies and eighties greats. Mister Pell also realises what his fans want to hear so do not expect crazy experiments. But when you listen very closely to this record with its usual instrumental intro, a few up-tempo metal tracks, a scorching instrumental (,,The Rise Of Ankhoor'') and several epic ballads like the gorgeous title track, you will hear some subtle small different accents. And lyric wise there are some different topics as well, it is certainly not all about dragons witches etcetera.
RICHARD GERE
What to think about the ballad ,,Gone With The Wind'' whose lyrics have been inspired by the beautiful movie 'Hachi, A Dog's Tale' starring Richard Gere? The dog always waits at the train station for his master to come home until suddenly, one day the man has a heart attack at his work and doesn't get off the train. Still, for years the dog goes every day to the train station, waiting in vain. It might be a bit of a sentimental movie perhaps but it is very touching indeed. It shows that inspiration for music and lyrics can come from any direction.
HEAVY
After hearing 'Lost XXIII' I have the impression that Axel and company have notched up the heaviness of the music. The first song ,,Survive'' is just a super blaster, as is ,,Follow The Beast''. ,,Rise Of The Ankhoor'' is also pretty heavy with nice interludes between Doernberg and Pell. ,,Freight Train'' is more power orientated dominated by a great vocal melody by Gioeli. Add a solid drum and bass combination, some killer riffs by the master and yet again we are treated on some good old fashioned melodic power rock like only Axel Rudi Pell seems to be able to produce these days.
There also must be a compliment for the power production, this record just blasts out of your speakers. To all the Pell critics who say that each album sounds the same I would suggest to have their ears cleaned properly and have a good listen. It is obvious that there is no account for taste and this kind of style might not be everyone's cup of tea but it sure as hell is mine.
Release date: 15 April, 2022