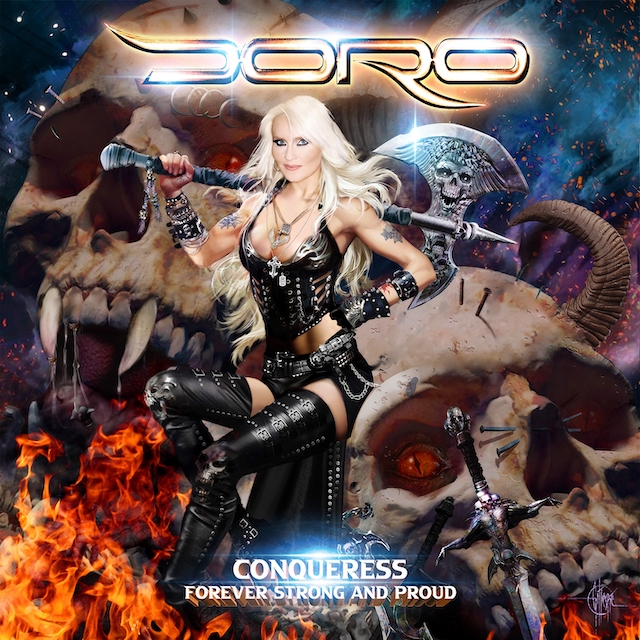 Review | DORO – Conqueress – Forever Strong and Proud
Nuclear Blast Records
On the eve of her big 40th anniversary show in Düsseldorf, Germany, the always smiling Dorothea Pesch aka DORO comes up with a brand-new album. `Conqueress – Forever Strong And Proud' sees the light of day on 27.10, the day before this celebration show.
And honestly, who would have thought that the young lady who sang on the legendary Warlock album`Burning The Witches' would still be at the top of the hard and heavy music scene 40 years later. The singer has a fighting spirit and perseverance that many an artist may cut themselves a slice from. Undeterred, Doro has built a discography that many metal fan enjoy. She and her band regularly play venues across the globe and DORO is a welcome act at the festivals.
LOYAL FANBASE
But what can we really expect from this new album. In any case, no new paths are taken. It is just yet another album from this Metal Queen. Of the 20 songs [that includes the bonus tracks], a few will again stick around for her live gigs and fans will probably enjoy this new ammunition.
DORO is a popular act due to her recognizable voice and presence. In addition, she is also one of the sweetest persons walking around in this business. Is the music for everyone's ears? No probably not, but that doesn't really matter at all, because DORO has such loyal fans that this album will also find its way again.
DUETS
The fact that DORO is also an artist that people like to work with is again evident in the duet with the Metal God himself. Rob Halford together with DORO sings the Priest classic ,,Living After Midnight''. There is also a duet with Broilers vocalist Sammy Amara in the form of ,,Bond Unending''. We also find a cover version of Bonny Tyler's ,,Total Eclipse Of The Heart'' and, among the bonus tracks, a version of Metallica's ,,The Four Horsemen''.
What connects all the songs is above all the voice of the Queen herself and with ,,Fels In Der Brandung'' she has delivered another anthem with elements of the German mother tongue. Whether this one will be sung along as loudly as her classic ,,Für Immer'', I do not know, only time will tell.
DORO – THE CONCLUSION
You can think whatever you want about this power woman, but in every product she delivers, she puts her heart and soul. Everything is done to perfection. The same goes for her live gigs! And DORO should be immensely proud of that. Quality is always paramount for her and especially for her fans, because in the end that is what she does it all for.
Release date: 27 October 2023
About
German singer/songwriter Doro Pesch, aka Metal Queen, is active in the music scene since 1980. She started her career as lead singer of the German heavy metal band Warlock and released 4 studio albums between 1984 and 1987. In 1989 she released the album `Force Majeure' under her own name and has been successful as a solo artist ever since.
Genre
heavy metal
Website
https://www.doromusic.de/
Social
Tags