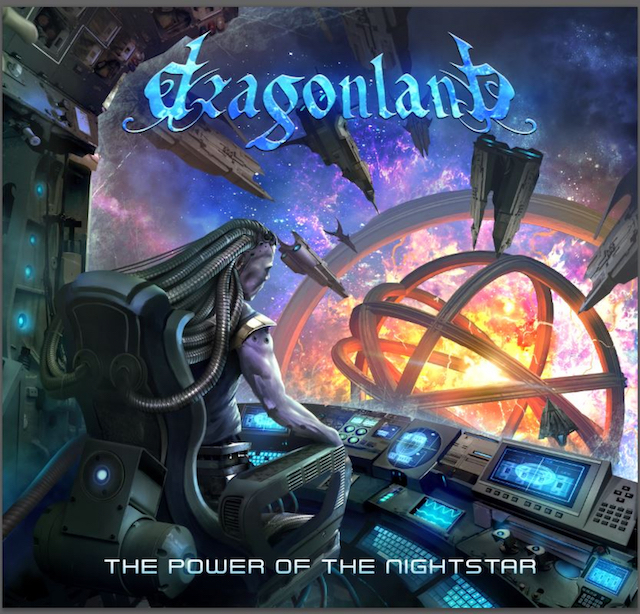 Review | Dragonland – The Power Of The Nightstar
AFM Records
After an eleven years hiatus Swedish melodic power metal band Dragonland return with their sixth studio album 'The Power Of The Nightstar'. A sci-fi concept album, telling the gripping story of a people astray looking for a new place to live throughout a hostile universe. 'The Power Of The Nightstar' (beautiful title by the way) kicks off with ,,The Awakening", a short orchestral overture, featuring strings, a choir, and a narrator, who introduces the story. Follow up ,,A Light In The Dark" is a typical Dragonland track. A fast-paced melodic power metal one, filled with speedy guitar solos, howling keyboard solos and impressive, dramatic vocals by Jonas Heidgert.
RHAPSODY OF FIRE
After these two songs, one band comes to mind and that is Rhapsody Of Fire, as the sound and compositions of Dragonland really have lots of similarities with that Italian band. ,,Flight From Destruction" is a fast track featuring those typical galloping rhythms which are a real trademark of all melodic power metal bands.
ELIZE RYD
,,Through Galaxies Endless" features a slower tempo and almost sounds like a true power metal ballad; the vocals here are emotional/dramatic and the guitar solo is soaring. The title track is again a typical Dragonland song, meaning an opulent power metal song with an addictive melody and anthem like chorus. ,,Journey's End", the longest track on the album, features a duet between singer Heidgert and Elize Ryd of the notorious band Amaranthe and it is a sombre power ballad featuring an outstanding soaring guitar solo!
SPACE ROCK
,,Celestial Squadron" is not a typical Dragonland track as I would describe it as a space rock song with a mean and lean Yngwie Malmsteen-like guitar solo, while ,,Oblivion" is also a standout track, featuring lots of variety in tempo and musical mood and atmosphere and in this track singer Heidgert really shines! A beautiful melodic track which ends with a dramatic piano passage/melody and so this album comes to an end after 66 minutes of 100% pure melodic power metal.
GEM
'The Power Of The Nightstar' is a musical gem but maybe the album is just a tick too long to keep your attention from the beginning till the end; but still highly recommended and again my cliché, play it F… LOUD!!
Release date: 14 October 2022