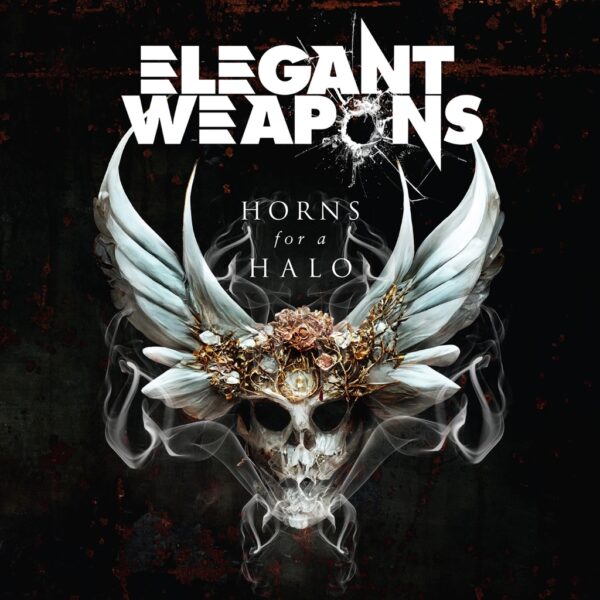 Review | Elegant Weapons – Horns For A Halo
Nuclear Blast Records
Already announced in 2022 here we have the debut album of the new 'super group' Elegant Weapons featuring Judas Priest gunslinger Richie Faulkner, Pantera bass player Rex Brown, powerhouse Scott Travis (Judas Priest) and the inevitable Ronnie Romero on vocals. For the gigs that are about to follow Travis and Brown are not available with Uriah Heep's Dave Rimmer on bass and Accept drummer Christopher Williams announced as their replacements. They jumped into the studio with star producer Andy Sneap (also guitarist with Judas Priest) and have come out with at least a superbly sounding metal album.
SUPER GROUP
When musicians who have earned their laurels throughout the years with famous bands decide to form a new project and get called a super group (by members of the press or by their record label) l already have my horns up as most of them do not bring home the bacon with some exceptions like for instance Bad Company and Cream. In this case things are a bit different as first song ,,Bitter Pill'' is a fine and blasting metal song where the group is firing on all cylinders. Great riff and Romero doing his stuff. The same goes for ,,Blind Leading The Blind''. Sure, with three current Judas Priest members involved on guitar, drums, and production the music has a certain Priest feel but just a copy? Certainly not.
MODERN METAL ALBUM
'Horns For A Halo' sounds like a modern metal album with an immaculate and pounding sound, there can not be any doubt about that. Yet it has classic features as well. With the 7 minute plus lasting ,,White Horse'' Elegant Weapons really excel and even a fat version of UFO's ,,Lights Out'' sounds very convincing (not strange as Romero most likely has sung this track often while performing with Michael Schenker). While hearing the album it comes over as a thing that has been written to be performed live as well. In fact, the more I hear this album, the better it becomes. It just grows on you. For once Elegant Weapons does justice to the term super group!
Release date: 26 May 2023