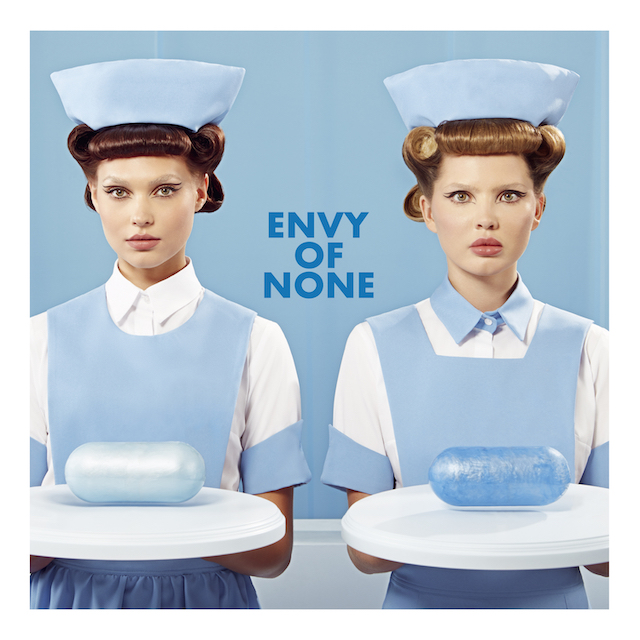 Review | Envy Of None-Envy Of None
Kscope
Hailed as the newest endeavor of Rush guitarslinger Alex Lifeson, the Envy Of None debut might disappoint devoted followers of the Canuck trio. Envy Of None pushes boundaries and explores the musical universe in other directions than fans expect. The band rotates around the insane talents of keyboardist/singer-songwriter Maiah Wynne, pushed forward as the beating heart and soul of this project. Put together by longtime friends Lifeson and ex-Coney Hatch' Andy Curran, and accomplished recording engineer Alfio Annibalini, Envy Of None captures the widest array of musical craftsmanship. Wynne opened up their sonic puzzle and widened the creative horizon in creativity and sonic range.
MAIAH WYNNE
Opening with pulsating tech-beat and welling keys Maiah takes the spotlight in the first track ,,Never Said I Love You''. Her mesmerizing voice adds to the atmosphere. Somewhat light-footed it rolls into an ear mingling poppy chorus. Wynne displays spot on drama in this captivating performance. Her presence is comforting as it is melancholic appealing. Echoing vocals and narratives repress the driving guitar. Lifeson certainly adds nice fuel to the lingering fire. Reverb on his typical 80s tech-sounding licks fall into place perfectly. The beat is clinical with Curran's loud bass pumping onwards. It all is the upbeat to the poppy discomfort of the following ,,Shadow".
Wynne revealing a deeper and darker tone shading her vocals. Meandering structures with lush rhythm and tribal-ish downbeat. Dominating keyboard and sound effects. Synthpop and 80s tech wave interlaced with scarce prog-layered beats. Depeche Mode blended with a 00s techno feel, like for instance; Blue Boy. The song dies out like a vinyl record reaching its end, colliding modern day tech with its captured analogue feel.
MELANCHOLY
,,Look Inside" 'helicopters' in with a sudden dark gloom abruptly molding it into form with guitars and keys in close harmony. Multiple layers perfectly balanced in the mix. Oozing the same ethereal linger as previous tunes but with a much darker ominous tone. Floydian at times. Echoing in distorted loneliness. Frail is Maiah's vocal delivery, shaping the drama in an almost sensual way. Much like see soothes the pain of the void seen looking inside. Curran's bass again scatters in fuzz tone underneath the ebbing and welling melancholy culminating with the distressed sax at the end. Lifeson's guitars hoover with loads of reverb. The song's moody video hoovers in wavering loneliness outlining the overall tempting direction of this debut.
Envy of None first (video) single ,,Liar'' is up next: Fusing light industrial electro beat with atmospheric hoovering guitars and fuzzy bass lines. Again, Lifeson's pedal board paints the sonic picture over dominant keys. He's exploring his boundaries, emphasizing his experimental being as prog guitarist. Droning onwards the song is invoked with life by Wynne's withering vocals. Switching registers and comfort, she reminds me of a less awkward Björk offspring, while also touching the 90s Replica and Garbage vibe. Lyrics certainly touching base here with Maiah's star rising.
GREAT GUITAR WORK
Suddenly the music shifts shape with the guitar driven ,,Spy House". Staccato stop 'n go riffs and hoovering multi layered guitar escapades fused with the plopping bass are creating a transparent but dense soundscape. Wynne whispers over the welling sound spectacle unleashing an impressive low tuned solo adding to the experience. Jazzy, whammy, sharp and pointy, much like the abrupt end of the song. *hit replay*
,,Dogs Life''; Rammstein keyboards droning a mechanical repetitive beat. Drum scatters and keyboards in vivid tapestry echoing left to right over the channels. Beat intensifying Maiah's vocal delivery shifts dominance and diversity. Over the loud mid-section, she distracts with repetitive 'chants' repress a tedious industrial loudness and heaviness. More dreamy structures and deep layers of dense orchestration uplift it.
BLUES AND POWER POP
From his personal website hails ,,Kabul Blues", a song previously released by Lex. Different tone, fused with the gracious vocals and eloquent tone the song rolls out in sheer magnificence. Modern Pink Floyd elements cemented by typical sturdy bass lines and buoyant keyboard lines floating the room. Lifeson's indelible light riff and bluesy lead make the song a sheer delight.
The electronic opening of ,,Old Strings" brings us back to the front. The beat is clinical while chants are breathing life into the track prior to Maiah taking point once again. Clean voice, frail and emotional. Subtle guitars drizzling, the song treads on light-footed paced. Lex' guitarwork intensifying and the beat progressing, the song reveals a power pop exclamation with Wynne showing face as a dominant vocalist. She lifts the track with vocals switching. Her natural voice is absolutely stunning and augmenting its lyrical content, transporting the listener to another dimension.
UPBEAT AND HAUNTING SUSPENSE
More clinical again a dance beat roams ,,Dumb" into position. Perfectly following the trend of upbeat, the track waves synth pop with electronic art. Heavy on bass it pumps onwards. A plethora of layered sounds keep building its tension and the mesmerizing vocals border with pop while the songs melody and bridge are sticky and nesting. Keys welling, guitars stretching notes, subtle and minimalistic.
,,Enemy" darkens the sky. Whispering narrative opening to an ominous pace with scattering darkness. Haunting suspense. Sighs and whispers surrounding a desolate vocal performance by Wynne. Stompy beats and welling keys create a mildly sterile atmosphere blooming with the desolate vocals. Emotion runs higher with Maiah pitching and powering up over the uproar of guitars. Moving back and forth from agony and suspense, suppressed anger radiates over disappointed emotions when Wynne calls out "I'm not your enemy" ending the song.
It opens to the signature acoustic Rush lick from Lifeson. ,,Western Sunset" is his homage to his bandmate Peart. It is an emotional instrumental gripping back to his last visit, with his friend battling cancer. Standing outside watching the sun go down he knew this was his final goodbye. The emotion and feeling captured in this timid track. It oozes the agony, also displaying a light note of a rewarding creative life. Bridging Rush' monumental ,,The Garden" to Alex' new Envy Of None, the momentum of the track sends shivers down your spine, but manages to send you off with a positive feeling of a setting sun.
A MUST LISTEN
It definitely is a must listen for fans of the band, even though the music is not right up your alley for starters. Those lucky to witness one of Lifeson's infamous 'Lerxst' spots will remember him touching base with this inner experimental beast trapped inside his creative mind. Those moments displayed his track blending and ethereal sound effects brought to life underneath wacky vocals and rants. They were merely a step up towards Envy Of None's remarkable music.
The album displays a synergy of styles molded together in a sonic rendition of musical expertise. Very cinematic. Emotions run high as the musical pastry unravels in fine art. Balanced on the top of tech, the experienced artists seize the moment and reveal a beating heart and soul in this mesmerizing musical expedition. Over all this musical creativity it is however the young and talented Maiah Wynne who distinguishes their sound with her emotive and attractive vocals. She manages to capture the right vibe constantly in this musical journey. Orbiting into full spiritual mode, Envy Of None releases a captivating debut shooting Wynne's star over our stratosphere.
Get mesmerized now, HEADPHONES required!
Release date: 8 April 2022