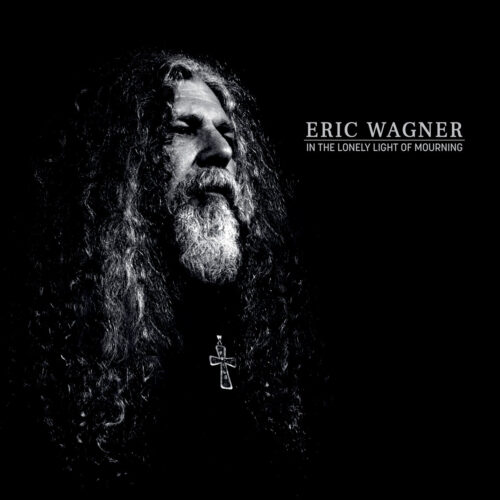 Review | Eric Wagner – In The Lonely Light Of Mourning
Cruz Del Sur Music
When we are talking about doom metal the obvious names come to mind: Black Sabbath (the inventors), Candlemass, Sorcerer, etcetera. All bands from Europe. But the good old USA had something to say in that genre also. Saint Vitus, Pentagram and Trouble were the main bands contributing to the genre. Especially Trouble played an important role with cult albums as 'Psalm 9', 'The Skull', 'Trouble', 'Manic Frustration' (both produced by Rick Rubin who signed the group to his own Def American label) and 'Plastic Green Head' putting the band really on the doom metal map.
SPEARHEAD
Although Trouble never really made the big-time status (there were always problems between the labels and the band) it was safe to say that they were the absolute spearhead of the US doom metal movement. Led by vocalist Eric Wagner the band also was a regular guest in Europe (touring with Dio and also playing on the prestigious Dutch festival Dynamo Open Air). After the departure of Wagner Trouble kept going and is still active but at a lower level. Wagner moved on to form the band The Skull with several ex-Trouble musicians by his side releasing some more critical acclaimed records that did not really changed anything in the status of Wagner. He also recorded albums with the band Blackfinger.
Good reviews he received more than enough but praise do not pay the bills. Somewhere in 2017 Wagner started working on his first solo-album together with drummer/guitarist Dave Snyder (Blackfinger). As they both lived in different states a lot was done from a distance and slowly but surely other musicians (like bass player Ron Holzner from The Skull) got involved adding songs parts and instrumentation.
POSTHUMOUSLY
Around the completion of the album Eric Wagner attracted COVID-19. He was not vaccinated as he did not trust modern medication according to Holzner. The singer died on August 22, 2021 at the age of 62 from complications leading to pneumonia. The album was ready and is now being released posthumously. As the album title already indicates this record is quite sombre and some of the lyrics are pitch dark. But this record with its eight songs sums up what Eric Wagner was all about. A true doom metal musician with some psychedelic twists and turns and in the possession of a characteristic voice. You might remember the 1997 album 'In The Mushroom' that Eric did under the banner LID, a more psychedelic release. Some of the influences of that album can be heard here (,,If You Lost It All''), but also some of the best Trouble, Blackfinger and The Skull features are fully exposed on 'In The Lonely Light Of Mourning'.
Yes, it is a swansong for Eric Wagner and a reminder that the singer was one of a kind. Maybe not acknowledged by a mass audience but admired by true fans of the genre. His legacy is with Trouble, LID, Blackfinger and The Skull quite extravagant and now his chapter has come to a closure with this CD that combines metal with melancholy. Best song? For me the title track with lyrics that might suggest that Eric Wagner knew what was awaiting him. Macabre on one side, but extremely touching and moving on the other. Eric Wagner made his mark on doom metal. His CV speaks for itself. And if you are into doom metal but not really familiar with Eric's career you have got some discovering to do.
Release date: 18 March 2022