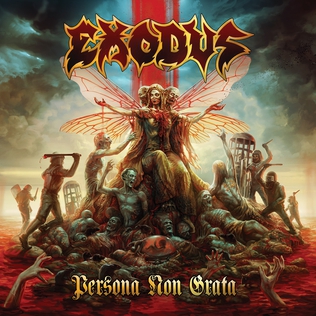 Review | Exodus – Persona Non Grata
Nuclear Blast Records
Exodus has always "operated" in the shadow of the big thrash bands. However, since their "reformation" in 2004 and with all time living legend Gary Holt back full time in the band, Exodus' 11th studio is a real heavy, thrashy gem! 'Persona Non Grata' is filled with soon to be classics. Just check out one of their shortest songs ever called ,,The Beatings Will Continue (Until Morale Improves)'', which is extremely fast, very energetic and a soon to be live staple as it is very intense with a guitar riff that will blow your head. So advice: play it f….. LOUD! The title track, clocking in at 7:30, begins with an awesome riff, followed by the typical screaming, searing vocals of Steve Zetro Souza, while the following riffs are mean, seething and dirty as hell.
THRASHY GEM
,,Slipping Into Madness" is another thrash highlight. The intro is slow, but Souza's vocals dominate this track while the epic guitar solo kicks you in the teeth wanting more! ,,Cosa Del Pantano" is a very short flamenco-like inspired acoustic intermezzo, followed by another really heavy thrashy gem ,,Lunatic-Liar-Lord". The lyrics on 'Persona Non Grata' deal with modern social disgust, degradation and the segregation in our modern society. Some of them are really "nasty", especially in ,,Prescribing Horror".
So, is this a classic Exodus album? Yes it definitely is. But I think that over an hour length in playing time is too much as the album tends to become too exhausting and you start to feel numb, especially after the six-minute ending track ,,Antiseed"… However, for Exodus fans and true die-hard thrash metal fans 'Persona Non Grata is a MUST, buy or die!