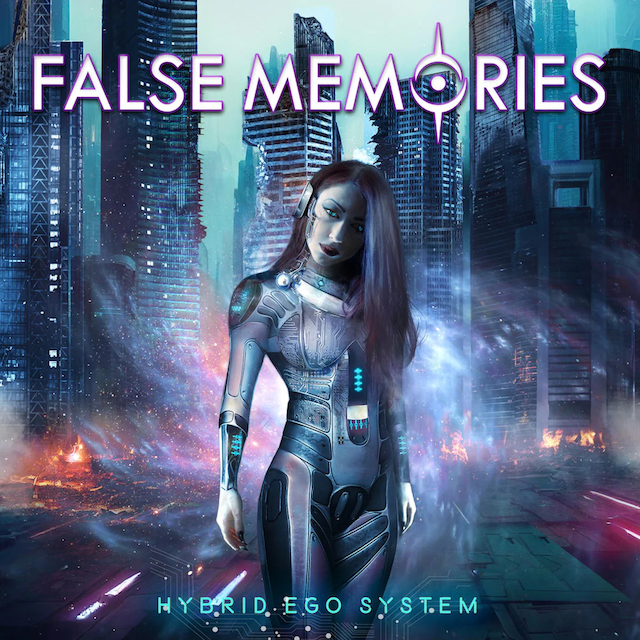 Review | False Memories – Hybrid Ego System
Frontiers Music Srl
False Memories had garnished solid reviews with their debut `The Last Night of Fall', spotlighting the skills and talents of creator Francesco Savino (Demons Down, T3nors) and vocalist Rossella Moscatello. Embellished in the darker metal caverns, the album tends to grow and gather momentum towards this new `Hybrid Ego System', frolicking onwards with expanded marksmanship. Stepping up for album number two, Moscatello and Savino raise the bar.
ORIGINALITY
Though many will hail the collaboration between Anette Olzon (ex-Nightwish) and Moscatello, I tend to label it as a false start of `Hybrid Ego System' as it subdues Moscatello's originality in a duet that is out of balance vocally. Yes, I start off complaining! I do so because False Memories has too much originality on offer with Moscatello at the helm. She brings in an original edge that borders with Amy Lee and other genre-greats like Simone Simons. Her melodic pitches are pristine and her lower register marks winding depth for Savino to craft with. The dynamic outcome transcends many leaving the listener baffled. ,,Holding On", ,,Rise Again" and ,,From Dust" are genre specific, yet balance melodic metal and see frequent raw power surges with either anger-laden grunts or progressive drum and bass injection amidst classic metal riff drive.
,,Rising Tide" is choke full of modern vocal effects, and has Rossella working an epic melodic discharge while constantly belting out the anger-laden hysteric chants. Anger casted, the song progresses with ominous pace over wonderful drum and bass wallop, with guitars drizzling hail. Like Black Sabbath is warped into the modern era, ,,Concrete" is a brick hitting with doomy groove and wail.
CINEMATIC MELODIES
Checking in melodically ,,The Other Side" and ,,Strains" echo with cinematic melodies and nesting choruses in slower pace, displaying Moscatello's exquisite range. ,,Insanity" is opened with Queensrÿche reminiscent meandering guitar melody lingering into the sudden exploding riff and refrain. The song builds momentum with Rossella belting out a powerful vocal job to harshly revert to its melodic grace frequently during the warming solo and dying notes.
Making their own styles collide, ,,Fragments of Your Ego" displays the band's creativity. With Savino constantly dropping staccato riffs atop the stripped melodic structure, the song gains stride before falling back on sinister frail melodies. Especially midway when piano takes over, the song twists into form with musical accolades and cinematic pretentions. Savino radiates creativity and Moscatello gladly accepts the vocal challenge bringing her entire range to the front. It is powerful as much as subtle, daunting and sonically meandering in grandeur.
FALSE MEMORIES – THE CONCLUSION
`Hybrid Ego System' closes with the mandatory slow mover. A colorful chanted song with lush orchestration and plucking guitars atop the jazzy drum and bass groove.
Savino displays creativity allowing Moscatello to radiate her vocal wonder. It sounds coze familiar, yet also brings a unique tone to the front. AOR structures are injected with modern dark metal instrumentation, pitching epic symphonic allure both ways. The album will attract a wide range of fans, once they accept the challenge of opening up. False Memories certainly presses for growth and I'm convinced Savino and Moscatello will further raise the bar to astound listeners and fans.
Release date: 9 June 2023