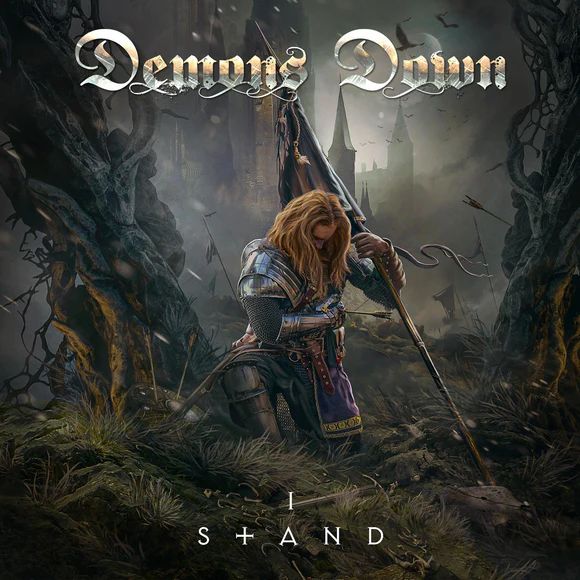 Review | Demons Down – I Stand
Frontiers Music srl
Like almost every month is the case Frontiers Records pulls another rabbit out of the hat in the form of a new band where talented musicians have gathered under production of Alessandro del Vecchio and the direction of label boss Serafino Perugino. Demons Down is built around the singing qualities of Chilean James Robledo (who sings in Sinner's Blood and delivered a very good solo-album 'Wanted Man' a few years ago) and Italian guitarist Francesco Savino (False Memories). The support cast of these two boys is quite extraordinary. Current House Of Lords-guitarist Jimi Bell, experienced bass player Chuck Wright (of Quiet Riot and House Of Lords fame) and monster drummer Ken Mary (Fifth Angel, Flotsam and Jetsam and ex-House Of Lords). That is an impressive line-up.
OBVIOUS CONCLUSION ABOUT DEMONS DOWN
The fact that the band is called Demons Down (title of the third of House Of Lords album) and that three current and ex-members of House Of Lords are the support cast leads to one obvious conclusion. With Robledo's voice and sound colour leading the way the music will remind you more than once of the early (and also more recent) days of House Of Lords, led by vocalist James Christian. If you expect any sort of originality in the songs and sound of this album, well…, there is nothing there. That is no reason to just ignore 'I Stand', far from I would say.
You are bombarded with high quality songs and ditto performances. Robledo is absolutely in top form, Bell and Savino impress with stunning guitar work, Del Vecchio has added some colourful keys and Ken Mary is as always Ken Mary. This dude can play any sort of style required in metal and rock. Obviously, he does not have to go off like he does with Flotsam and Jetsam but he gives every record he plays on the desired direction with his immaculate playing, assisted by solid bass lines courtesy of veteran Chuck Wright. As is the case on 'I Stand'.
MY MOTTO
I am pretty sure that several writers and reviewers will describe this album as a cheap copy or even see it as a release that is irrelevant. Maybe they have a case, who shall say? But if you choose to ignore 'I Stand' just because of that I tell you that you are shooting yourself in the foot, in both your feet I might add. Because there are eleven excellent melodic hard and heavy rock tracks to be found on 'I Stand' that have all the necessary ingredients to form an outstanding classic heavy rock album.
You know my motto folks: better a good copy instead of a bad original. Listen to this record with an open mind and I am sure you will be blown away by the overall result. No mentioning of songs in this review as I love all of them! I liked the last House Of Lords album 'Saints And Sinners' but to be brutally honest I like 'I Stand' even better!
Release date: 10 March 2023