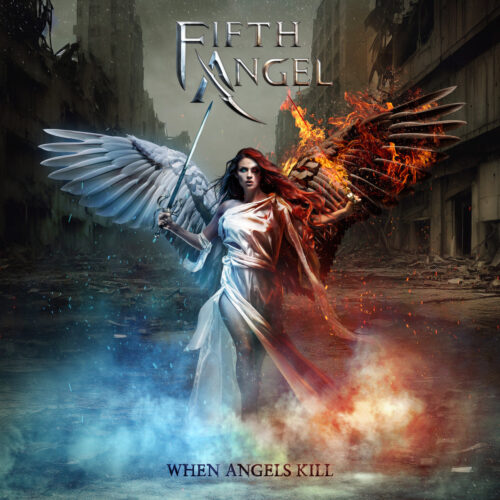 Review | Fifth Angel – When Angels Kill
Nuclear Blast Records
In 2018 Seattle, Washington based formation Fifth Angel made for me the comeback of that year with the album 'The Third Secret', some 30 years after their second album 'Time Will Tell'. Operating as a trio drummer Ken Mary, bassist John Macko and guitarist Kendall Bechtel, who made his debut as lead singer and pretty damn convincing as well, the band delivered a hard rocking melodic metal album, one of the highlights in 2018. But shortly after the release Bechtel left the group which forced Fifth Angel to regroup. The group did that and recruited some new lads including singer Steve Carlson while original guitarist Ed Archer returned to the line-up.
CONCEPT ALBUM
Here we are in June 2023 and we are confronted with the fourth Fifth Angel record which turns out to be a concept album as well, clocking almost 70 minutes divided over fourteen tracks. The main character in the story is called Phoenix and we follow his battles and adventures. You will find that several songs start or finish with a spoken word but be assured that the music stands in centre position. This time the band has chosen for a heavier approach. The Fifth Angel melodic features are still there but as a whole they now sound more aggressive and even more compact, being led by the thunderous drum parts of Ken Mary, the relentless guitar parts and the intriguing vocals by Carlson, who adds some extra aggression and bite to the mix.
SOLID AND DETERMINED
'When Angels Kill' sounds super solid and determined. There is hardly any letting up here as the guitar sound is quite crushing, the tempo upbeat and the energy levels seem to be turbo charged. This is by far the heaviest album in their history. Highlights? ,,Run To The Black'' perhaps with its murderous tempo, Carlson's raging voice and the overall scorching guitar work. But that is pure a personal choice. There is plenty to discover and enjoy on 'When Angels Kill', a modern sounding yet classic featured heavy metal record with substance. A bit different compared with its three predecessors for sure but certainly a record that will shake the foundations in more way than one. Let us hope that 'When Angels Kill' will bring a bit more stability for this extraordinaire outfit and that there is not again a five year gap between albums.
Release date: 16 June 2023