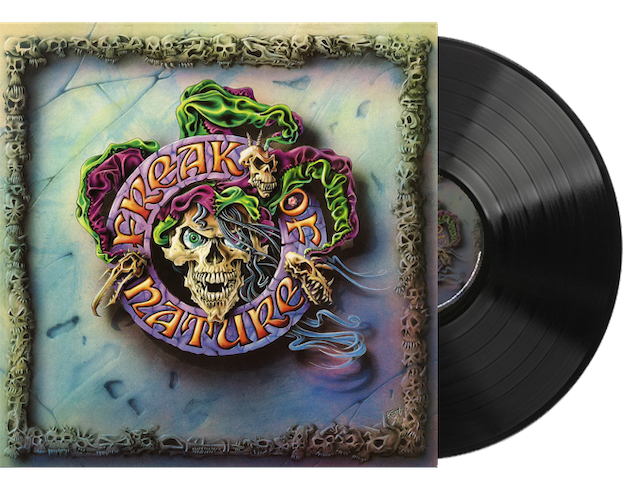 Review | Freak Of Nature – Freak of Nature – Vinyl
Mighty Music / Target Records (SPV)
Some albums are almost mandatory to be released on vinyl. Freak of Nature's self-titled debut is certainly one of them, and lucky for us, SPV's Target Records thought likewise. `Freak of Nature' was issued in 1993, when CD releases were the new standard and vinyl was only requested in limited amounts. The album's vinyl issue became a highly collectible rarity, which would benefit a reissue.
Mike Tramp and Danish Mighty Music joined hands enabling the new and limited edition run for all three records in a variety of flavors. Sky-high shipping rates made me choose the widely accessible classic black vinyl issue.
WHITE LION
But it is all about the music! The record looks absolutely smashing and sounds remarkable. The raw energy of the band scatters through my speakers at first spin, instantly warping me back to one of their many gigs I witnessed. After almost 30 years producer Phil Kaffel's still brings out Freak of Nature's key assets. Johnny Haro's drums sound powerful and full of groove, with Jerry Best (Lion, Dio, Mike Tramp) adding to the powerhouse foundation driving the album. Main feature of the band's sound are the driving guitars of Kenny Korade and Dennis Chick (House of Lords, VVSI) exchanging heavy memorable (twin) riffs and excellent solos that put their mark on the overall sound. Flagbearer however is singer Mike Tramp who was the initiator of Freak of Nature disbanding hair metal hit machine White Lion, following their 1991 disappointing `Mane Attraction' release and increasing internal differences.
A BROTHERHOOD OF MUSIC
`Mane Attraction' featured the opening hammer song ,,Light and Thunder" a push towards the Freak of Nature debut, with its louder groove and sound. It is this drive which is maintained on the album that opens with the energy-packed ,,Turn The Other Way", also the album's feature single. Driven and with an impressive riff the song is an insane live cracker, followed by the ravishing ,,What Am I" with its ravishing bass line. Both songs instantly make clear Freak of Nature was a brotherhood of music fans with their roots deep in the 70s. Foremost, is proves Tramp's transition as an artist and songwriter adapting to the 90s standard when grunge starting to rear its ugly head.
It also developed his later career as a roots rocking singer songwriter. The moaning and soaring ,,World Doesn't Mind" has Tramp working his ass off over an ominous pace, while ,,Possessed" picks the bluesy roots note more dominantly, before bursting into a contemporary raw riff bordering with grunge. Gritty vocals and low-end throbbing bass enhance its intensity before going into the memorable pre-chorus and even more nesting chorus. The song pack intense swagger.
THE YEAR 1992
,,Rescue Me" features impressive tribal drum dynamics and stomping pace pulling it forward. Powerful and memorable, with nesting chorus. The dynamics are switched to fierce driving guitars on ,,92", a song referring to the year in which Mike lost his grandmother. Soaring vocals with Tramp often crying out in despair, switching to anger register. "My hate will make me stronger, my hate will not forget. My hate will make me stronger. "Yeah, '92 I hate you", pretty much sums up his feelings with intensifying guitar interaction and the versatile drum dynamics increasing.
,,People" is slicker and more tongue in cheek, with impressive guitarwork driving it. ,,If I Leave" is less ordinary with its droning bass and whammy echoing guitars. Slow paced it enrolls into a rousing riff with Midway the song morphs with intense drum rolls and dynamic tribal dynamics powered up by wonderful a guitar solo towards an outro with howling guitars and bottleneck playing.
Tramp and White Lion accomplish Vito Bratta were highly successful penning nesting power ballads. ,,Where Can I Go" and ,,Love Was Here" are both as indelible as ,,When The Children Cry". Tasteful instrumentation with wonderful bass playing from Best. Guitar work is warm and exquisite, without the larger than life hair metal approach. Going into a solo with loud bass and pitching guitars, ,,Where Can I Go" packs great momentum and heartfelt agony. Tramp's vocals are as lasting as his lyrics that instantly grip. Agony scatters over the towering guitar lead at the end. ,,Love Was Here" is more timid. The typical acoustic guitar ballad. Oozing a fuzzy warm edge, but drenched in melancholy.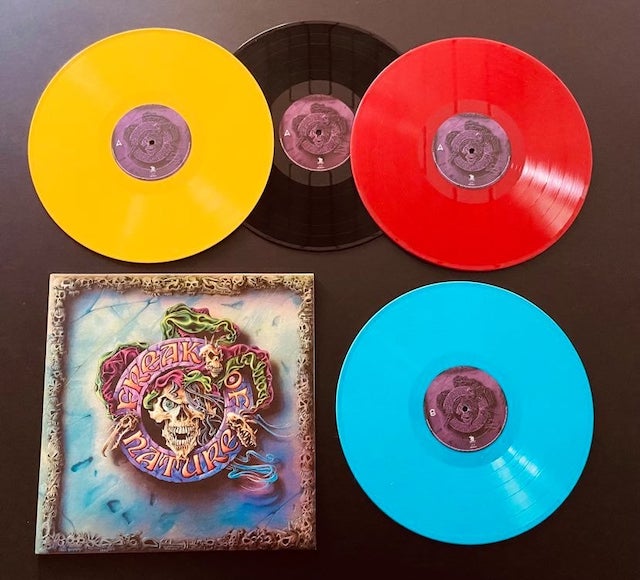 LIMITED EDITION
Freak of Nature's debut album stood the test of time. It driven dynamic 70s rooted rock, soaring vocals and memorable hooks and melodies, make it an enjoyable album, start to finish. Spotlight on the intense playing of the band's rhythm section and both guitarists exchanging wonderful licks, solos and riffs. Kaffel managed to capture the band's live sound well, benefiting the songs organic vibe and high-octane content. All tracks ooze tremendous thrive, with Tramp belting his best vocal performances. He managed to deliver with his heart and soul, while bringing his most intense and dark feeling to life. Ready for the transition to grunge, Freak of Nature fires on all engines.
These vinyl reissues certainly add to the punch of the album and the radiant appeal of the artwork certainly makes it an album to own. The reissue is available in four striking beautiful colors; Red, Yellow and classic black, in limited 1uantities of 200 each. Alongside this release the album also is reissued on digi-pack CD. `Gathering of Freaks' also received according treatment and reissue.