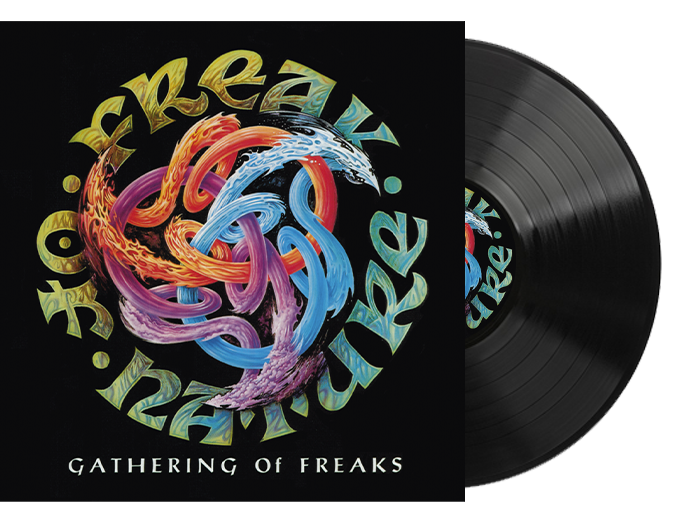 Review | Freak of Nature – Gathering of Freaks – Vinyl
Mighty Music / Target Records (SPV)
Some albums are almost mandatory to be released on vinyl. Freak of Nature's debut was one, as is this 2nd `Gathering of Freaks'. Moving his sustainable choruses into a classic setting, Mike Tramp found the rocking brotherhood he was looking for with Freak of Nature. Their debut and extensive touring made clear that Freak of Nature was Tramp moving in a heavier and more classic direction, and with grunge dominating the airwaves and stages, the band tuned down for their 2nd effort. `Gathering of Freaks' bridges the gaps between classic hardrock and the new sound of the era. It focusses on the darker groove without lacking memorable choruses, and made Freak of Nature a band to watch. Unfortunately, many overlooked the skills and talents in this band, but they certainly made an impression on yours truly.
SIDE A
Maintaining their classic rock roots, Freak of Nature certainly found inspiration from the era's rise of grunge. Even darker and with thicker layers of low tuned guitars, the album rotates around even more anger-laden lyrical content, with Mike Tramp belting louder and heavier than ever.
The opening title track whales in before the hard hitting ,,Enemy" scorches all hair metal elegance left. Roaring vocals and intense guitar riffs pull forward with anger. Non-polished and clinging to the intense drum and bas dynamics from the debut, the album still packs the same swagger and organic classic rock edge. Moving into the darkness ,,Stand Back" rips darker and louder than ever. Distorted guitars and heavy low-tuned riffs strife with Best's insane bass playing for key position. Jerry's playing again is out of this world and it presses on your ominous gut feeling. That low gut wrecking paw claws deep in the following track when slide guitars place ,,Raping The Cradle" into position. Haunting lyrical content about child abuse, from the child's point of view, with echoing vocals of Tramp calling out in despair. The song keeps its haunting disposition while gritty guitars unload more agony.
More catchy and melodic is the chorus of ,,Big Black Hole", even though Tramp's growling vocals and the hard driving guitars are the grittiest they lay down on `Gathering of Freaks'. Its contrast adds to the raw energy of the album. One of their best songs is ,,The Tree", with tempo changes and taunting heavy opening with insane bass playing and drum dynamics. It is perhaps the band's most daring effort, perfectly bringing side A to its end.
SIDE B
Opening side B with two slower paced tracks ,,Candle" again has Best's bass dominating the mix of stop 'n go guitar riffs, while ,,Need" is tastefully orchestrated with acoustic and electric guitar interaction over the whammy bass lines. The song reflects on addiction and sounds almost desperate, with Tramp again putting his mark on the lyrics with a narrative-like vocal delivery radiating appeal. Delving deeper and deeper, the track touches deep in its chorus. Scattering bass and hard riffs pulsating, ,,Open Space" rocks heavier and harder again. Luring chorus with vocal interaction emphasizes the band's brotherhood-pretentions. ,,Get It Yourself" opens with expressive echoing guitar over the scattering snare, before anteing up. Funky hooks and breaks inject a different note and Best again runs point with his butt shaking soulful bass swinging.
,,Powerless" is less than powerless. The song is molded around insane (Mindfunk-remeniscent) dissonant prog guitar chords and funky clean sound and ditto drum and bass interaction. Mike tops his performance and even moves slightly from his hoarse register. It is the fire breather that works towards the last track, the ominous paced ,,The Parting". Hammond organs pump up underneath the Pink Floydian dreamy guitar soloing and sticky licks. The (short) song wells with dark gloomy emotion and reverts back to the title of the album much like the counterpart to the album's intro.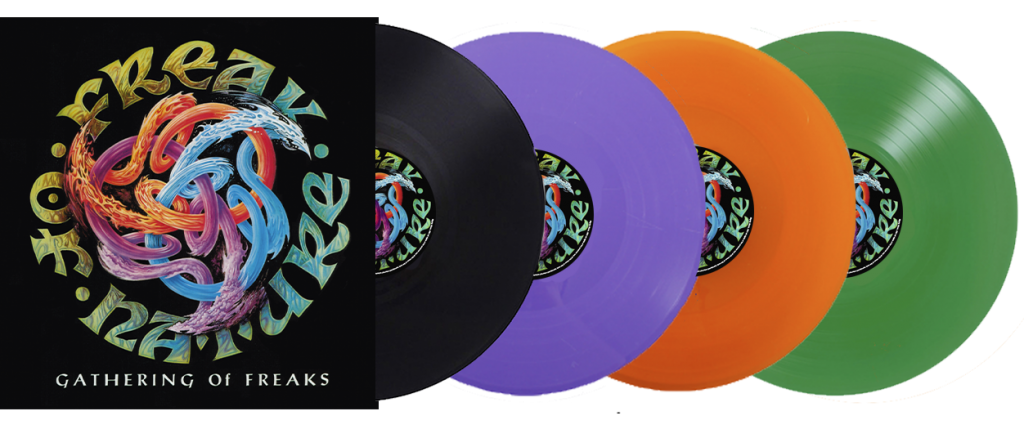 THEIR FINEST MOMENTS
Freak of Nature's debut was a dynamic 70s rooted rock record, with soaring vocals and memorable hooks and melodies, enjoyable from start to finish. It transitioned Tramp's past melodic career into the heavier and darker sound of that era, when grunge took over. `Gathering of Freaks' fuses the ingredients from their debut with the louder and more aggressive poise of the era. At times they sound as dark and ominous as Alice in Chains on `Dirt', without discarding their impressive melodics. Again, I want to press on Jerry Best's insane beast-mode bass playing in Freak of Nature. Injecting soul and funky notes to the low end of the mix he is key in the structures and dynamics. Delivering their finest moment, this is the album to have.
`Gathering of Freaks' vinyl reissue also comes in a variety of colours, using the prime colours of the album's tribal artwork. Aside black you can purchase the album on purple, green and orange wax.