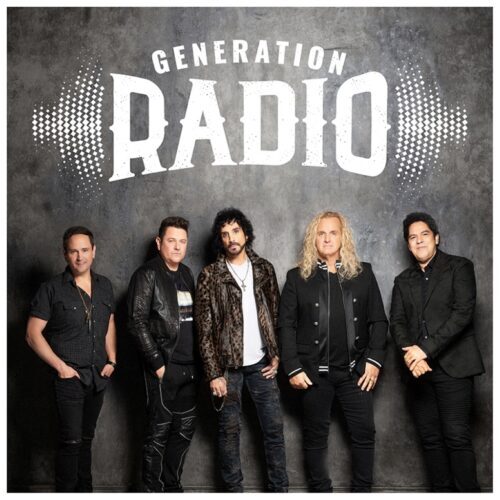 Review | Generation Radio – Generation Radio
Frontiers Music srl
Multi-instrumentalist Jay DeMarcus has been a member of the group Rascal Flatts for several decades, a band that combined AOR, rock and country. Jason Scheff was until 2016 member of the band Chicago, playing bass and sharing lead vocal duties. Deen Castronovo is the current drummer of Journey and also singer/drummer with Revolution Saints. The guitarists Tom Yankton and Chris Rodriguez are busy session musicians in the country scene of Nashville. These five veterans now found each other in the formation Generation Radio.
IDEA
It was DeMarcus who had a musical formula in his mind of a band that would combine the best of Rascal Flatts, Journey and Chicago in a classic eighties West Coast rock and AOR style. With the current line-up the dream of DeMarcus has come true as the first self-titled album of Generation Radio is exactly according to the vision of DeMarcus. Very smooth eighties AOR and West Coast rock with a touch of country (,,Anything But Us'') but also at times rocking pretty decent as well. The fact that several members are all lead vocalists as well leads to an album that is especially in the vocal department full of variety, big choirs and classical tinted harmonies.
IDEAL MIX
The sound of the album is pretty smooth but it is not that 'Generation Radio' just sounds soppy, although there are several sugar coated ballads present in the form of ,,I Hope You Find It'', ,,Don't Go'' and the remake of the Rascal Flatts song ,,Finally Got It Right'' (from the 2010 album 'Nothing Like This' produced by Dann Huff of Giant fame). With Castronovo singing ,,Lights Go Out In Paradise'', ,,Why Are You Calling Me Now?'' (Scheff on lead vocals), ,,Time To Let It Go'' (a very upbeat rocker) and the arena rocker ,,Smoking'' Generation Radio most surely are rocking steady as well.
We can conclude that these five seasoned musicians have found the ideal mix between their old bands but in a way, they also do not bring any new or surprising elements to the table. But it is all done in a professional way, with a stellar production on top so fans of very classic AOR and West Coast rock who like stuff from Journey, Mecca, Toto etcetera will find plenty to enjoy themselves with. Unfortunately, the playing time of the total album barely reaches 38 minutes which is in today's climate not very satisfactory.
Release date: August 5, 2022