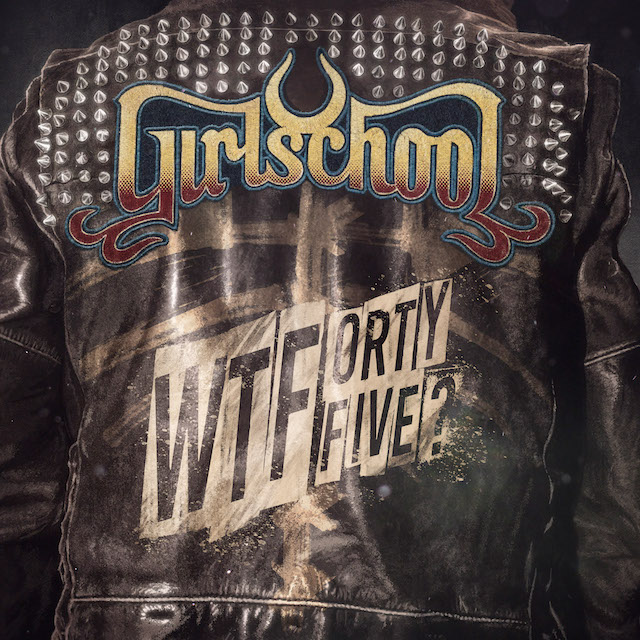 Review | Girlschool – WTFortyfive?
Silver Lining Music
Yeah, you got that right. Girlschool from the UK has been around for 45 years with original members Denise Dufort (drums) and Kim McAuliffe (guitar/vocals) still on board. My thoughts go back at least 43 years when I saw the band perform on a Wednesday night in a small village in the south of the Netherlands with support band Wicked Lady.
Their first full album 'Demolition' had just hit the shops and Girlschool was one of the most important New Wave of British Heavy Metal bands, signed to the Bronze label and working close together with label mates Motörhead, even recording an EP with Lemmy and Company entitled 'St. Valentine's Day Massacre'. Lemmy loved the band and for years he was lending a helping hand inviting the girls to tour and later, after they were dropped by Bronze and their US label Mercury getting them into the GWR-label, that was founded by then Motörhead manager Doug Smith.
EARLY SUCCESS
The first three/four albums did well but when first bassist/singer Enid Williams (tired of touring, she later returned before dropping out again in 2019) and lead guitarist Kelly Johnson (who later returned before on friendly bases splitting again because she was diagnosed with spinal cancer that eventually led to her passing away in 2007) things went a bit downhill. The band changed to a five-piece outfit (adding keyboards) and when their label Bronze went broke, they signed for US label Mercury and the raunchy rock and roll was smoothened up for more radio friendly tunes that upset their fanbase. Yet again Lemmy came to the rescue after the band was dropped. To cut a long story short the group stayed active, kept making records but also became a bit of a band that was not so much in the limelight anymore.
TAMELESS SPIRIT
Next to Kim and Denise Girlschool now exists further of bassist Tracey Lamb and lead guitarist Jackie Chambers, a line-up that has been steady since 2019. 'WTFortyfive?' is the first record in about eight years and the band has turned full circle. Their old tameless spirit is back. The songs are reasonably short, to the point, rebellious and most of them have that sharp punky rock and roll attitude and character. Opener ,,It Is What It Is'' reminds me of those early days, telling you how it is. It is a raunchy and kick ass rocker with a razor-sharp solo. This track speaks for the whole album. Girlschool rocks and the girls have this tongue-in-cheek and rebellious mentality spread out all over the album. There is no room for ballads, it is rock and party time on 'WTFortyfive?'.
It might make the album sound a tiny bit one sided perhaps but hey they were ,,Born To Raise Hell'', a song by Motörhead from their 'Bastards' album and now the energetic closer of this record where the girls can count on Saxon's Biff Byford, guitarist Phil Campbell (of Motörhead fame) and the one and only Duff McKagan (Guns N' Roses) on bass. It is a track that fits Girlschool like a glove. This album will certainly extend their existence for a while to come as the album makes perfectly clear that these girls still have plenty of gas in the tank! Take it or leave it? I will take it!
Release date: 28 July 2023