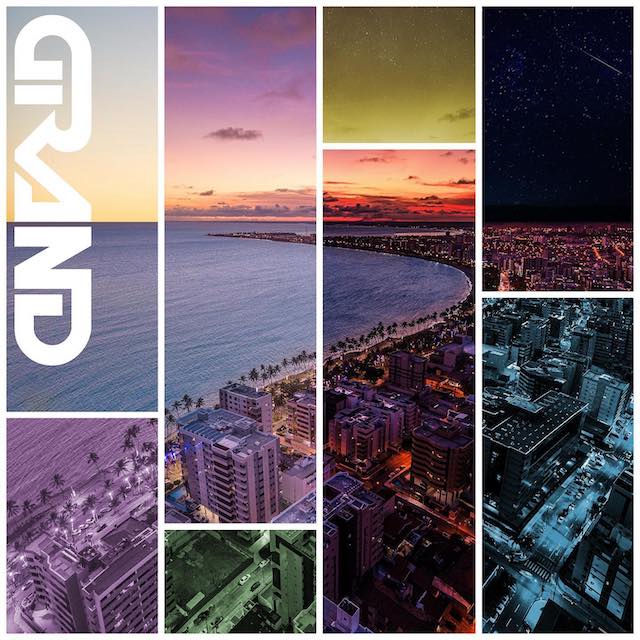 Review | Grand – Grand
Frontiers Records s.r.l.
Mattias Olofsson has established a name as a studio recording artists for over two decades before sculpturing his own music on this eponymous debut of Grand. Finding mutual interest for classic AOR and melodic rock in multi-instrumentalist and producer Jakob Svensson of Wigelius fame, things started to take shape. Recruiting studio drummer Anton Martinez Matz, also handling bass duties, the trio were ready to release their self-titled debut onto the world through Frontiers Records.
A WALL OF KEYBOARDS
The album was preceded by a video single of opening track ,,Stone Cold" which immediately feels comfortable. Lush guitars and dense keyboards over a throbbing bass and drum groove, kicking it forward. Thin and clear in its production the song flourishes with attractive chorus and memorable hook. It immediately evokes the Creye vibe; fresh melodic rock with poppy accolades. Where Creye pulls forward leaning on guitars pre-dominantly, Grand relays on its wall of keyboards.
Songs like the opener, the rocking ,,Johnny On The Spot", and the wonderful ,,After We've Said Goodbye" immediately touch base and nest easily. Melodic whaling choruses with appealing hooks and attractive vocals. Clean and skilful executed by Mattias, displaying his pitch perfect range.
The mid-tempo ,,The Price We Pay" with its powerful hook and vocal interaction, pulls us into the wonderful melody of the bridge and chorus, bordering with 80s AOR and pop. It is that high-tech AOR touch that also dominates singalong tracks like ,,Those Were The Days", the pulsating ,,Once In A Blue Moon", the rather clinical executions of their Creye meets Sonic Station ,,Too Late", and the Creye influenced rocker ,,Caroline" with its gradual built melody conjured by the swinging pace underneath its subtle vocals. Tasteful is the guitar solo that radiates a fine memorable melody. I-Ten and 2 A.M. come to mind, mixed up with a more modern Creye-approach.
DISPLAYING A DIFFERENT SIDE
The emotional ballad ,,Anything For You" with its grandiose power section building classic soar and emotion, is packed with appealing melody and lyrics. Cliché, but extremely well executed. When they move heavier, the band certainly displays a different side. Unfortunately, this only happens on the organic ,,Ready When You Are". Pompous keys and powerful strutting riffs see Grand exploring a different altitude of the rock genre. It also displays Mattias' more distinctive range, steering into a bluesier tone and only occasionally checking in with his higher clean register.
The guitars buzz forward and a Hammond solo injects the classic rock vibe at great pace. A direction they should explore deeper as it brings out their very best. Once fused to the lush instrumentation of the above, this could bridge the gaps of AOR ages, much like the beforementioned bands manage.
CLINICAL AND OVER-PRODUCED SIGNATURE
Overall, the album is very enjoyable, but also very clean in its production. The vast majority of tunes immediately catch on with the listener, and are of high quality. Only ,,Make It Grand", opened (expectantly) with acoustic guitar slick exploding chants, is off bat. Drum and bass are powerful, but it is completely degraded by the cliché sing along that keeps returning to the front.
`Grand' is an album that will appeal to fans of the genre, but won't instantly gather a lot of attention. Executed by studio musicians it wells a clinical over-produced eighties signature that doesn't shake off easily. This takes down the good intentions that constantly come to the front, like on the ravishing ,,Ready When You Are". It is high quality, but way too clinical, taking this album down like a Schlager version of Creye and Simple Plan.
Fans of high-tech 80s AOR and poppy melodic rock should tune in for reference.
Release date: 21 October 2022