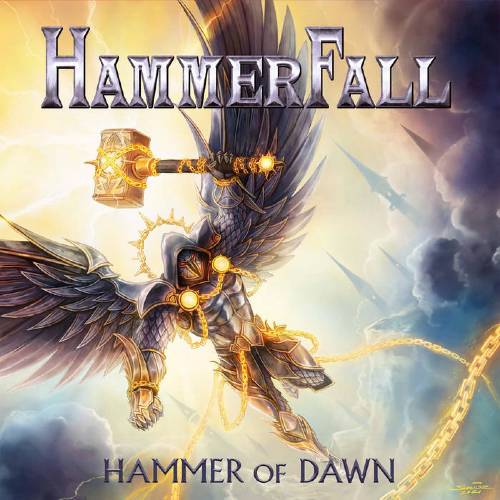 Review | HammerFall – Hammer Of Dawn
Napalm Records
Three years ago, so in 2019, I reviewed HammerFall's 11th release called 'Dominion' and that was a true and honest heavy metal album indeed, featuring the very recognizable, safe, and solid HammerFall sound. Now, THE Swedish true heavy metal band pur sang, comes up with 'Hammer Of Dawn', their 12th studio album, twenty-five years after their debut album 'Glory To The Brave'. 'Hammer Of Dawn' contains ten brand new songs and it is, again, a very solid, vital, and positive heavy metal album without further ado and without musical surprises; but HammerFall always delivers, so the fans can buy this album without listening to it….
SINGALONG
'Hammer Of Dawn' opens with one of the finest and strongest songs of the album called ,,Brotherhood", a true metal hymn for the die-hard HammerFall fans (The Templars Of Steel) and a worthy live singalong staple for the band in the near future without a shadow of a doubt. Follow up is the 1st single of this album, being the title track, featuring bombastic choirs, really catchy riffs, and a furious guitar solo by Pontus Norgren.
KING DIAMOND
Joacim Cans sings his ass off and he really "dominates" this album again with his emotional vibrato and powerful throat! Another highlight here is the song ,,Venerate Me", the 2nd single of the album, featuring guest vocalist King Diamond, as the track is packed with enchanting melodies and again, I repeat myself here, a very CATCHY chorus. Other more than excellent songs are ,,Reveries", ,,Too Old To Die Young", ,,Live Free Or Die" and ,,No Son Of Odin", although the song titles and the lyrics are also again rather cliché and simplistic; but what the hell!!
PURE METAL
'Hammer Of Dawn' is a great album and the band sounds better than ever and that is of course mainly due to the excellent mixing and mastering by Fredrik Nordstrom (Arch Enemy, In Flames) and the production of the vocals by Jacob Hansen (Volbeat). So, if you like pure metal with singalong anthemic choruses, excellent guitar riffs/hooks, pounding drums and awesome metal vocals then 'Hammer Of Dawn' is a MUST have record! Check out HammerFall's live gigs as they are about to embark on a tour with Helloween this year.
Release date: 25 February 2022