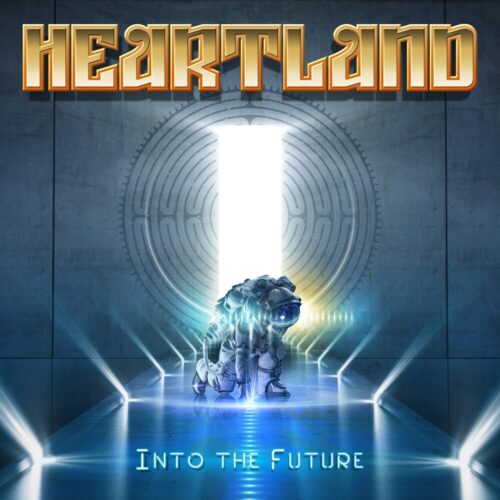 Review | Heartland – Into The Future
Escape Music
As the last Heartland album 'Mind Your Head' was released in 2007 and singer Chris Ousey after that time released a few solo-albums ('Rhyme Or Reason' and 'Dream Machine') and fronting bands like Kingdom Of Madness (a Magnum cover band which he has now put behind him) and especially Snakecharmer (two excellent albums), it seemed likely that Heartland was laid to rest. Also because guitarist Steve Morris was involved with other projects and the band Lonerider (their new album will be released early 2022).
CATEGORY
But here we are with a new Heartland album in hand. This time without the participation of Morris but with former Streets and Steelhouse Lane mastermind Mike Slamer (guitar/keyboards/mix and co-producer) on board as well as guitarist/keyboardist/co-producer Barish Kepic (Powerworld, Jaded Heart and Heaven's Trail) and keyboardist Ged Rylands (Tyketto/Ten) a strong line-up is certainly featured on 'Into The Future'. I find it actually a shame that a singer with such a masterful and epic voice as Chris Ousey does not have the same status as for instance Paul Rodgers. Ousey belongs for me in that category but he is not. How come?
CHOICES
Has Ousey made some wrong choices in his career? Did he really not get the opportunities? I have not got the answers but the fact is that also on 'Into The Future' he absolutely sings his heart out on the twelve songs that are present on the record. The question is if this record will catapult the singer into more recognition and maybe even some fame. The answer for me is that I don't think so. Even with the input of a bloke like Mike Slamer as a whole the album is completely up to scratch.
What I miss here are at least two or three tracks that really jump out. Yes, you can hear that Slamer has put his stamp of several songs like ,,A Dangerous Game'' but the songs are basically of the same calibre. Good, enjoyable, sounding cool but also too much middle of the road at times.
Ousey sings brilliantly and for a fan of melodic rock 'Into The Future' is certainly an album to hear and treasure but something in me tells me that more was possible if they had looked with a more critical eye at the song material. Hopefully Chris Ousey continues his musical career with possibly a new Snakecharmer album next year but 'Into The Future' will not change much for him I am afraid. Chris Ousey is a singer treasured by the happy few including myself but not by a huge audience. Still, a very enjoyable album.