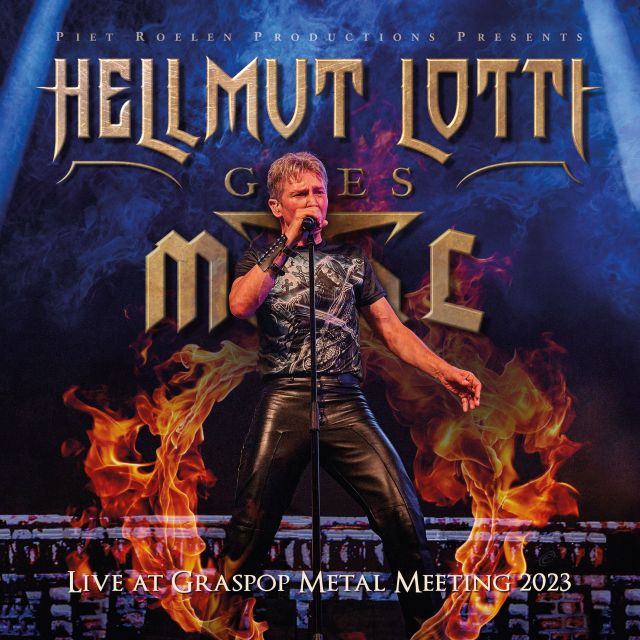 Review | Hellmut Lotti goes metal – Live at GMM 2023
Universal Music
Belgian tenor and vocalist extraordinaire Helmut Lotti stunned the masses appearing at the recent edition of the renowned Belgian festival GMM, Graspop Metal Meeting. Performing a variety of heavy metal classics, Lotti flexed his amazing vocals around some of the finest, outdoing many.
Plea-bargaining the cross-over of music and styles since his debuting years in 1990, the ever friendly and charismatic tenor has widened the horizon of many.
BIG IMPACT
Italian songbooks, his Elvis performances, his classical stints, and his renditions of many pop classics; Helmut Lotti always managed to make big impact, leaving behind a trace of memorable impersonations. For some reason this likable person has managed to overpower prejudice in its widest range, while creating magic over and over again…
GREATEST HITS PERFORMANCE
Many must have frowned upon the announcement, and even more must have been enticed during his memorable performance at Graspop. How in the hell was this possible?!
Well, if you put your heart into it, and you are gifted the talents of Helmut Lotti, you make waves.
Kicking off with Dio's ,,Holy Diver" certainly is the most daring decision of the day. When the recognizable riff and drum pattern rolls over the terrain, fists fly up, unaware what will soon hit the masses. Lotti belting out the classic lyrics, injected with his grande vocals, instantly makes us aware of his talents and skills. Not roaring like RJD, Helmut manages to bring a more genuine roar. More fluent, closer to ordinary men, he retains the soul and attitude, occasionally towering with higher pitches. Yes, even this flexible skilled performer has to bring all his has to make it work. But he does make it work, as he proves during this greatest hits performance.
Alice's ,,Poison", sung along by an enticed audience, he rolls with more growl, Heep's ,,Easy Livin" upholds the pompous haul, while ,,Smoke On The Water" displays his versatility bearing no constraints. Matching Gillan's memorable appeal, the crowd goes insane. Topping it off with an echoing classic tinged "… fire in the sky", he adds stardust.
Especially entertaining is his ability to breathe life into the biggest of the last 5 decades, not being held back in his range. Just check out his performances of Iron Maiden's ,,Run to the Hills", to hear how well this man controls his vocal cords. The variety in tone is impressive, without lacking the Dickinson punch and bite. Lotti nails it and brings a special depth and glance.
ELVIS AND LEMMY
Working hard Lotti growls out ,,Highway To Hell" to the masses and revokes Sabbath's ,,Paranoid" with less demonic accolades. Psychic laurels applied, Lotti breaks root without lacking appeal.
Classic rock 'n roll gets a makeover on Elvis' ,,That's Alright" which gets mashed up with Motörhead's ,,Ace of Spades" drum and guitar drive. Impressive, heavy and captivating, it blends two worlds and inevitably enforces Lemmy's (R.I.P.) of his band playing Rock 'n Roll'.
Impressive and close to the original, Helmut shines on the towering performance of Scorpions' ,,Still Loving You" not fading a bit on this vocal workout. Topping the current performances of Klaus Meine, Helmut outdoes any of Axl Rose's latest gigs with Guns 'n Roses by miles. His version of ,,Paradise City" displays his wildest roar and is on target. Yes, I know; it has little less grunt and screeches, but it howls and growls deeply. Whitesnake's ,,Here I go Again" is adjusted to his voice slightly, and the breaks make it work better performed live. It enthuses the audience, and the band really performs top notch.
Same (minor) adjustments are made in the vocal lines of ZZ Top's ,,Gimme All Your Lovin'', bringing it forward with a bit more swing. This studio (!) version, one of 3 closing this album, burns with vibrant instrumentation and contained vocal grit. Of course, Kiss' ,,I Was Made for Lovin You" also kicks up dust. Packing energy on the chorus, the song feels celebration of its poppy rock roots, time stamped in the present. Bringing something entirely new Lotti performs ,,The Darkness" during the live recording, leaning heavily on classic rock and metal, but slightly predictable in its vocal tracks and phrasing. The song is also featured as studio recording closing the album.
HELLMUT LOTTI – TRUTH OR DARE
Helmut Lotti's performance at Graspop was initiated as a 'truth or dare', bringing out the best in the versatile performer. His ability to bring élan to classic tracks has always worked. He managed to bridge gaps from all varieties of styles to the predominantly prejudice classical crowds worldwide. Pawing in metal, he does the exact same and in the meanwhile proves how closely rock, metal and classical music are intertwined in execution. And with Helmut Lotti at the helm, everything is possible… making his performance at the festival one that will resonate through the ages.