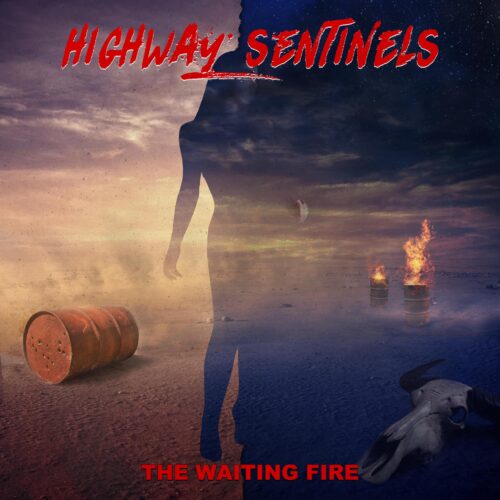 Review | Highway Sentinels – The Waiting Fire
Louder Than Loud Records
Highway Sentinels is a project between Alcatrazz keyboardist Jimmy Waldo and famous rock journalist/musician Steve Rosen (who recently published a biography on Eddie van Halen). Rosen and Waldo share a long friendship and worked together on the Blackthorne album 'Afterlife' (released almost thirty years ago). Rosen co-composed several songs with Waldo and band leader/guitarist Bob Kulick (RIP). From that album the duo decided to re-record the title-track ,,Afterlife''.
LOCKDOWN
During the lockdown both gentlemen decided that it was time to put their ideas into a project and they constructed the songs. Problem was finding a singer as they wanted to have some sort of 'unity' on the album and they felt that would not be achieved by using various vocalists. That is how David Reece came into the frame, a man with a past in bands like Accept, Bangalore Choir, Tango Down, Sainted Sinners, Bonfire and the last years working under his own banner Reece.
For David projects like these are also a way to make a living (he is also involved on an album called 'Nocturnal' by the Taz Tayor Band that has just been released. Later on this year we will hear him on a band project he set up with guitarist Herman Frank under the name of Iron Allies). For this record 'The Waiting Fire' David was given the freedom to write his own lyrics and vocal melodies and he also added an old Bangalore Choir song to the mix entitled ,,Victim Of The Night'' that never made it to that epic first Bangalore Choir album.
IMPRESSIVE CLASSIC ROCK
'The Waiting Fire' is quite an impressive melodic and classic rock tinted album, one that is filled with hard rocking tracks and some really exciting guitarwork. Rosen has taken care of the basic riffs and the foundation of the songs is rock solid but when you realise that drummer Mark Zonder (Fates Warning, A-Z) and bass player Donnie van Stavern (famous for his involvement with Riot) are part of the proceedings that shall come as no surprise.
The guitar acrobatics are in the hands of a bunch of guitar slingers making a guest appearance like Joe Stump (Alcatrazz), Tracii Guns (L.A. Guns), Ron 'Bumblefoot' Thal (Sons Of Apollo), Mike Flyntz (Riot V and more recent Cleanbreak), Joe Satriani, Herman Frank and Paul Gilbert. These boys really beef up things like nobody's business. Add to that Reece's stellar singing, Waldo's colourful keys and a bunch of excellent songs like ,,All Comes Crashing Down'', ,,Love And Hate'', ,,Victim Of The Night'', ,,Afterlife'', ,,I'm A Loser'' and the up-tempo rocker ,,Hell In A Basket'' and we can conclude that Highway Sentinels has answered the expectations in more ways than one!
Release Date 22 July 2022