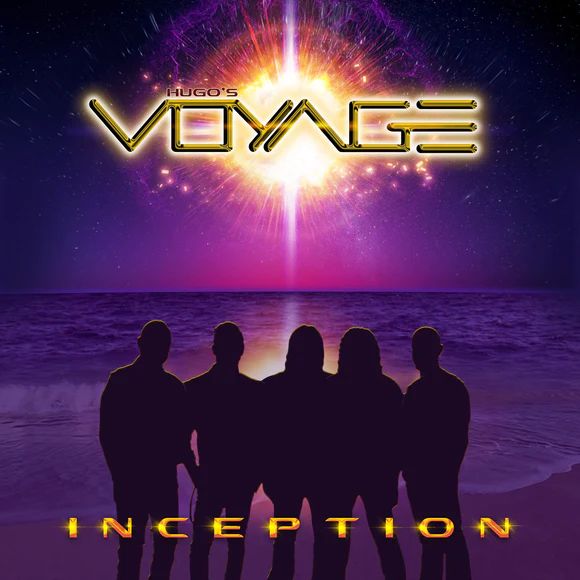 Review | Hugo's Voyage – Inception
Frontiers Music srl
Who would have thought that a Journey-tribute band finally would come up with their own songs and album? Well, that is the case with Hugo's Voyage. Fans of Journey and AOR should recognize the name Hugo as singer Hugo Valenti has been around for over thirty years now. Releasing albums with the bands Valentine and Open Skyz, an album with guitarist Josh Ramos and several solo-efforts as well. Hugo Valenti has been receiving praise for his voice that sounds like the great Steve Perry and even in looks both singers have certain similarities.
ANGELIC
Hugo Valenti must have looked after himself and especially his voice very well. When you hear him on 'Inception' it is like time has been standing still. He sounds just as great and angelic as when he released the first Valentine album in 1990. Under the name Voyage Hugo this outfit started somewhere in 2005 and has been very successful indeed. But the desire to come up with new and fresh song material kept playing on his mind and finally the band took the plunge and here they are.
SHOES
With a bunch of experienced musicians including bass player Greg Smith (Ted Nugent, Alice Cooper, and many others) gathered around him Hugo Valenti rolls the dice yet again. Okay, if you are looking for originality you will not find that on 'Inception', as because of the voice and song structures this could have been a new Journey record. When Steve Perry left Journey and guys like Steve Augeri, Jeff Scott Soto, and current singer Arnel Pineda stepped in his shoes, I always wondered why Hugo was never considered. If there is one guy that comes close to Steve Perry it is this man.
HUGO'S VOYAGE PRODUCTION
'Inception' is blessed with a great production. In the eighties the budgets for big AOR bands were substantial. These days things are a bit different but Hugo's Voyage has delivered a sound and style that should be heard by a whole army of AOR-fans. The sound is smooth yet powerful, crystal clear yet at certain points pretty heavy for the genre. Silky keyboards go hand in hand with quite crunchy guitar work while the rhythm section keeps things at a steady balance. And, the band has also delivered a bunch of good songs that are being carried by the angelic voice of Hugo and the background vocals are not to be ignored as well. I am not saying that the level of classics like 'Frontiers' (Journey) is completely matched here but Hugo's Voyage' is certainly a band that brings back that eighties AOR-thrill that we hardly hear these days.
Release date: 11 October 2023