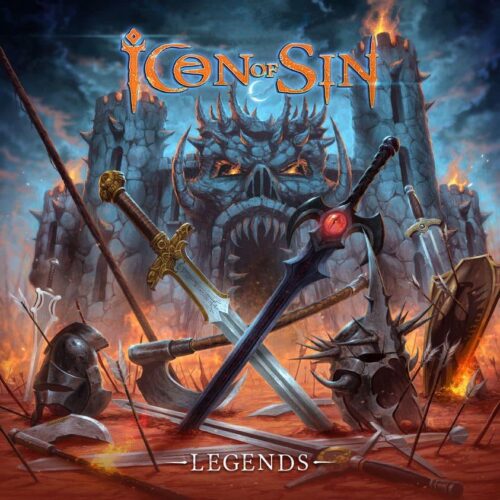 Review | Icon Of Sin – Legends
Frontiers Music srl
Icon of Sin is the project created around YouTube sensation Raphael Mendes who has garnished millions of views with his cover versions of classic metal tracks. Joining him on his album are Landfall's Marcello Gelbke (guitars) and Sergio Mazul of Semblant fame, signing for the compositions for Raphael to shine on. The recording team is rounded by Semblant's guitarist Sol Perez, plus fellow YouTubers Caio Vidal on bass, and Markos Franzmann on drums. A brand-new band debuting with a mash of classic metal ingredients on the album with the all-covering title 'Legends'.
A TRIBUTE
'Legends' is nothing more than a tribute to the classic metal bands of the past. Fusing Iron Maiden ingredients (and vocal tone), Saxon poise and Dio prowess to heavier metal structures from the hand of Judas Priest, while maintaining the pace of modern metal. Icon of Sin delivers a tribute to the metal Gods of the past.
,,Cimmerian" has everything to be featured on a Maiden record, especially Raphael's upbeat vocal delivery. He pulls forward with Dickinson characteristics and roars powerful. ,,Night Force" opens like Whitesnake's ,,Bad Boys" before injecting the Iron Maiden tinged vocal lines and melodies. The drums and guitars are an offload of classic 'Powerslave' strut, before the chorus hits with howls reminiscent of German 80s metal. Its persistent and urging, but somewhat outdated.
DICKINSON
,,Heart of the Wolf" is cliché-laden, double-bass propelled, where ,,Bare Knuckle" evokes a moderner drive with Raphael falling back to his towering Dickinson register. That register dominates the sonics of the album, unable to shake off comparison, making the songs suffer. ,,Clouds over Gotham" echoes epic Bruce all over, as does ,,Terror Games". The brisk instrumentation and wonderful guitar work are diminished by this determining constant. Dual guitar melodies pull forward ,,In the Mouth of Madness" and revive the metal heydays with great stance, but also suffer by comparison.
Guitar harmonies also open ,,Wheels of Vengeance" with rich bass lines atop, pulling forward the vehicle in NWOBHM fashion with Mendes adding a deeper tone, which he also conveys in the epic album closer ,,Black Sails and Dark Waters". The richely textured prog track marks for more and the creativity displayed is hopeful. Also more memorable is the ominous paced ,,The Scarlet Gospels" which bridges between post-reunion Maiden and Dio's Sabbath era.
ICON OF SIN – THE CONCLUSION
Solid songs, great moments are delivered on Icon of Sin's 'Legends'. It all oozes classic metal, but falls short due to the memorable vocals of singer Mendes, the focal point of the band. The man can sing, and easily fill the shoes of Dickinson if needed, but the songs all lean too much on this legacy and that of classic metal. More identity is expected from the creative team. But, all critic aside: it is enjoyable but never surprises.
Release date: 4 August 2023