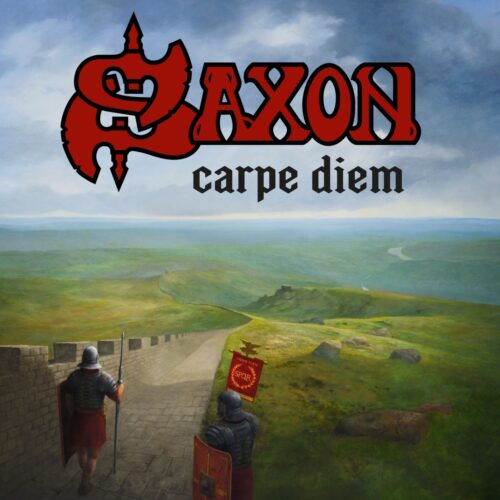 Review | Saxon – Carpe Diem
Silver Lining Music
Although the world-wide pandemic limited the live-activities of Saxon to a bare minimum it is not that the band has been sitting still waiting for better times. After recovering from a serious illness singer Biff Byford released his first ever solo-album entitled 'School Of Hard Knocks' before teaming up with his talented son Seb for a father and son album under the banner of Heavy Water. Guitarist Paul Quinn surprised with a bluesy rock album under the name The Cards (with singer/bassist Harrison Young) while sticks man Nigel Glockler did some session work. And let us not forget that Saxon also recorded 'Inspirations', an album with cover songs by artists that were of influence in the younger years of the Saxon men.
BACK TO BUSINESS AS USUAL
With their latest studio album Saxon is back to business as usual. 'Carpe Diem' really rocks your socks off. It is amazing to hear that after more than 40 years in the business Biff Byford and his band still sound as eager and as hungry as in their early eighties period. Armed with more experience and with the help of seasoned producer Andy Sneap (Sabbat/Accept/Judas Priest) producing, mixing and mastering (co-production by Biff) the ten songs on 'Carpe Diem' leave no stones unturned.
They contain all the Saxon characteristics that we have grown up with and got accustomed to. All songs are based around one epic riff following the other with Nibbs Carter (bass) and Nigel Glockler laying down a super solid and tight foundation for guitarists Paul Quinn and Doug Scarratt to do their thing. And it is not that Saxon is sounding out dated or something like that. The record sounds modern but has the old fashioned ingredients.
HARD HITTING
'Carpe Diem' is a hard-hitting album. There are only a few songs where the foot is slightly off the gas pedal like on ,,The Pilgrimage'', a track of six minutes plus that might take you back to the eighties song ,,Crusader'', as the set up and structure of both songs have some similarities. But the bulk of the songs (with the exception of ,,Lady In Gray'', that is a bit less in tempo) are pure vintage Saxon. Rough, up-tempo, balls to the wall and filled with hellish guitar battles, basically suited for an epic stage performance with Biff singing like a young God.
,,Remember The Fallen'', ,,All For One'', the title-track, ,,Super Nova'' and the scorcher ,,Dambusters''.., they are all prime examples of how determined, dynamic and energetic these veterans of metal sound in 2022. Like I said, not a stone has been left unturned on 'Carpe Diem'. Seize the day and make sure you buy, steal or borrow a copy!
Release date 4 February 2022
About
Saxon were the leaders of the new wave of British heavy metal [NWOBHM] and are successfully active for over four decades now.
Photocredit: Steph Byford
Genre
heavy metal, new wave of British heavy metal
Website
https://www.saxon747.com/
Social
Tags