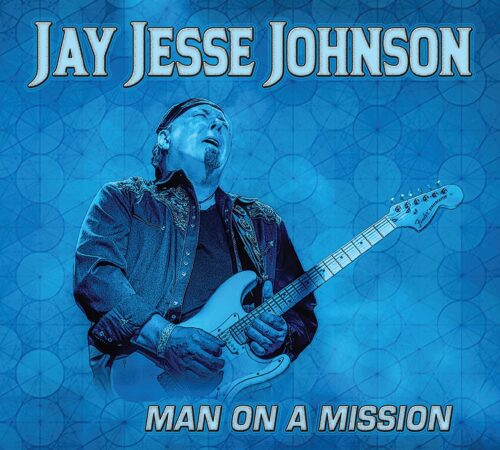 Review | Jay Jesse Johnson – Man On A Mission
Grooveyard Records
It was Blindside Blues Band main man Mike Onesko who shared a song of Jay Jesse Johnson on Facebook that got my attention. Intrigued by the performance I ordered his most recent album at the time, called 'Down The Hard Road' followed by some other releases and was stricken by his pure rocking and blues power husky voice and his relentless guitar work. Now his seventh solo album 'Man On A Mission' has just appeared on Grooveyard Records.
LONG CAREER
Jay Jesse Johnson is 66 years old and has been around for more than four decades. Surprisingly enough (after playing in a few bands) he met up with no-one less than Jeff Cannata and was involved with that iconic Cannata album 'Arc Angel'. Johnson worked with and for Cannata for a number of years and recorded several records with him and was also part of starting the band Deadringer with Charlie Huhn (ex-Nugent and now the singer/guitarist for Foghat) recording the album 'Electrocution Of The Heart'. In 2004 he started his solo career with the album 'Strange Imagination', the first of a series of hard stomping rock and blues records. He also was involved with The Blindside Blues Band and Mike Onesko's Guitar Army. It is safe to say that the man has had a long career and it is not over yet.
MAN ON A MISSION
With a bunch of befriended musicians Johnson has written and recorded his seventh solo album 'Man On A Mission', playing multiple instruments himself and producing the record as well. His style is strictly spoken very simply. He plays it loud, straight forward and with a certain cheekiness. Pure and heavy blues rock and roll with shitloads of spicy guitar solos, hard riffs and most of the time upbeat. His voice is pretty rough and husky, in a way you could say that his singing style matches that of his good friend Mike Onesko. The title track speaks for itself. It is heavy, purely guitar driven and with a big bluesy feel.
BRILLIANT POWER BALLAD
Not that you can say that Johnson is trying to re-invent the musical blues wheel, but it just kicks ass and it comes straight from the heart. And for good measure there are also some more subtle moments included on this record with ,,No Disguise'' (over seven minutes long) as probably the best and most touching composition. A brilliant power ballad indeed. With 'Man On A Mission' a determined Jay Jesse Johnson hands out an impressive calling card that has heart, soul and pure and ballsy blues character. This is stuff that touches my heart and soul and hopefully yours as well. And if you happen to like this don't forget to check out some more material of his catalogue.