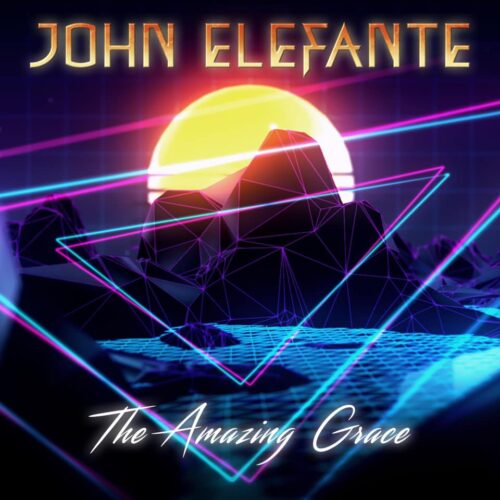 Review | John Elefante – The Amazing Grace
Escape Music
John Elefante is a name that is well liked in the Christian rock scene. Yes, in a grey past he was the singer of Kansas (recording the studio-albums 'Drastic Measures' and 'Vinyl Confessions'). Together with his brother Dino he was the man behind the Mastedon project (three albums, that are all must have records for melodic rockers). And as a song writer and producer the man has a CV that is almost second to none. He has made several solo albums as well, the last one being the 2013 release 'On My Way To The Sun'.
His best effort though was 'Revolution Of Mind' in 2010 (released under his own name) while the album was released in Europe under the Mastedon banner simply entitled '3' with a blistering version of the Kansas classic ,,Dust In The Wind'' as bonus-track on '3'. With Dino as partner John Elefante was the driving force of the Pakaderm record label as well, being involved with bands like Petra.
JAY SEKULOW BAND
The last years John has been singing with the Jay Sekulow Band together sharing lead-vocals with John Schlitt (ex-Petra, ex-Head East)). The band is named after Jay Sekulow, a high-profile US attorney who was one of the lawyers working for former US president Donald Trump during his impeachment trial. This band plays purely covers, has regular gigs but as far as I know has not recorded an album. If you have the chance look them up on YouTube and have a view and listen to their outstanding version of Boston's ,,Foreplay/Long Time''.
THE AMAZING GRACE
As should be pretty much known by followers of the melodic genre John Elefante is a Christian rocker and most of his lyrics are about Jesus Christ and The Lord. That might not appeal to everyone, but if you purely look at the song structures, the musicianship, the sound and immaculate production and above all that the voice of John Elefante is one of the best in the rock and AOR business I think that those elements should be the leading factors, not the fact that he sings about God. If you look at 'The Amazing Grace' in that way you will encounter an album that is rich in variety, mixing heavy rock with AOR and even a slight brush with pop can be detected.
This album is actually a mix between 'Revolution Of Mind' (still his best in my opinion) and 'On My Way To The Sun'. I personally don't care what John writes in his lyrics. It is not really something that is of interest to me. It is pure about the music and the fact that he is a top-class vocalist, instrumentalist (keyboards and guitars) and an excellent producer who surrounds himself with skilled musicians making 'The Amazing Grace' an album that any fan of melodic rock and AOR could (or maybe should) fancy.
Release date: 29 April 2022