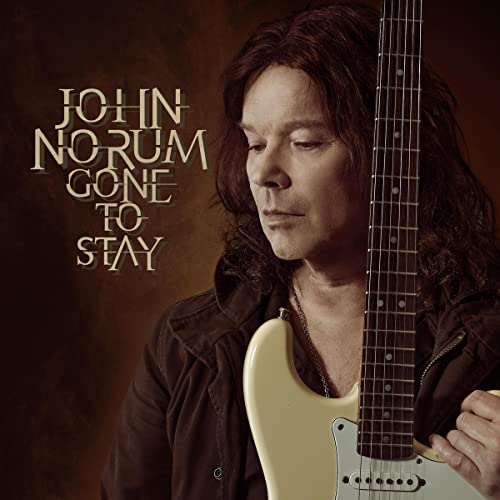 Review | John Norum – Gone To Stay
Gain
To be honest, I expected a new Europe album instead of a new John Norum solo-album. Europe's 'Walk The Earth' hails from 2017 so you would say that Joey Tempest and his crew are due for one. Instead, guitarist John Norum comes up with his eight studio-outing, some twelve years after 'Play Yard Blues'.
WHAT'S IN STORE?
What's in store for us when we are listening to 'Gone To Stay'? As per usual John's guitar work is finger licking good. Overall, he sounds a bit more bluesy in comparison with his very early releases like 'Face The Truth' or 'Total Control'. Albums that really put him on the map as a major player after his 1986 departure from Europe. It was weird in those days that he left. 'The Final Countdown' was a world-wide success but disagreements between the guitarist and the management of the group led to his departure. Luckily years later the problems were solved and forgotten and John returned to the band he started himself with Joey Tempest and it has been plain sailing ever since.
GUESTS
John Norum always had prominent guests helping him out on his own albums. People like singer Goran Edman, singer Glenn Hughes, singer Kelly Keeling and bass player Marcel Jacob (RIP) helped out on earlier occasions. This time Wig Wam vocalist Age Sten Nilsen sings two tracks, Europe's Mic Michaeli plays keys on one song, former Talisman guitarist Fredrik Akesson has a few contributions. Main contributors here are drummer Peer Stappe, who co-produced the album with John, while also playing keyboards plus bass player Fredik Bergenstrahle, the steady man on the four strings.
Kelly Keeling (who sang on John's albums 'Another Destination' and 'Worlds Away') is back for a part during the hard rocking song ,,Terror Over Me'', one of the best moments of the whole album. John sings the rest himself and he does a satisfactory job on that. Still, when you hear Keeling with that powerful voice, you can't help but wonder how 'Gone To Stay' would have sounded like if he had been fully involved. I say that because I am certainly not impressed by the vocals that Age Sten Nilsen put down. ,,One By One'' is just a mediocre rock/pop song with a far from exciting vocal while he does not sound very convincing on the track ,,Norma'' either.
IMPRESSION
What kind of impression does this album leave? After having heard all the songs for a week or two now I must admit that 'Gone To Stay' has its moments. Norum is a rocker true and true and his guitar and singing performances are as always good. But the album is not as good as I had expected, as a few songs are very mediocre. The best though is saved for last. John has gone back to the song ,,Face The Truth'', the title-track of the 1992 album. He lowered the tempo dramatically and has made the song into a superb ballad with beautiful orchestration and very sensitive singing and guitar work.
At first, I did not even recognize the track, that's how much it has changed. But the more you hear it, the more you will love it. All in all, it is a decent album but from a classy musician like John I had expected a bit more substance in the song writing. Stick your head in and have a listen. Maybe you will draw a different conclusion.
Release date: 28 October 2022