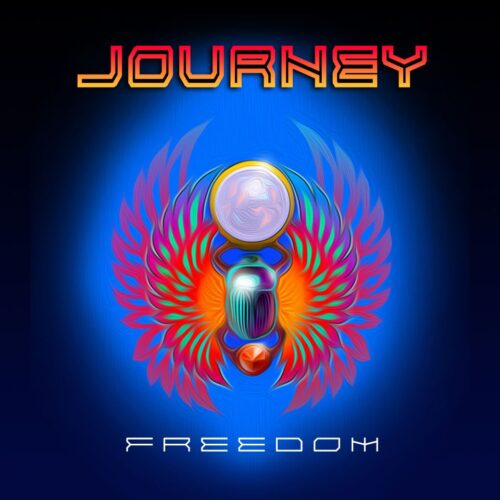 Review | Journey – Freedom
Frontiers Music srl
Some eleven years after their last studio record 'Eclipse' Journey finally releases a new record entitled 'Freedom'. The last months we were already confronted with a few singles of that new record and that was a welcome sign of things to come.
LINE-UP CHANGES
The last couple of years some line-up changes in the group and several lawsuits between current and past members got more attention than the talk of new music. Former members Ross Valory (bass) and Steve Smith (drums) were sacked by band leaders Neal Schon (guitar) and Jonathan Cain (keyboards) leading to court cases and finally an 'amicable' settlement between the parties involved. Valory and Smith were replaced by Randy Jackson (bass, and also in 1986 a band member involved with the 'Raised On Radio' album) and Narada Michael Walden (drums). Jackson as well as Walden have now left the group again but not before they finished their contributions for 'Freedom'. As you might have heard former drummer Deen Castronovo has made a return but is not playing on 'Freedom'. He is involved though as lead singer on the track ,,After Glow''.
KICK START
With the new record under their belt and to be used as a present calling card Journey can more or less kick start their successful career. During the years the band kept performing live, making sure of an income (it is rumoured that the group made around $ 30 million dollar for a tour with Def Leppard). I think it is safe to say that nobody has to be worried that Schon, Cain, singer Arnel Pineda and the returned Castronovo have no food on their table. This band has been and still is huge in its genre and the best way to re-establish their name and reputation is to come up trumps with 'Freedom'.
VALUE FOR MONEY?
Now, does 'Freedom' offer the fans value for their money? After eleven years of 'silence' (the longest period in between studio releases) there are no less than fifteen songs to be found on 'Freedom'. What I am always afraid of when there are that many songs on one single album is that quantity equals quality like for instance on the last Def Leppard album. And although not all songs on 'Freedom' are equally as strong as each other, it becomes pretty clear that 'Freedom' is certainly a worthy Journey album.
The signature guitar sound of Neal Schon is all over the album (one of his strongest solos is on ,,Let It Rain'', strangely enough one of the less appealing songs…), Jonathan Cain adds his vintage pallet of colours, the rhythm section is up to scratch (but you do wonder if Castronovo would have added some more power if he had been behind the drumkit) and Arnel Pineda sings like an angel, being worthy of the legacy a certain Steve Perry left behind so many years ago.
FEELGOOD ALBUM
'Freedom' is a feelgood album. It just feels good to hear Journey that can still deliver excellent songs that give you a warm and comfortable feeling. It is not that the band has dramatically changed. They are sticking to their brilliant melodic rock and AOR environment and they are true masters of the trade. A trade that with the release of 'Freedom' hopefully gets some more attention again now that frontrunner Journey is back in business. The time of Steve Perry lays behind us, Journey has gracefully moved on with Pineda and with a second vocal wonder in the person of Castronovo back in the group, things can only improve. Just don't keep us waiting for another eleven years, please gentlemen.
Release date 8 July 2022