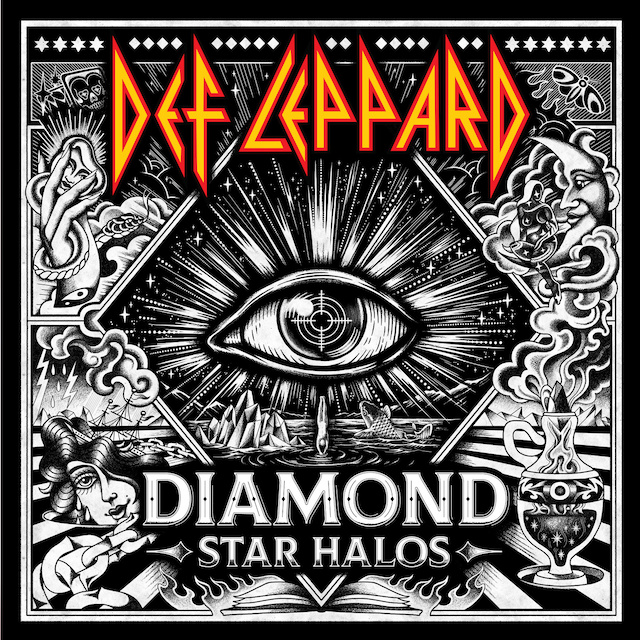 Review | Def Leppard – Diamond Star Halos
UME
The last studio-album from Def Leppard hails from 2015 (simply called 'Def Leppard') so after seven years it was about time that these rockers would get their assess into gear again. It is not that several members have been sitting still though. Especially guitarist Vivian Campbell was very active with releases from Last In Line and Riverdogs while also Phil Collen (guitar) had some things on the go. And the band did take their time to compose a bunch of songs for 'Diamond Star Halos'.
HIGH & DRY
When I hear Def Leppard, I somehow always think about their 1981 record 'High & Dry' and how fresh, dynamic and energetic the band sounded then. Yes, the band did a lot better with their million sellers albums 'Pyromania' and 'Hysteria' but for me it has always been that 1981 release that was constantly battling with 'Y&T's 'Earthshaker' and 'Black Sabbath's 'Mob Rules' for a spot on my record player. A lot of water has gone under the bridge since then. Def Leppard were highly successful but also paid a bloody price with the terrible accident that drummer Rick Allen had in 1984 losing his left arm and the death of guitarist Steve Clark in 1991. A lot of time has passed since then, several new albums and DVD's have seen the light of day and the band is still around.
NEW SOUND?
Does 'Diamond Star Halos' bring something like a new sound, a fresh approach, something that will get the band noticed again by the big audience? Fact is that the boys have not been stingy on this record, delivering no less than fifteen songs. Fact is also that this album is most likely the most diverse in the career of the band. Should we be happy with that diversity? In my opinion not really. I mean, tracks like ,,Lifeless'' and ,,This Guitar'' (on both songs Alison Krauss acts as extra singer) both flirt with country music. According to singer Joe Elliott the band had ,,This Guitar'' in the ranks for several years and now decided to let it loose. Big mistake boys, boring and not suited for a band like Def Leppard.
EXPERIMENT
There is nothing wrong with an experiment in a career as long as that of Def Leppard but flirting with country and even Americana just does not sound right. So a few songs are as far as I am concerned totally not done (also ,,U Rok Mi'' is a complete failure) but there are enough songs on the record that are decent. Yes, decent and not more than that.
The first track is ,,Take What You want'' and there is straight away the energy I like to hear from Def Leppard. A great start that is being followed up with the arena rockers ,,Kick'' (very middle of the road) and ,,Fire It Up'' with the typical strong and singalong choruses. There are quite a lot mid-tempo songs on offer while ,,Goodbye For Good This Time'' is a mediocre ballad with a shit load of orchestration. But where are the top songs, the ones that are killer?
ANY GOOD NEWS?
Do I have any good news to report? If you like excellent guitarwork well, you should be very happy as Vivian Campbell and Phil Collen on most of the songs have some cool riffs and plenty of fancy solos on offer, in that aspect Def Leppard has not let their fans down. Even Joe Elliott sings quite acceptable after all these years, maybe a bit more in a lower key at times but still okay.
WHERE ARE WE AT WITH DEF LEPPARD in 2022
That remains the question… It is not that 'Diamond Star Halos' is a complete disaster but to be honest most of the material does not do a thing for me. Except for the excellent guitar work and some decent tracks it seems to me that the boys from Sheffield should consider going back to the roots, to a time where they were young and hungry. But when you got millions in the bank and you might not have the real drive anymore (which is in a way understandable) it might also be an option to bow out gracefully…
Release date 27 May 2022