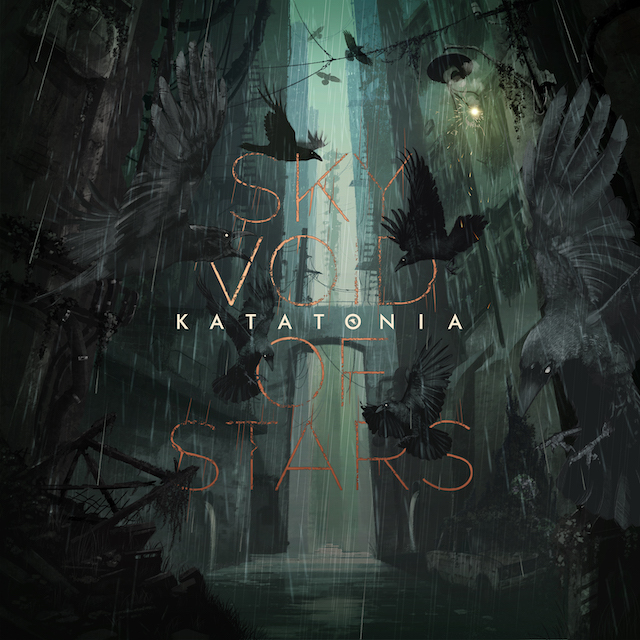 Review | Katatonia – Sky Void Of Stars
Napalm Records
Katatonia to me are the masters of somber. Their evolution over 3 decades is tremendous, without shedding skin in its entire. Moving from their heavy roots of death and doom foundation to this alt -and goth-tinged genre, the band managed to construct their own unique sound. Shrugging heavy memorable riffs and striking wonderful melodies, atmospheric keys and modern synthesizer enrichment providing the dark melancholic luster for vocalist Jonas Renske's crooning timbre switching a narrative-like tone with dark baritone-touching melodics. Katatonia have dominated the sonic low and their `Sky Void of Stars' elevates on all accounts. 
THE KEY INGREDIENTS OF KATATONIA
,,Austerity" instantly injects all key ingredients into its wonderful produced sound palate. It's an appealing track with melancholic howl and stinging melodies that nest. Riffs and prog rhythms are enhancing the songs depth over which Renske's voice engulfs with striking moan.
The album evolves in classic Katatonia tradition, touching all borders of their sonic horizons, while also enriching their sound with more melodic hooks and synths subtly mixed in its gracious mix of style. Captivating melancholic the album enrols with striking gloom. Driving sharp riffs pulls forward songs like the YouTube calling card videos ,,Atrium" and the faster paced ,,Birds". Both are more transparent and alluring, draw in a wider varied audience perhaps, but also inject a more hit sensitive melody into their dense atmospheric structured songs. Deepening their sound, Katatonia still is their classic self. 
NEW WAVE
Check out the grooving ,,Opaline" that is pitched into action with its industrial hinged synth beat and ominous melodies much like a new wave love of metal heads, or the heavy and mood-packing ,,Absconder" which is benchmark Katatonia with a different richer angle. Same goes for ,,Drab Moon", with its self-explorative reflection of metal and melancholy while increasing its melodic depth and instrumental richness. In this ,,Author" stands with its raining acoustic guitars and sudden heavy riff-rage, while the vocals are cast on the rhythmic patterns and rich percussion. Bass throbs with glamour, with constant action-packed sections set in motion by the low-stretched notes unloaded. Evergrey/Englund comes lurking, before the band tones down for lush emotive sections, reverbing the album title that shines through the lyrics "I see your hands upon my epitaph, then you shift into the looking glass. A Sky Void of Stars".
SOEN
Featuring a duet with Soen's Joel Ekelöf on the impeccable and gorgeous ,,Impermanence", Katatonia delves deep tapping the most emotional vein. The song wells with heartfelt passion and Renske and Ekelöf gel extremely well together. Both vocal tones are on par with one another and the song's construction is subtle and widely appealing. A true work of art, with exquisite chorus and melodies, mixing up sensitivity and sentiment with illuminating expression. ,,Sclera" displays the same emotion but reveals a gradually build to its chorus. The synths turn tables between the lush atmosphere and chorus, boasting a psychedelic 70s swirl reminiscent to Pink Fl… well, Hawkwind to be more precise. It is its progressive diversity and percussive textures that give it the typical Katatonia treat.
Topping off the presented sonic elements, ,,No Beacon to Illuminate the Fall" grips persistently and sets the standard for their style. The song urges and crawls, roars and enchants. Epic and cinematic, but not overdoing it. Heavy metal with sonic profundity and acuity. Towering hooks and monumental melodies, striking keyboard powering up and deepening its atmosphere, while the burst is in the gripping anguish-laden mid-section.
THE CONCLUSION
As much as their album cover entices, `Sky Void of Stars' enchants the listener. Instead of its typical gradual growth listening, the album displays an attractive more direct sound of melodic strength. Poppier to many, Katatonia's new album engulfs in emotional waves and ebbs with melancholy while packing the punch needed. The sonic sagacity and multitude of instrumental keenness structuring their songs is archaic. The album hits below the belt while touches the heart frequently. 
`Sky Void of Stars' will most certainly entertain their fans while opening doors to a broader audience. 
Release date: 20 January 2023