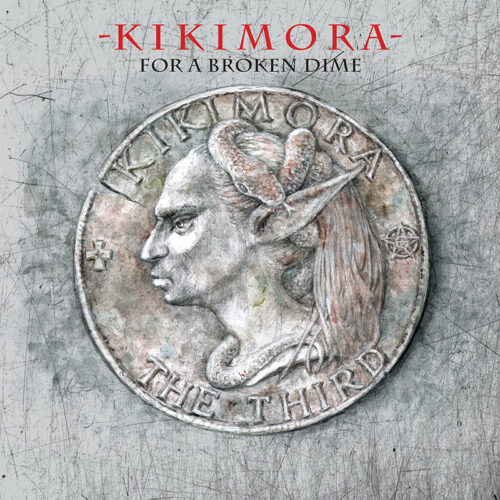 Review | Kikimora – For A Broken Dime
Frontiers Music srl
Lovers of classic rock in the vein of Rainbow, Deep Purple, and more recent bands like Heaven & Earth and Saffire might have picked up the 2021 release 'Dirty Nails' by Bulgarian rockers Kikimora. After living in Scandinavia where he was involved with Brazen Abbot and Nikolo Kotzev's Nostradamus guitarist/producer Nikolo Kotzev returned to his native Bulgaria.
KIKIMORA
He started the band Kikimora and in the first years the band only had songs in their own native language before switching to English lyrics and signing a deal with English label Escape Music. At the time this web magazine reviewed the record and was very positive about the music. The originality might not have been that high, but the quality of the music was and especially singer Nikola Zdravkov was an enormous discovery.
FIRE
Shortly after the release of that album in the summer of 2021 the home studio of Kotzev burned down and the band suffered a big setback because of that. But the fire did not break the spirit of the group. They worked on a new album and some two years after their first album in the English language they are back. No longer with Escape Music but now under the wings of Frontiers. And mark my words. I am sure that vocalist Nikola Zdravkov will feature on future Frontiers projects. Just as Kent Hilli, James Robledo, Renan Zonta, Ronnie Romero and so many others, it will be only a matter of time before Zdravkov will be used for other purposes.
The man just has the perfect voice and the power to sing classic heavy rock like no other as he proves on 'For A Broken Dime'. His performance on the album is just outstanding. He is right up there with the above-mentioned names and maybe even a bit better as well. Pretty sure that Frontiers boss Serafino Perugino's mind is working overtime to find the right project for this super talent who reminds me so much of Joe Retta, the former vocalist of Heaven & Earth.
DIFFERENCE
Is there much difference between 'Dirty Nails' and 'For A Broken Dime'? The main difference for me is that the songs on 'For A Broken Dime' are a bit more mature perhaps. The sound is really cool, the musical performances of the individual musicians can't hardly be faulted and Nikolo Kotzev once again proves to be a prolific song creator, guitarist and producer. In fact, in this genre Kikimora is the perfect package if you ask me.
The boys from Bulgaria really shine in power ballads such as ,,Father To Son'' and ,,Edge Of Freedom'' while ,,Have Mercy On Me'' could have been from the Rainbow/Joe Lynn Turner era. That Kikimora sounds so recognisable (or if you want 'familiar') is absolutely no problem at all. 'For A Broken Dime' contains ten songs that are all finger licking good and utterly entertaining. A not to be missed classic rock record, people! You have been told.
Release date: 7 July 2023