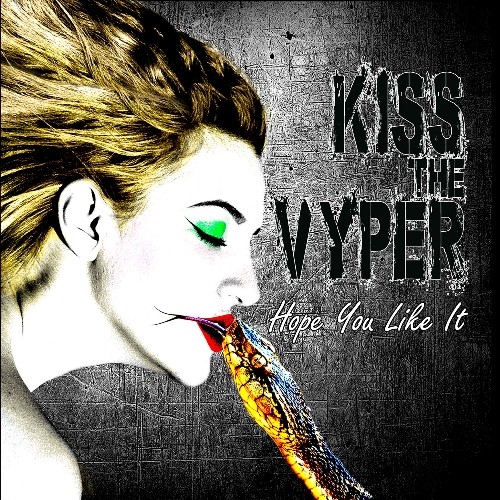 Review | Kiss The Vyper – Hope You Like It
Metalapolis Records
The Australian rock band Kiss The Vyper has been around for some years now. 'Hope You Like It' is their second release and the follow up to 'Keep The Fire Burning' that was released in 2016. No, these Australians have not taken a leaf out of the AC/DC-book (like so many other Aussie acts) but have looked more towards the eighties Hollywood scene when bands like Warrant, Poison and Mötley Crüe ruled the airwaves.
MAIN MAN
The main man of Kiss The Vyper is singer/multi-instrumentalist Bobby Miller who is also responsible for the production, mixing and mastering plus the bulk of the compositions. Standing by his side since the first album are drummer Corrie Antipatico, bass player Rob Bodger and back ground vocalist Deb Star. After 'Keep The Fire Burning' album the band parted ways with their guitarist Mick Gunn and keyboard player Vanessa Pylias forcing Miller to take up those instruments onto himself for 'Hope You Like It'. He also invited some musical friends to help out on guitars and keys. The band managed to struck a world-wide record deal with German label Metalapolis for this release.
WHAT'S IN STORE?
That is without any doubt the most important question. What does Kiss The Vyper have in store that should draw our attention? It is certainly not so that 'Hope You Like It' will create new musical boundaries as the music and style is very much shaped towards a glammy yet powerful rock sound with (as was the case on the first album) plenty of hard rocking guitars. And Miller and Co. certainly have not forgotten to put a good dose of melody in the songs with very decent vocals harmonies on top. Lyric wise the songs also have that typical glam rock vibe singing about wine, women and song. The most positive point for me is the relentless energy the band has managed to put into their performance with Miller adding (at times) a melo-dramatic approach in his singing performance.
When you look at the grand picture, I must admit that 'Hope You Like It' needs a few spins before things start to gel but when they do you will find that you might not listen to the most original rock CD of 2022 but you are certainly hearing hard rocking vibes galore, a lot of energetic performances, a bunch of decent songs and several songs (like ,,Back To Hollywood'', ,,Hot Night'', ,,Kiss From An Angel'' and ,,Won't Break My Heart Again'') that are standing out.
FRUITS OF THEIR LABOUR
Not many Australian bands sound as American as Kiss The Vyper does and I am curious how well the fruits of their labour will be received at home where the audience is more used to bands like The Poor, The Angels, Rose Tattoo, The Screaming Jets, Airbourne and more recently Wicked Smile that all have a raw sound in general. But at the end of the day Bobby Miller follows his own musical heart and has done a solid job with 'Hope You Like It'.
Release date: 24 June 2022