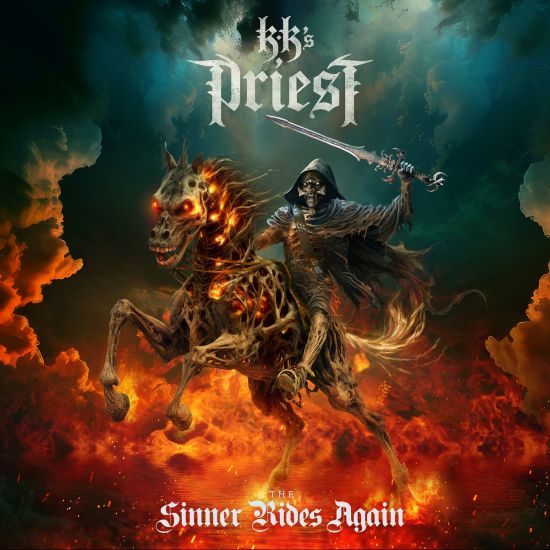 Review | KK's Priest – The Sinner Rides Again
Napalm Records
Last year in November during the induction into the Rock and Roll Hall of Fame (which was years overdue) estranged guitarist KK Downing took the stage once more with the guys in Judas Priest. Completely justified as KK Downing as a founding member and being active in the band for some four decades had the perfect right to be there and reunite for a few moments with Rob Halford, Scott Travis, Ian Hill, Richie Faulkner and Glenn Tipton. But after that KK Downing and the others each went their own way. For KK it was working on a second album with his own outfit KK's Priest, featuring singer Tim 'Ripper' Owens, second guitarist A.J. Mills, drummer Sean Elg and bass player Tony Newton. As of September 29, 2023 the fruits of their labour, entitled 'The Sinner Rides Again' can be heard worldwide.
A CLASSIC OR NOT?
Their first album 'Sermons Of The Sinner' was already proof that KK would continue in the musical direction that he co-invented and created with his former Priest colleagues. KK's Priest sounded as a reincarnation of the classic Judas Priest and to be quite honest I liked his album better than the last albums Judas Priest had made. With Ripper Owens he has a singer with multiple layers in his voice, going high and low, deep, and upbeat. Owens kills it again on 'The Sinner Rides Again' that is filled with nine old school and classic heavy metal songs, thundering drums and bass, scorching solo's, killer riffs, and plenty of twin guitars. Is 'The Sinner Rides Again' a classic or not? The answer lies in the future as at the end of the day the fans of this genre will decide on that.
INGREDIENTS
After hearing the album multiple times there is no doubt in my mind that KK's Priest is as good as it gets when you are talking old school heavy metal. All necessary ingredients are there in the form of (first and foremost) good songs, an excellent execution, and a brutal production by KK himself while veteran Jacob Hansen mixed and mastered the record. It seems that KK even went into his own musical archives using some riffs and musical ideas he had stored away. You will not hear me say that KK's Priest is better than the old Judas Priest but at times and with songs like ,,One More Shot At Glory'', ,,Reap The Whirlwind'', ,,Keeper of The Graves'', ,,Strike Of The Viper'' and the title-track KK and friends come pretty close indeed.
ORIGINALITY
Critics might have a problem with the originality of the music but do not forget that KK co-invented this style, so in a way he is following his own musical path, he is doing that what he has done for years in a row. Furthermore, he knows what the fans expect of him. A continuation of classic heavy metal, a thing that was big in the seventies, eighties, and nineties and that has still a certain value and merit in the current rock climate. KK Downing is made of metal and he has shown once again that this kind of music is in a way ageless, and that it still matters. And to be honest, I guess you can not teach an old fox new tricks….
Release date: 29 September 2023