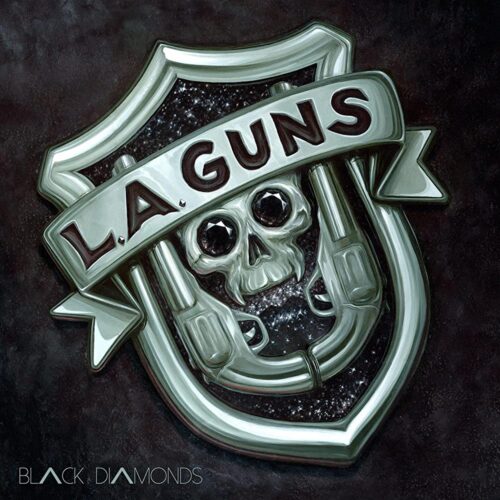 Review | L.A. Guns – Black Diamonds
Frontiers Music srl
Ever since reuniting some six/seven years ago L.A. Guns have been going steady forward. Singer Phil Lewis and guitarist Tracii Guns realised that fighting amongst each other did not really work and that working together in some sort of harmony was the way to go. That resulted into a very acceptable album like 'The Devil You Know'. But the albums that followed like for instance 'The Missing Peace' and the live-registration 'Cocked & Loaded' were not that super strong. There were certain good moments there but it did not completely satisfy.
L.A. GUNS – TIME FOR REVENGE
I hoped that it was time for revenge with the release of 'Black Diamonds' and that it would become a rocking, raunchy and sleazy affair. Realizing that the good old days of the first two albums are way behind us I strapped myself down, ready for an avalanche of raw and uncomplicated sleaze and punky rock and roll. But instead of a furious storm, we are confronted with a breeze. It just sounds as if L.A. Guns is just going through the motions and that the inspiration on this record is far below par. Even a ballad like ,,Diamonds'' can't cut it while most of the other tracks flow by without leaving something behind in your brain. L.A. Guns sounds flat and strolls around like a toothless tiger. Based on what I have heard on 'Black Diamonds' it might have become time to retire….
Release date: 14 April 2023