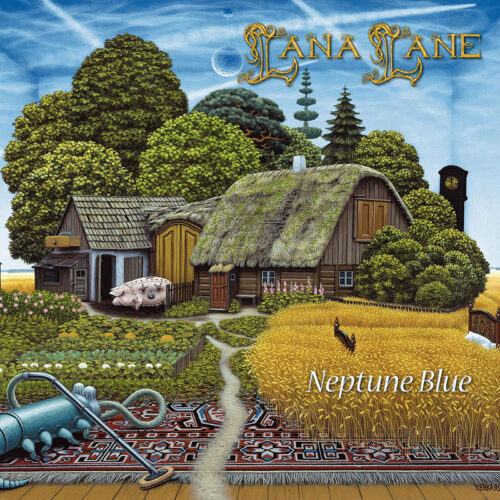 Review | Lana Lane – Neptune Blue
Frontiers Music srl
The year 2022 sees the return of Lana Lane on the recording front. For many this might be a first acquaintance with her music as her last album 'El Dorado Hotel' (a beauty!) was released in 2012, but insiders know that she has been around for many years and has made multiple albums that gained her a reputation as a well-respected singer of symphonic and progressive rock and metal.
DUTCH CONNECTION
Although she was born in North America Lana is of Dutch descent and is also related to no-one less than Davy Vain of the San Francisco band Vain. She has been around for some 30 years now and when she married Erik Norlander her musical career really progressed and went into overdrive. Her first albums were released in Japan only but soon Europe and the rest of the world took an interest. Besides her own albums where she always worked closely together with Erik Norlander, who took care of the production, keyboards and also composing and putting the band together, Lana during the years had a vast amount of guest roles on albums with Ayreon, Helloise and Gary Hughes (to name just a few).
The last couple of years she took a little step back as Erik worked together with former Asia vocalist John Payne under the banner Dukes of the Orient. It should be no surprise that John Payne does some background singing on 'Neptune Blue'. But now she is back in her full glory and the album shows us that time has had no influence at all on her vocal capabilities as she sings just as great as on albums like 'Garden Of The Moon'', 'Secrets Of Astrology' or 'Echoes From The Ocean'. She is as recognisable as ever!
STYLE
In the past Erik Norlander always wrote the liner-notes for the Lana Lane albums. Explaining each and every detail and giving the willing listener a close insight to the world of Lana and Erik. Although I have not seen the booklet of the album yet I am pretty sure that Erik probably has done the same thing here. As usual Erik also selected the musicians like guitarist/bass player Mark McCrite (who has worked with the duo before and was in the band Rocket Scientists with Erik many moons ago), drummer Greg Ellis and guitarist extra-ordinaire Jeff Kollman. If you are familiar with earlier Lana Lane material you should easily be able to connect with 'Neptune Blue'.
This record is a very well-balanced mix between symphonic and progressive heavy rock where the voice of Lana takes centre stage. Yet again she shows that she is able to tackle sensitive songs, she has the power and reach to do more 'heavier' work and as always, a Lana Lane album is filled with variety, not only in the music but also in the lyrics that at stages have a deep and meaningful character. Sometimes with a bit of fiction, sometimes of a dreamy character but always sensitive and with a topic. Add to that some outstanding singing, some really cool compositions, a balanced and crystal-clear sound plus some outstanding instrumentation and it is very obvious that Lana Lane has made a triumphant return on the music market with 'Neptune Blue'!
Release date 28 January 2022