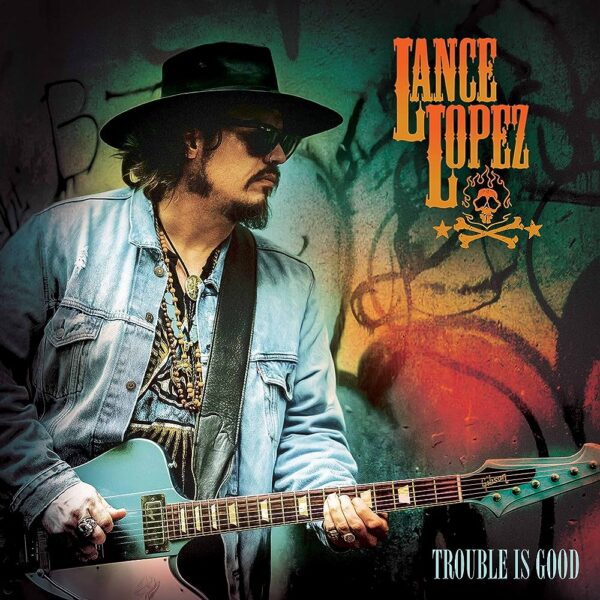 Review | Lance Lopez – Trouble Is Good
Cleopatra Records
It has been about five years since we were able to enjoy a solo-album by Texan guitarist/singer Lance Lopez. The album was called 'Tell The Truth'. A very good record that reminded me a lot of the two albums that he recorded with the band Supersonic Blues Machine. Fabrizio Grossi, bass player of that band, produced that album which was a big reason the album had so much in common with Supersonic Blues Machine and not so much with 'Handmade Music', another Lopez record that was very much like a southern rock record in the vein of Blackfoot.
GREG T. WALKER
Talking about Blackfoot. A while ago Lance Lopez joined the band Two Wolf, a new group led by Blackfoot founder Greg T. Walker (bass). I believe a record might be on the cards for later this year or early 2024. Until that I guess it would not hurt to check out 'Trouble Is Good', the latest Lance Lopez solo-release that clocks close to 40 minutes. As always, the guitar work by Lopez is finger licking good while his 'husky' voice gives him something like an own identity.
With tracks such as ,,Easy To Leave'' (slide guitar orientated), the fierce rocker ,,Take A Swing'', the title-track, ,,Trying In The Tri State'' (again scorching guitar work), ,,Jam With Me'', ,,Sunrise, Voyager, I Am Ra'' (a 7 minute song with some weird influences, but again great guitar playing), the simple rockers ,,Slow Down'' and ,,Wild Country'', and ,,Reborn'' Lance Lopez provides the fan of 'swampy' rock and roll, blues and a small touch of southern rock a very decent amount of entertainment on his new record.
NO NEW AVENUES EXPLORED
On 'Trouble Is Good' the guitar slinger does not really explore new musical avenues. He sticks with the genre that he has been active in for many years now. But despite that fact I must say that 'Trouble Is Good' is absolutely a decent and satisfying effort by Lopez. I am curious though what Two Wolf will be like. On YouTube you can see some live footage where the band performs mainly old Blackfoot songs. The YouTube channel is also a vehicle to use whether the latest album by Lance Lopez is to your satisfaction or not. I was happy enough to order the CD after checking a few tracks.
Release date: July 14, 2023