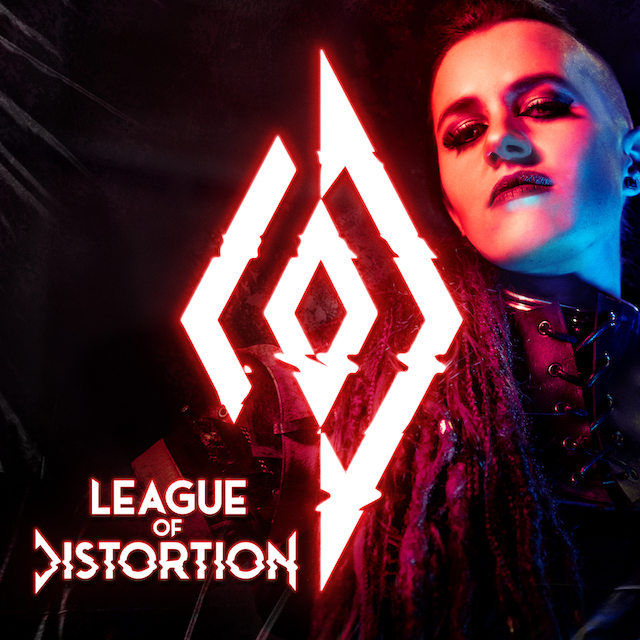 Review | League of Distortion – League of Distortion
Napalm Records
League of Distortion is the band shooting root from the collaboration between Exit Eden's Anna Brunner and Jim Müller of Kissin' Dynamite fame. Fusing both pasts on the template of modernity, League of Distortion brings a unique modern blend of symphonic, yet modern electric tinged rude metal, towering with powerful raw vocals and musical prowess. There's a distinct touch rising them above the genre, making this self-titled debut a remarkable and fresh endeavour, and a true heavy treat to blast us into 2023.
THE MUSICAL DEPTH OF LEAGUE OF DISTORTION
Howling wolfs and a quirky disgruntling 'chant' announce ,,Wolf or Lamb", the band's calling card on YouTube. Instantly revealing the band's allure, the song pulls forward with industrial enigma under Brunner's mesmerizing dark vocals. Shooting into gear with scattering drums, raw riffs and large orchestration, the chorus displays League of Distortion's musical depth. Brunner's voice is powerful, with metal accolades and fierce power from which she taps constantly. Her post-punk attitude shines through, like on the verbal 2ndsingle ,,My Revenge" with its explicit lyrics and towering riffs.
Hinges of Oomph! mounted onto melodic metal outbursts and dense tones, with chunky riffs and melodic chorus, pumped up for maximal joy. The band's 3rd video release ,,It Hurts so Good" enrols industrial with dark narrated verses loaded with effects, and (guest) Christoph Wiezcorek's vocals added to the towering, nesting chorus and fierce outcall "I'm in love with the pain!".
LEAGUE OF DISTORTION IS CROSSING BORDERS CONSTANTLY
Thus, we run from video to video on the opening, until ,,L.O.D" hits the airwaves with a more nu-metal approach to their modern ingredients. Implementing those riff-driven elements in the industrial effects and sonic beats, League of Distortion brings across their sonic endeavour with intense commitment. ,,Solitary Confinement" and ,,Do You Really Think I fuckin' Care" blend those ingredients with stomping beats and intense hooks and guitar melodies that explode in the chorus. The variety is utilized by Anna to lay down varied vocal deliveries constantly. Switching vocals again on ,,The Bitter End", she embeds a calming note with haunting roar in the verse before powering up for the melodic hook. Dry-thumping bass drums keep the song rotating into before an acoustic RHCP-lick breaks root and launches slowly into the empowering end.
Though all components come across reminiscent on the album, Brunner and Müller cross borders constantly, without estranging from the benchmark sound chased. The mix is profound and adds perfect stance to shine on all accounts and levels. Check the outstanding ,,I'm a Bitch" featuring enchanting lullaby-sections and storming anger-laden roars. Crossing boundaries of Lady GaGa structures and irate metal outbursts over sterling riffs. "Fuck you I can fuck who I want to" is the tongue-in-cheek ending leaning on Rage Against the Machine's 90s classic melody-line harshly topped off with Brunner questioning "But I'm a Bitch, right?!"
LADA GAGA
That same poppy cork is pulled on auto-biographical feeling ,,Rebel by Choice". Keys and Felix Rehmann's bass synced underneath the vocal melody, with Tino Calmbach's laying down a more progressive drumbeat with powerful fills and breaks for Müller to lay down his intrinsic guitar licks and riffs. Again, I have the feeling Brunner refers to modern pop with the lyrical GaGa fragment "we are born this way" toning down to her syncretic pop voice. It is her versatility radiating touching all registers, and I sincerely love the rolling of her 'r' that rattles for discomfort.
Touching deep is the intense ,,SIN" with its haunting opening and frail vocals. Packing intense anger underlining the lyrical content, the roaring riff takes the helm with doom parts and sound effects. Shifting shape between verses and chorus, the song gradually builds to and ardent towering ending.
ANNA'S SPECTACULAR VOCAL EXECUTION
`League of Distortion' is not as distorted as one might think, but with Brunner and Müller granted creative freedom, they deliver. Blending nu-metal grooves with industrial beats and effects, they lay down a firm foundation for the explosive cocktail presented. Subtle nuances and pop elements are mashed up in the brew that draws a variety of emotions, perfectly enhanced by the intense riffs and hooks that interact with the great melodies presented. They nest instantly, without losing power not their feverish tone. It's the vehicle carrying Anna's spectacular vocal execution, making all song's radiate insane prowess.
League of Distortion are a league of their own!
Release date: 25 November 2022