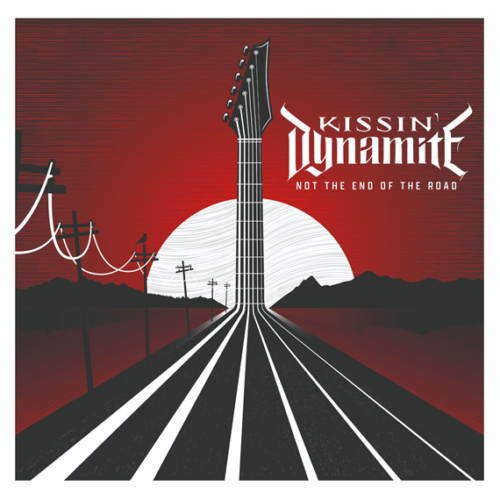 Review | Kissin' Dynamite – Not The End Of The Road
Napalm Records
You might recall that I liked Kissin' Dynamite's previous album 'Ecstasy' (2018). Now these German hard rockers release their brand-new 7th studio album called 'Not The End Of The Road' which is their first release with Napalm Records. Kissin' Dynamite's new album features twelve songs, from guitar-driven rock and roll anthems with catchy hooks and utterly addictive, singalong choruses to more laidback mid-tempo ballads in the veins of Bon Jovi and Def Leppard. The title track opens the album, and this song sets the trend for the rest meaning: huge melodies and bittersweet catchy choruses which you can sing/scream along to right from the start! Follow up ,,What Goes Up" is more laid back and stands out due to the anthemic hook while ,,Only The Dead" features rather "sarcastic" lyrics, like: "Only the dead do not give a damn!".
LIVE STAPLE
,,Good Life" is a really poppy song, featuring a contribution by guest vocalists Saltatio Mortis, Guernica Mancine (Thundermother) and Charlotte Wessels (former Delain). This song the band wrote especially to support the fight against cancer with children. Not only to create awareness, but the proceeds of every stream will be donated and therefore matters.
Then follows the 4th single of this album, called ,,Yoko Ono", again a catchy song with some remarkable lyrics. Highlights for me are: ,,Coming Home", a mid-tempo ballad with a huge chorus reminding me of Bon Jovi and ,,Voodoo Spell" a great anthem-like track very suitable for a stadium and a live staple for sure. The softer tracks ,,Gone For Good" and ,,Scars" are also worth mentioning as they prove that Kissin' Dynamite is not only a band that can come up with eighties flavoured melodic hard rock.
PASSION AND POWER
,,Gone For Good" is a sublime soft ballad-like song, while ,,Scars" kicks off acoustically and turns out to be the mellowest track here filled with lots of orchestration and excellent vocals by Hannes Braun. 'Not The End Of The Road' was produced, recorded, and mixed by singer Braun and the mastering was completed by Jacob Hansen (Volbeat). So, again a great melodic hard rock album from our German friends Kissin' Dynamite and a must have album for fans of Bonfire and Silent Force. Turn up the volume and scream along to these new melodic hard rock anthems played with lots of passion and power.
Release date: 21 January 2022