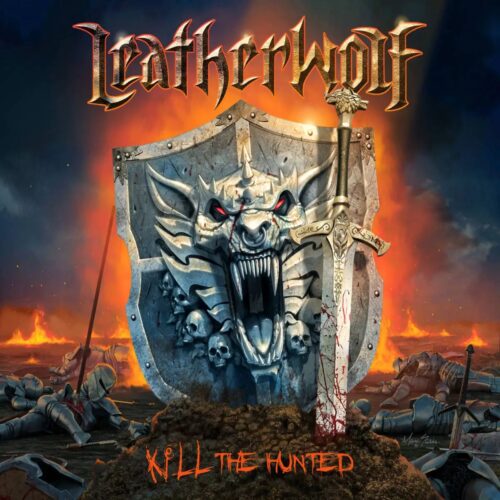 Review | Leatherwolf – Kill The Hunted
N.I.L. 8/Rock Of Angels Records
Another legendary band of the eighties and nineties has after several stops and an enormous amount of line-up changes managed to get a new album together. Originally hailing from the US state of California Leatherwolf (the band known for having three guitarists, the so-called Triple Axe Attack) are putting their noses against the window again, although there are hardly any original members left from the line-up that started out in the mid-eighties and made some remarkable albums like 'Street Ready', 'Endangered Species' and 'Leatherwolf'.
TROUBLE AND CHAOS
After 'Street Ready' trouble and chaos entered the ranks, the band went on a long hiatus, operated for a while with several members under the name Hail Mary before coming together again and recording the album 'World Asylum' in 2006 featuring new singer Wade Black, only to find original singer Michael Olivieri returning and re-recording all vocals for that album that was released as 'New World Asylum' somewhere in 2007. After that more changes and law suits followed and when Olivieri left again in 2019 to be replaced by Keith Adamaniak the band started working on a new album with him.
THREE YEARS IN THE MAKING
'Kill The Hunted' has finally seen the light of day but was at least three years in the making. And even this year there were yet again line-up changes. Guitarist Luke Man returned, former Michael Schenker sidekick Wayne Findlay joined on guitar and keyboards (that are hardly noticeable on the new record) and band hopper Barry Sparks entered the ranks on bass, helping out guitarist Rob Math (who joined somewhere in 2011), Keith Adamiak and drummer Dean Roberts, the only remaining member from the old days and in charge of production of this album. I honestly cannot tell you if the three latest recruits have done anything on the new album or not.
SOUND INTACT
The sound of Leatherwolf and their specific aggressive yet melodic guitar driven heavy rock with a metal edge has stayed intact on 'Kill The Hunted'. It is an album for people who like their guitars sounding loud and proud and who like a singer who is right out there with a powerful and sometimes high-pitched vocal approach. It is obviously better produced in comparison with the old albums but the atmosphere has not really changed. The similarities with the old days are definitely there in straight forward rockers such as the title-track and the fast paced hard rockers ,,Hit The Dirt'', ,,Road Rage'' (played in a very fast tempo) or ,,Nobody''.
Looking at all the tracks a few ones are slightly less, so the consistency is not completely there, but the cast iron production and sound that Dean Roberts has managed to lay down on tape makes up for that in my book. If there are still any fans left from the old days and they want to swell in a bit of nostalgia I suppose 'Kill The Hunted' is an ideal soundtrack for them. New metalheads that might appreciate these efforts might be inspired to check out the past of Leatherwolf that is absolutely worthwhile diving into.
Release date: 11 November 2022