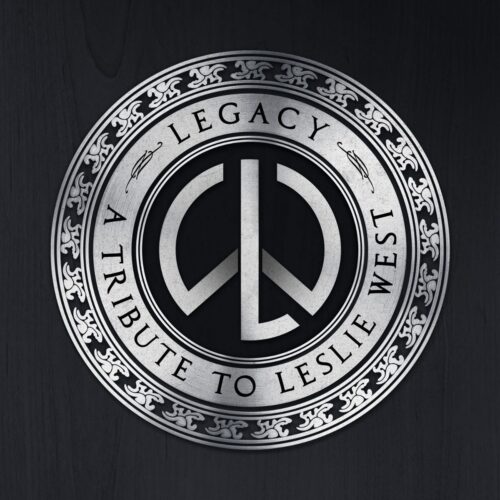 Review | Leslie West – Legacy : A Tribute To Leslie West
Provogue Records / MLG
Guitarist/singer Leslie West (real name Leslie Weinstein) passed away at the age of 75 on December 23, 2021 suffering a fatal heart attack after a career that lasted more than five decades. He was the co-founder of Mountain, had his own Leslie West Band, started out in the band The Vagrants, had a power rock band called West, Bruce & Laing and he recorded many solo-albums. The man was a big influence for other guitarists and he was in every category a big bloke constantly battling weight problems and in a later stage diabetes type 2.
WELL DESERVED TRIBUTE
After his passing and after the many tributes rolling in for him it was only a matter of time before a well-deserved tribute album would be planned and recorded. The initiative came from Dutch label Provogue, the label Leslie was associated with for his last album 'Soundcheck' cooperating with West's widow Jenni and his long-time manager Bob Ringe. It was at first the intention for Leslie to re-recorded his favourite tracks but he passed away two weeks before the scheduled recordings were to take place.
When you look at the list of participating musicians just one word is appropriate: impressive. Zakk Wylde, Marty Friedman, George Lynch, Martin Barre (Jethro Tull), Slash, Yngwie Malmsteen, Eddy Ojeda, Rudy Sarzo, Joe Lynn Turner, Dee Snider, Ronnie Romero, Mike Portnoy, Steve Morse, Charlie Starr (Blackberry Smoke), Randy and Tal Bachman (father and son), Teddy Rondinelli. Marc Labelle (Dirty Honey) and last but certainly not least Robbie Krieger, original guitarist with the sixties band The Doors and a friend of Leslie West.
THE MUSICAL APPROACH
What about the musical approach on 'Legacy'? How can you pay tribute to a man whose playing, sound and tone was quite unique in his day? By sticking reasonably close to the original versions for one and by mixing it up a bit as well. Singing wise the voice of Zakk Wylde with his gritty tone comes pretty close to the voice of Leslie West (,,Blood Of The Sun'') while Yngwie Malmsteen throws his balls to the wall on ,,Long Red'', putting partly his own stamp on the song with an impressive vocal performance of Teddy Rondinelli.
He is the brother of Bobby Rondinelli (ex-Rainbow, now Axel Rudi Pell) who in the past was backing Leslie West together with bass player Rev Jones. Bobby and Rev have laid down the basics for 'Legacy' with the exception of the song ,,Theme For An Imaginary Western'' where Rudy Sarzo and Mike Portnoy stepped in on bass and drums. But the fact that Bobby Rondinelli and Rev Jones have provided the basics for this album is of ultimate importance.
INTEGRITY
They have kept the originality of the songs intact and what is also striking is that the overall sound of this album gives you the feeling that you are listening to an album from the late sixties/early seventies. The integrity of the music has been kept intact also because the participating guitarists have done their best to emulate the style and unique tone that characterised Leslie West. Sometimes you think you hear the man play himself. The same goes for the singers. Like already stated Zakk Wylde comes very close to the gritty voice of Leslie West but also kudos to Ronnie Romero, Randy and Tal Bachman, Marc Labelle, Charlie Starr, Joe Lynn Turner and Dee Snider.
MOUNTAIN
Snider was tickled pink to be able to sing ,,Theme For An Imaginary Western'', one of the most epic songs Mountain ever recorded. It was originally recorded and co-written by the late great Jack Bruce for his 1969 solo-album 'Songs For A Tailor', that was produced by Mountain singer/bass player Felix Pappalardi who liked the song that much that Mountain recorded it for their first album 'Climbing!'. Later it became a regular live track for Leslie West concerts. The version with Eddie Ojeda, Rudy Sarzo, Mike Portnoy, Francesco Saglietti and Dee Snider is beefed up in comparison with the Jack Bruce and Mountain versions.
Not a hundred percent sure if Dee Snider is the perfect vocalist for this rock ballad (that requires some high pitched singing) as he seems to struggle a bit with his reach but later on the album the CD he takes revenge with a bone crushing version of ,,Never in My Life'' with George Lynch on guitar. Mountain's most famous song ,,Mississippi Queen'' has been tackled to the max by Slash and a stunning vocal performance by Marc Labelle.
CONCLUSION
I think we can come to the conclusion that 'Legacy – A Tribute To Leslie West' is a definite winner. His music, his career and his unique style of playing is captured to a T. It is all done with love and respect. Young rockers that are not familiar with the career of Leslie West can get a good taste of what this man was all about by listening to this album while people that are aware of this 'mountain of a man' most likely have already got their copy. One of the best tribute albums in a long, long time.