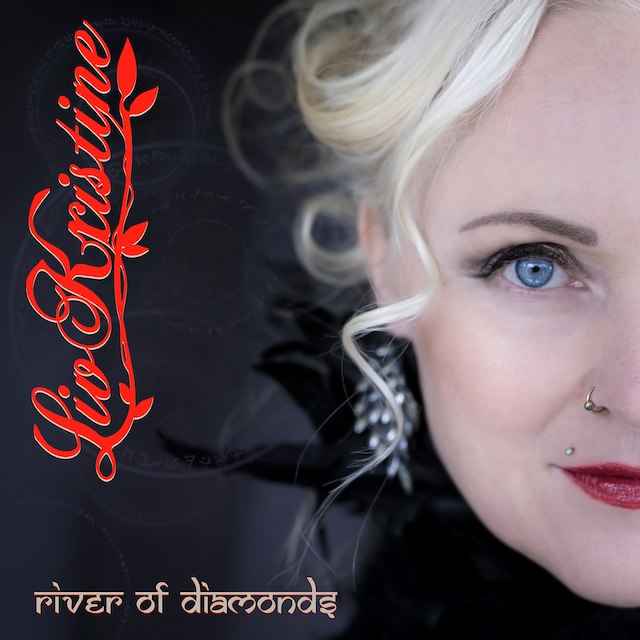 Review | Liv Kristine – River Of Diamonds
Metalville Records
Norwegian vocalist Liv Kristine is best known for her contributions to symphonic metal al divining face and voice of bands like Theatre of Tragedy and Leaves' Eyes, as well as for her solo efforts following her departure. Liv was one of the pioneers in the 'beauty vs the beast vocals' approach which would define the art and craft of symphonic gothic metal bands creating and developping the genre. 
With her last solo effort `Vervain' lying already 9 years behind us, Kristine reports back with `River of Diamonds' after years of turmoil in which she was faced with her life being put upside down. Liv Kristine set new boundaries and explored her energy sources while finding herself by challenges and passion. Cooperating with her old songwriting partner Tommy Olsen of Theatre of Tragedy, Liv reinstalled her poetic lyrical feeling put to the driven symphonic tracks Olsen created for her previously.
THE LYRICAL CONTENT
`River of diamonds' connects the glittering sparkle of light reflecting off the dark, like uplifting experiences experienced during the darkest of times. She puts the lyrical content of her past and blends it with a poetic well that is constructed around the dark wave influenced tracks. The symbioses delivers a wonderful couple of tracks which have seasoned over time of creation.
The fusion of her past symphonic bands and Olsen's darker and more melancholic gloom perfectly balances out with Liv Kristine belting her emotional melodic chants. It's an angelic flow that lines up well. From the highly melodic gem ,,Our Immortal Day" sparkles the interacton of doom narrative vocals and Liv's typical pitched vocals. The contrast is impeccable, as Kristine hits the frail angelic notes over Østen Bergøy's (Long Night, Tristania) somber low bariton narration. Like this song benefits from Liv's return to the forefront, the entire album wells with emotion celebrating her return. Tracks fusing her varied historic discography with the new-found elan like ,,Maligna", ,,In Your Blue Eyes" with its reflective stature, and the double kicked 80s wave tinged rocker ,,Love Me High", all display the creative force of Olsen and Kristine.
Absolutely wonderful is the magnificent and colorful ,,River of Diamonds" which blends impressive guitar melodies with a low pulse and nesting vocal melodies. It's a showcase of their musical craftsmanship, taking the best of all worlds.
TWO COVERS
,,Shaolin Me" reigns with its symphonic arrangements and jagged bass-guitar pull and pitched wonderful chorus. The same poise (with richer drive) is found on the following ,,Serenity", almost as if it's a chapter closing the previous song with a reflective message of religious diversive believe. The slow treded ,,No Makeup" taps the vein of honesty with upwards scattered vocals towards its pitched chorus, and the hoovering modern effects of ,,Gravity" underline the frailty of the content.
Adding to the wonderous adventures and uplifting spirit of the album, Liv recorded two cover songs for `River of Diamonds' of which the piano rendered version of ,,True Colors" (Cyndi Lauper) adds color to the melancholic tendence of the album. Invoked with lively vocals, at times bordering the register of the colorful creator herself, it sounds authentic and true. The track is a breathe of life of Liv finding herself during the challenges of life. It speaks to us with heartfelt passion. More surprising is ,,Pictured Within" by Jon Lord, the gorgeous duet with her husband Michael Espenæs, who actually debuts as a vocalist on the song. The ethereal ooze of the song is also found on the lush ,,If I am Dreaming", that attracts with its angelic dreamy vocals.
LIV KRISTINE AND CARMEN ELISE
Another duet is ,,Love Me High" with her sister Carmen Elise with whom she teamed up in the dual vocalist band Midnattsol. Clearly both vocalists know each other's range and gel well together, making the song's vocal delivery come across very authentic.
`River of Diamonds' sparkles within the gloom of it's content. Liv's soprano voice has aged gracefully and her performance certainly benefits from her technical teaching for musicians. Her range is pleasant over all registers and adds to the dramatic delivery of the personal invoked lyrics. The somber note and content is emphasized by her wonderful pitch and lived through experience of the personal thrive. The interaction and palate Olsen painted as a picture with his arrangements, whirls with Liv's typical classic phrasing and melody lines, making the album a musical wonderful endeavor that oozes confidence and stride amongst its most frail moments.
Release date: 21 April 2023