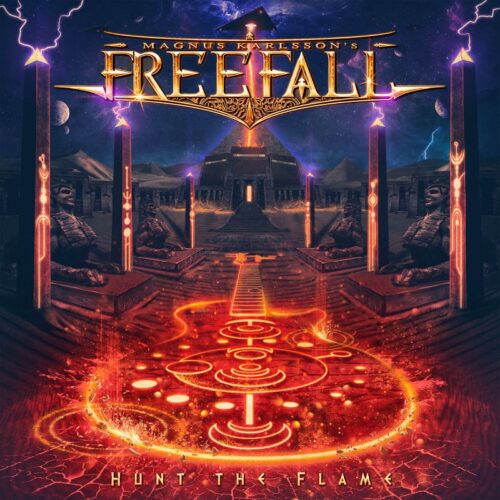 Review | Magnus Karlsson's Free Fall – Hunt The Flame
Frontiers Music srl
On the fourth chapter of his Free Fall adventure Swedish multi-instrumentalist/producer/composer Magnus Karlsson (also a member of Primal Fear) presents yet again an avalanche of bombastic rock that flirts with regularity with melodic metal as well.
SIGNATURE GUITAR SOUND OF MAGNUS KARLSSON'S FREE FALL
What I always love about Magnus Karlsson is his signature guitar sound. It might not be there so prominent on Primal Fear releases where he shares guitar duties with two other people, but when he is involved in his projects like for instance Allen/Olzon, Starbreaker (with Tony Harnell) and Allen/Lande where he has total artistic freedom, he lets that specific sound and style rip. As is also the case with the Free Fall projects. And as it has always been the case, it is always exciting to find out which singers he has involved. This time there are eleven songs with eleven different vocalists. And each singer, whether it is James Durbin, James Robledo, Kristian Fyhr or Girish Pradham has their own approach and identity. It is always exciting to hear of it all has turned out or not.
CERTIFIED STYLE
The Free Call albums always have a trademark you can describe as a certified musical style. Bombast, power, melody and variation in tempo are all part of the process. I am not sure how much of an influence a singer has on an individual song as Karlsson writes all the material himself and quite likely provides a singer with a vocal guideline. But as always (as was the case on earlier albums such as 'Kingdom Of Rock' and 'We Are The Night') Karlsson has made 'Hunt The Flame' into an impressive affair.
FAVOURITES MAGNUS KARLSSON'S FREE FALL
This time I have found some firm favourites as especially James Durbin with his extended power and high pitched voice catapults ,,Thunder Calls'' into a metal category of its own while Girish Pradham really steals the show on for me the best song of all entitled ,,Holy Ground''. That does not mean that other songs that are sung by people like Jakob Samuel, James Robledo or Kristian Fyhr are mediocre, far from, but these two mentioned tracks just jump out for me. It is another all-round top-notch performance by Karlsson (guitars/bass/keyboards) who yet again could count on drummer Anders Kollerfors to contribute his parts with the necessary power and force.
Release date: 14 April 2023