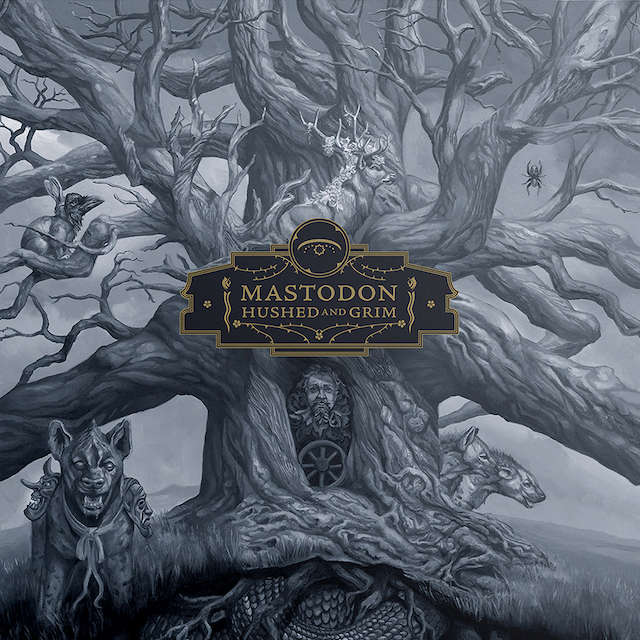 Review | Mastodon – Hushed and Grim
Reprise Records
Following their acclaimed Grammy winning `Emperor of Sand' this new offering again displays the Hinds team at pushing the envelope and resetting the beacons of their boundaries. Over the course of their career Mastodon has continuously reinvented themselves exploring the widest array of musical influences. Not often straying from their core fanbase Mastodon has established a following in line with their growth; diverse and varied.
WALL OF SOUND
`Hushed and Grim' took a swing at me. The `Emperor Of Sand' album reset Mastodon and landed them midfield, the new album hit out of the ballpark. Usually that means a homerun, but not in this case. Running time 90 minutes in Mastodon territory is not a weakness. Their music always bears a ton of morphing explorations in their sound. Never a dull moment. `Hushed and Grim' however is quite a long listen, with the band moving into a dense but overall more mainstream direction. Out of the 15 songs there's only a handful sticking on first spin. That while in general its melodies are more memorable and nesting. It is the music offered making it harder to devour. An endless poise of chugging guitars, beginning to end creeps up on you. This wall of sound posted in front of the listener is stripped from its genius solos marking Brent Hinds and Bill Kelliher's sublime feeling for dramatic progressive twitches. Versatility now is mainly put on Brann Dailor's plate, who's drumming is on par. He injects glimpses of the band's past and displays his typical driving agility. Connecting the low end down tunes guitars with Dailor's dynamic foundation is Troy Sanders' intrinsic bass playing.
SINISTER AND MELODIC
,,Pain With an Anchor" has my head bobbing and surprisingly reminds me of Evergrey at times. ,,The Crux" opens ominous but also drowns in puddle of density, much like many of the tracks offered. Highlights are ,,More Than I Could Chew", refraining from the eternal loop of alt rock guitars pushing. Very moody and dynamic it enrols with pristine power, matching my expectations. Welling keys add to the dominant riffs pulling forward and Dailor's hammering prog rhythm. Followed by the sinister but frail ,,The Beast" it marks an emotional turn of events in the first half of the album. Toning down even further for a psychic ,,Skeletons of Splendor" Mastodon hushes the listener to return with the poppy tinged ,,Teardrinker". Earmingling melodies and Hinds singing more melodic than ever before, only occasionally scuffing up things.
When pace goes up and Mastodon paws in their past, the band somehow seems to go head first down into their own creation of density. ,,Pushing the Tides" and ,,Dagger'' are examples. Serving classic ingredients all drown in an unidentifiable pool of noise. It is that making it less enjoyable for me. Melodic moments such as on ,,Peace and Tranquility" suffer from the imbalance and sonic stray. Psychedelic alt moments interlace with progressive execution lacking pitch. Only rarely we get presented bits and pieces I eagerly anticipated. ,,Savage Lands" brings forward insane dynamics but also falls prey to the overall sound. Epic tracks always stood out on their previous records, yet even ,,Gobblers of Dregs" doesn't light my fire this time.
MAINSTREAM TERRITORY
Lucky for us the album goes out with a big bang. ,,Gigantium" is a gloomy slow-paced track which nests on the spot. Great drum dynamics and ominous roaring guitars underneath Hinds' roaring vocals. Lemmy-ish snarls and hypnotizing melodies pull forward in grandiose tenure. It almost makes you hit repeat…. Perhaps the album simply doesn't land with me. For me however it just goes limb. Choosing the least obvious path, Hinds and his men took a path into mainstream territory but forgot to ignite the songs with fire. It meanders onwards too much. The album spun at least five times and every single time I shot up on specific moments only. For the rest, it was merely background music. And that, is perhaps why I can't grow into it.