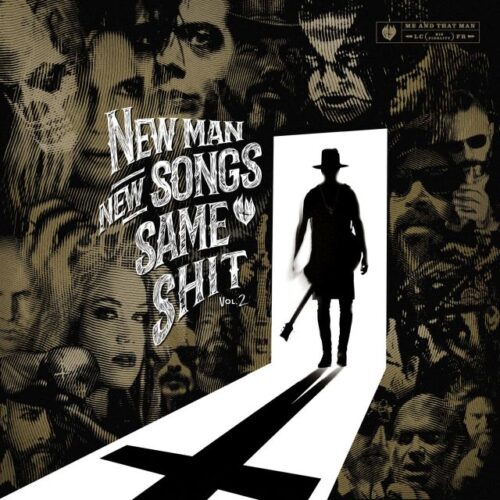 Review | Me And That Man – New Man, New Songs, Same Shit, Vol 2
Napalm Records
He's doing it again. Adam 'Nergal' Darski, frontman of the Polish black metaller Behemoth, delivers his third album on his side-game Me And That Man.
What started as a duo in 2017 should actually have a new name by now. Me And That Man already expanded on the last album with the title 'New Man, New Songs, Same Shit Vol 1' to several heads on the vocals and would be correctly called Me And That Men.
SWAMPY COUNTRY
Also on the follow-up album Nergal gathers the 'who is who' of the scene. On opening track ,,Black Hearse Cadillac" we see a reunion with the former Turbonegro maniac Hank Von Hell (r.i.p. November 19, 2021).
Furthermore, illustrious faces such as Abbath, Devin Townsend, Alissa White-Gluz, Randy Blythe, Blaze Bayley, Mary Goore (aka Tobias Forge) and ex-Misfits voice and Danzig successor Michale Graves gather together on this swampy country album.
If you have so many friends, you don't need enemies anymore. Nergal couldn't care less. He polarizes in the scene for years and is either loved or hated. The man just does not pass without a trace.
The new men (and of course the ladies) really suit the sound and I hope for a Volume 3 soon.