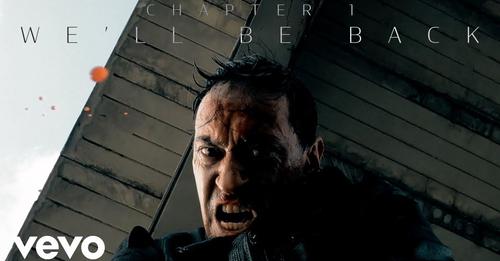 Review | Megadeth – We'll Be Back
Video Single
In conjunction with Mustaine's short film ,,We'll Be Back: Chapter I", the action-packed movie about their iconic mascot Vic Rattlehead, Dave and his revamped Megadeth line-up release the brand-new single with the same title. Now wait…. Hold your horses, cuz Dave certainly got something to say, and he wrapped it up in metal to surprise fans and listeners.
CHALLENGING TIMES
It has been a swizzle of emotions over the pandemic years, especially for Dave and his metal band. Megadeth went through challenging times. After Mustaine's recovery from throat cancer, the cup wasn't empty. dismissing bass player Dave Ellefson after allegations of him grooming an underaged girl after explicit videos started circulating on the internet, challenges lied ahead. With the highly anticipated new album `The Sick, The Dying… and The Dead!' on the horizon and recording sessions started, Mustaine needed to act quickly. Master bass player Steve DiGiorgio (Testament, Sadus, Death, Iced Earth) he got his recordings covered, and at longer last announced James Lomenzo (Pride & Glory, White Lion, BLS, Slash' Snakepit) reuniting with the band completing its line-up. With Dirk Verbeuren behind the drumkit and Kiko Loureiro on guitars, Mustaine has a line-up to shred towards the future, initiating `The Sick, The Dying… and The Dead!' as Megadeth's new square one.
GRIM AND GLOOMY VIDEO
,,We'll Be Back" is accompanied by a grim and gloomy video of men going into battle, the song instantly combusts with a trademark Mustaine riff. There's an insane amount of energy in the interaction with Loureiro who fires short solos at random while the commencing riff keeps snarling. Snarling also applies to Mustaine frustrated vocal sound. Much like in the old days he growls and hurls, occasionally lashing out. Nonetheless he aged well as is proven in the melodic fragments of the track, where Dave displays unexpected melodic growling. It adds up to the potion presented on this track. Pre-chorus and chorus are very memorable and the hook is insanely attractive. Switching tempo, it has swagger and swings.
The main solo is a finger licking string bender with Kiko going in unloading his sublime technique and feeling. The action-packed scenery of two fighting soldiers on the beach after a misfire falls in a halt musically. Intense riffs and breaks are unloading intensity adding to the video.
CLASSIC MEGADETH
Diving into this double bass kicked 2nd part the riff is blunter and more forceful. Dirk pumps out rousing dynamics with his double bass while riffs keep progressing with a grinding roar. A subtle touch of "Conjuring" at the end makes the song go full circle with their legacy. Breaks add to the tension and the whole show goes out with a bang, cinematically as well as musically.
,,We'll Be Back" certainly bears the agony of the last 3 years, as it unravels with commencing force. Raw driven riffs, intense soling and powerful bass and drum interaction shoot into. Megadeth sounds classic as well as revitalized and fresh. Mustaine and his men went all in for the new record and visually and musically the entire presentation adds to the legend of the band. With Vic Rattlehead's story being told in a trilogy of short films, Mustaine hands the fans what they want while returning to fine form. Because this is Megadeth as we want to hear them!