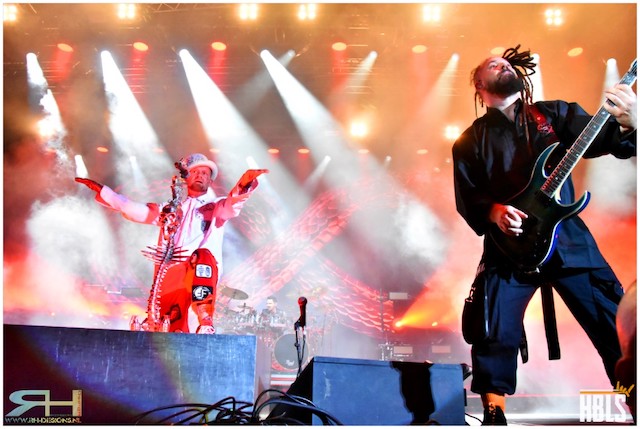 Live | Five Finger Death Punch [support Megadeth]- Mitsubishi Electric HALLE, Düsseldorf [DE]
14 June, 2022
Last Tuesday it was time to travel to Düsseldorf to hear and see Five Finger Death Punch and special guest Megadeth at work. This event would first take place in the Hockey Park in Mönchen Gladbach, but since the Deutsche Manschaft also had to play a match against Italy in the nearby soccer stadium, it was decided a few weeks ago to move the event to Düsseldorf.
As it turned out, an extra band [Fire From The Gods] had also been added to this package. But due to all kinds of contractual obligations it was not possible to see their show.
MEGADETH
I must confess that I was very curious about the show that Dave Mustaine and his men would put on. The last time I saw the band live was in 2001 at Bospop in Weert [NL] and before that in 1993 at De Kuip, Rotterdam [NL]. I felt it was definitely about time to be present at a Megadeth show again.  
The current line-up of Megadeth consists of vocalist/guitarist Dave Mustaine, bassist James LoMenzo, guitarist Kiko Loureiro and drummer Dirk Verbeuren. Just after eight o'clock, the fourpiece claimed the stage for a series of high-quality thrash classics. And we can really speak of a great classic set, because only two songs of the latest studio album `Dystopia', released already in 2016, were played tonight; the title track and ,,The Threat Is Real''. The show, however, opens with stunner ,,Hangar 18'' from the 1990 release `Rust In Peace', before immediately surging with ,,Dread And The Fugitive Mind'' from 2001.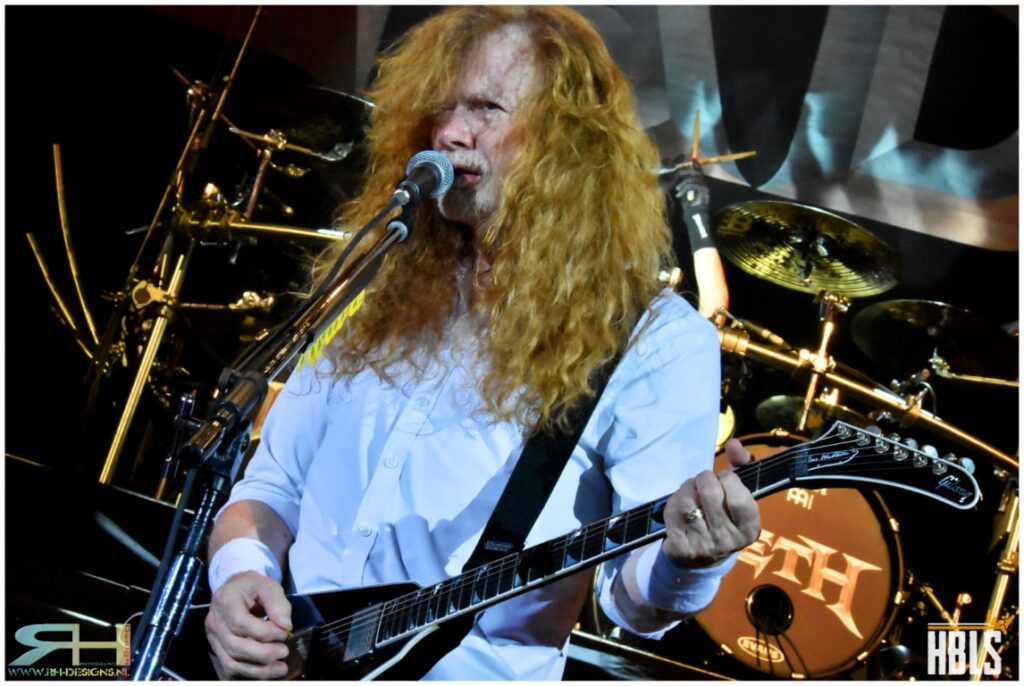 Although it is clear that Dave doesn't get any younger, luckily his typical vocal sound is still there without clearly audible wear, despite his battle against throat cancer. And his guitar parts are as tight as can be. What a hero!! And yes, also the rest of the band have got their act together. We can therefore only conclude that Megadeth is far from extinct and the audience is obviously having a good time. By the way, the Mitsubishi Electric Halle is pretty much packed tonight.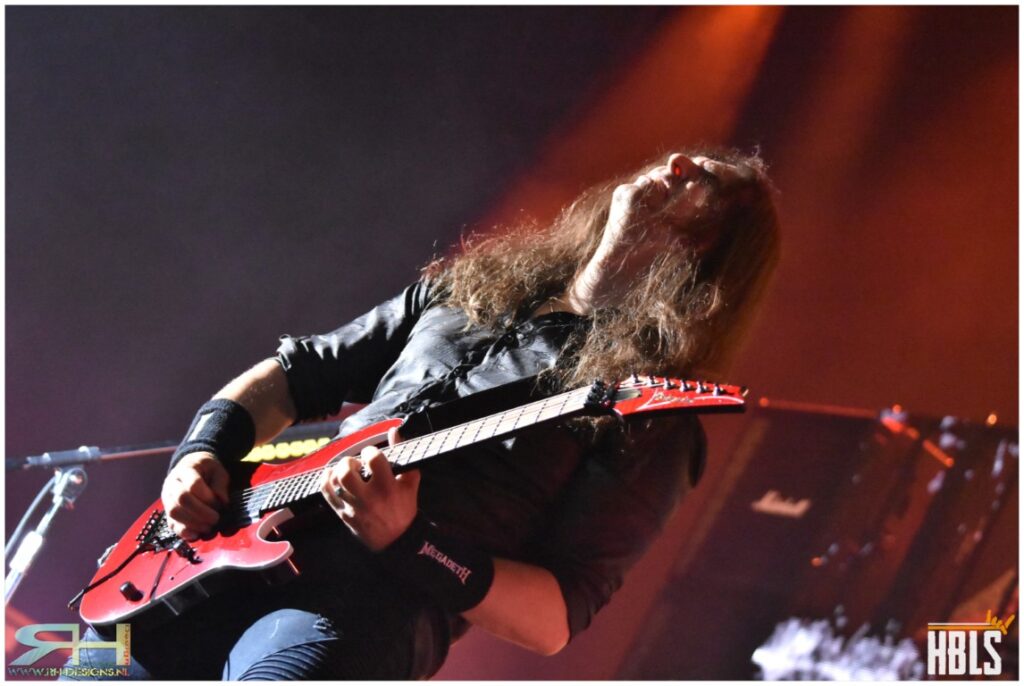 With killer songs like ,,Trust'', ,,Dystopia'', ,,Wake Up Dead'', ,,Symphony Of Destruction'', that probably has one of the best thrash guitar riffs ever, and ,,Peace Sells'', tonight's performance can only be described as very successful. It felt like a journey through the immense music catalogue that Dave Mustaine created since 1983. This man is without a doubt a legend who is also responsible for writing classics known to the world as Metallica's `Kill 'em All''. Yes, Dave might always be linked to the birth of that band, but has built a legacy of his own with Megadeth since then.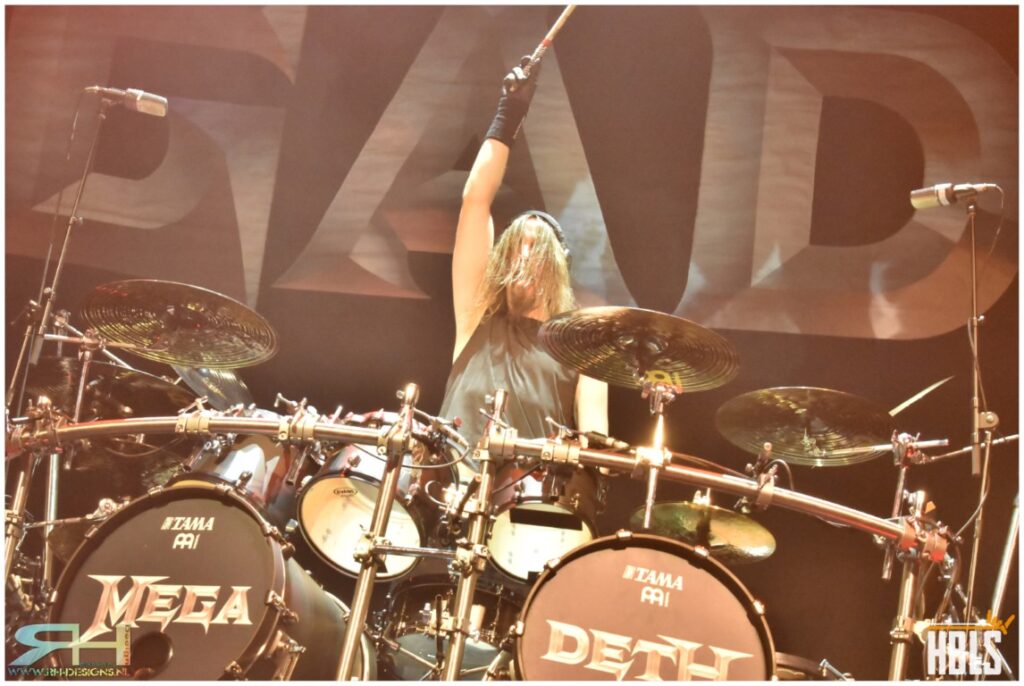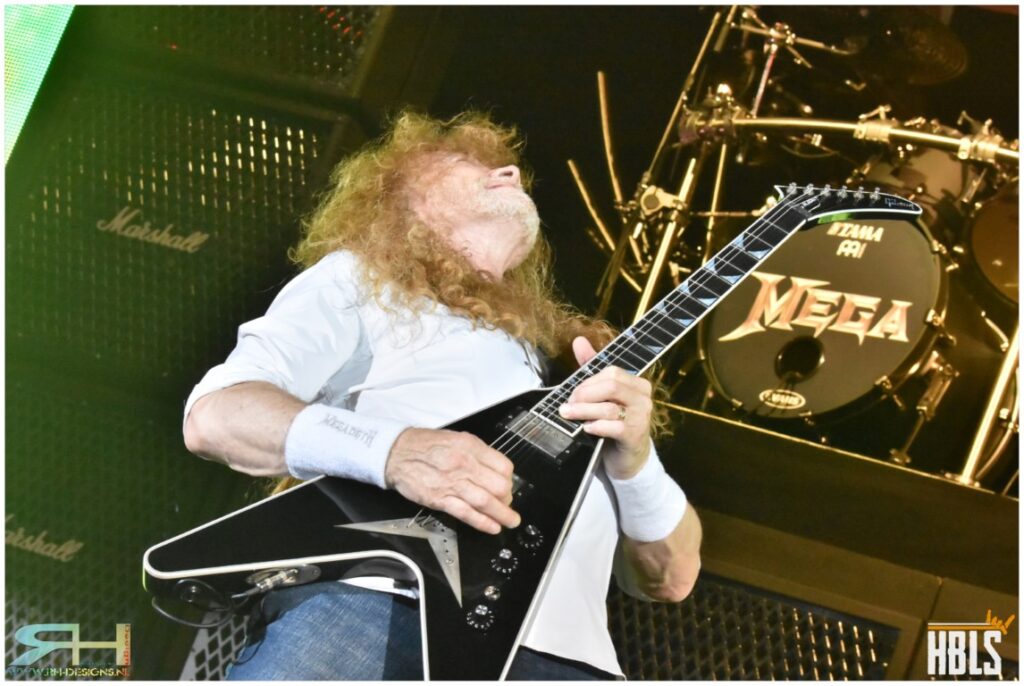 I can only conclude that Megadeth is still alive and kicking in 2022 and what I saw tonight makes me curious about what to expect from `The Sick, the Dying… and the Dead!', the upcoming sixteenth studio album that will be released in September this year.
SETLIST MEGADETH
Hangar 18
Dread And The Fugitive Mind
Trust
Sweating Bullets
Angry Again
Dystopia
Wake Up Dead
The Threat Is Real
Symphony Of Destruction
Peace Sells
Holy Wars… The Punishment Due
FIVE FINGER DEATH PUNCH
And then it's high time for today's main act, Five Finger Death Punch from Las Vegas USA. Since their formation in 2005, this act has more than earned their spurs and it is therefore not surprising that the Mitsubishi Electric Halle is almost filled to the brim with enthusiastic fans.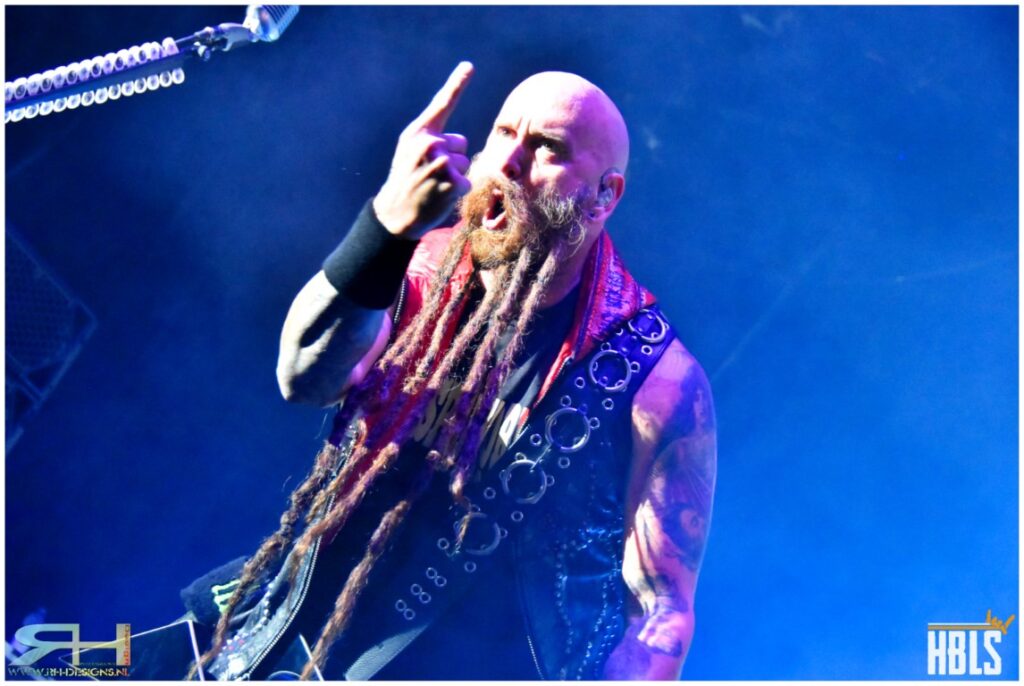 The band around guitarist and founder Zoltan Bathory is currently on a European festival tour and has also arranged a few individual shows. And what a show it is!!! It is simply a joy to hear and see this five-some at work. Five Finger Death Punch plays a super tight selection of songs that represent just about all their albums. And we're even treated to the latest single ,,Welcome To The Circus'', which was released ahead of the release of their upcoming new album `AfterLife'.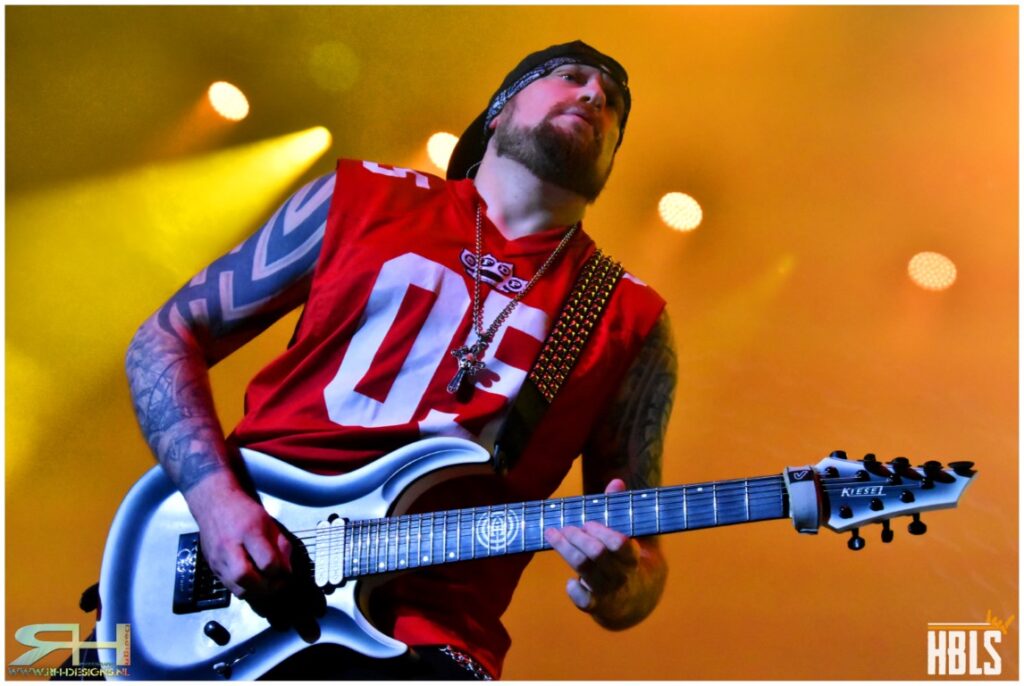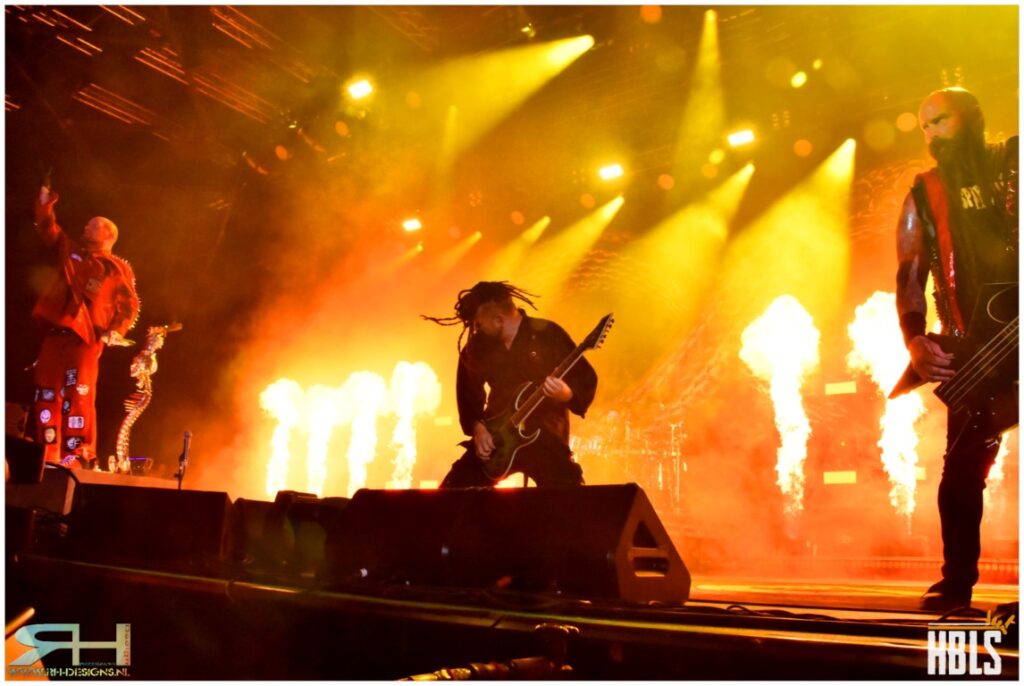 Frontman Ivan Moody knows how to immediately win the attention of the audience with his charismatic appearance and doesn't let it go until the show is over. Apart from his more than excellent singing skills, this is just a stunning entertainer. One that has an eye for his audience, as witnessed by the contact moments he had with fans in the front rows, whom he regularly provides with bottled water and sincerely asks if everything is okay with them. He has understood the art of interacting with all the people, from the front rows, all the way to the back that came to the show.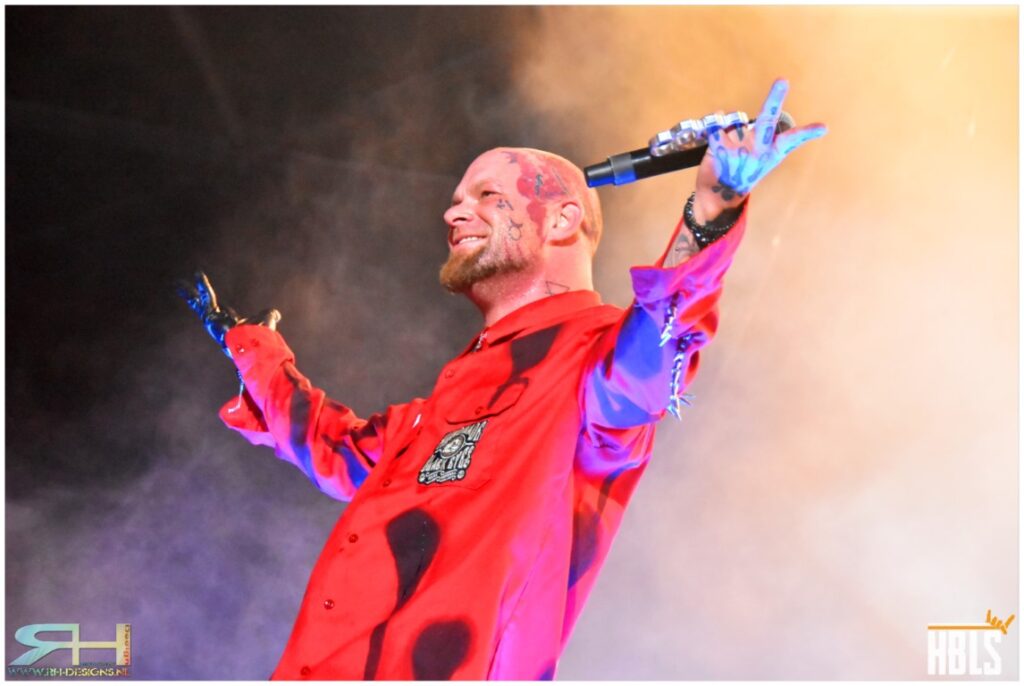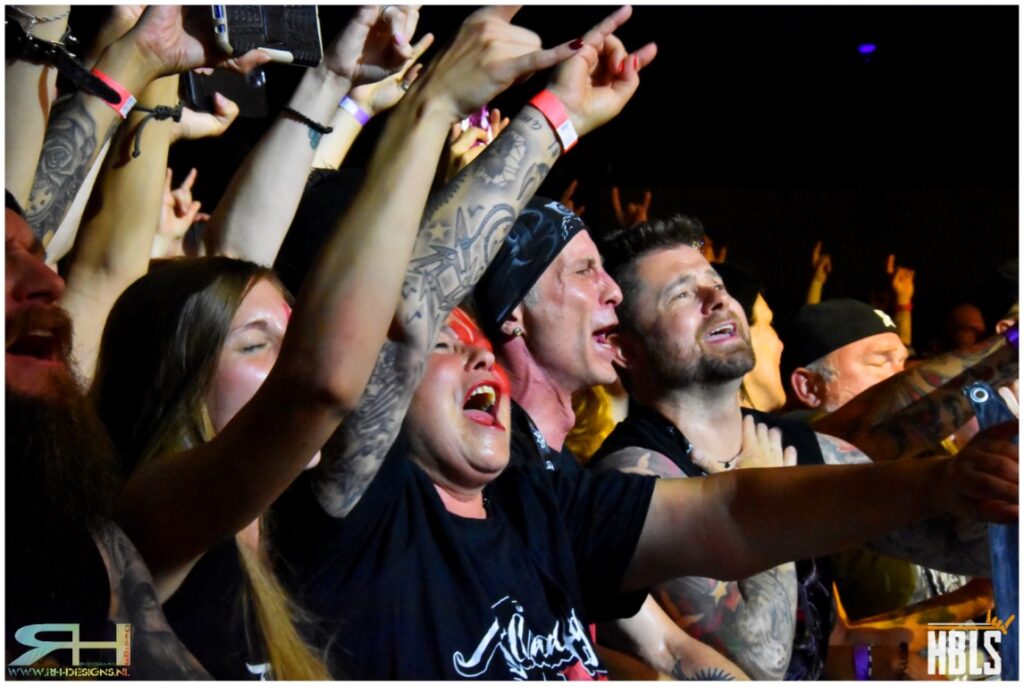 Musically this band is rock solid, the sound is great and visually the show is a feast for the eyes. Fan favorite songs like ,,Inside Out'', ,,Wash It All Away'' or ,,Wrong Side Of Heaven'' are loudly sung along by the fans word for word. 
Suddenly, much to the surprise of a young lady, who is filming the entire show with her phone in the front row, singer Ivan invites her on stage to take some selfies with him, exchange phone numbers with her and go live on his Instagram. Because if she does film everything, she might as well film the concerthall full of people from the stage. The footage is amazing! [Watch HERE] I can only imagine that this experience must have been amazing for her.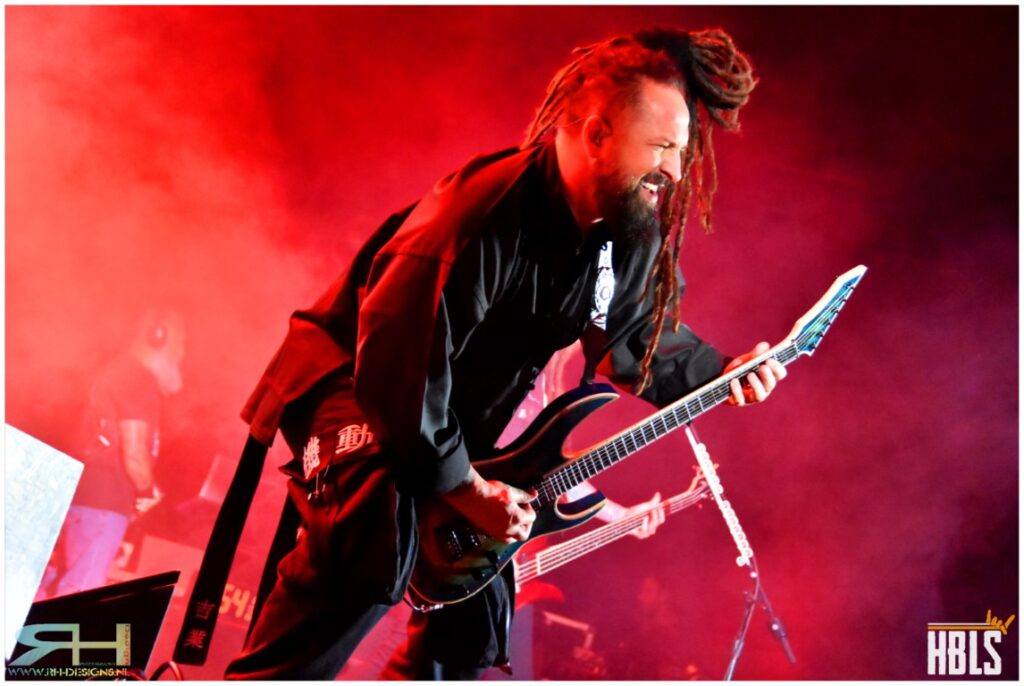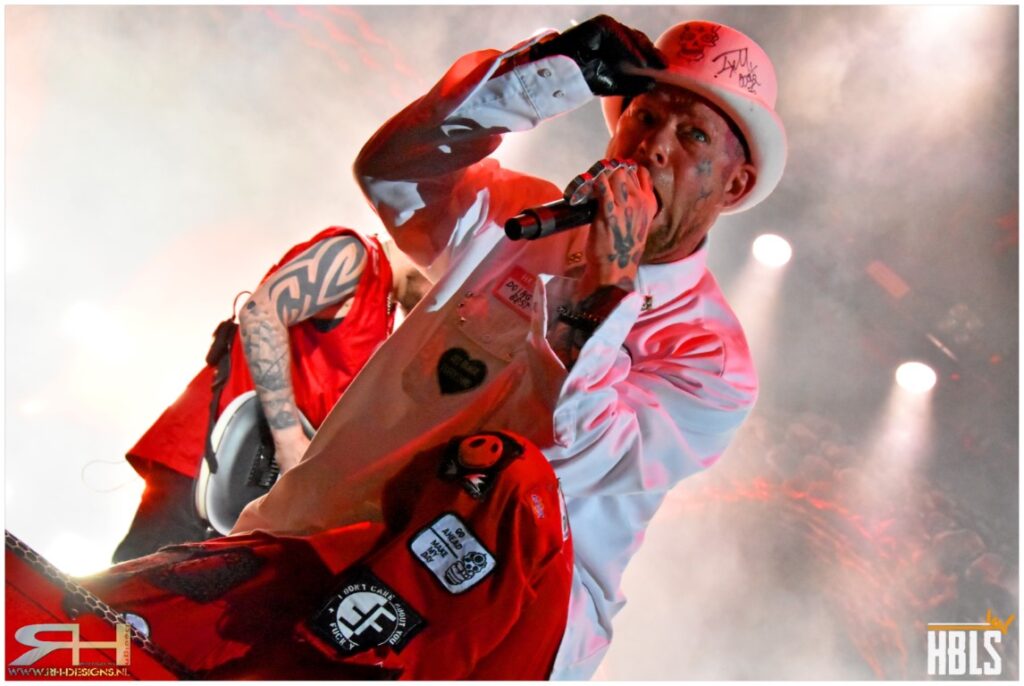 And if it wasn't already clear, Five Finger Death Punch knows how to turn a crowd upside down, with their show. In my opinion this is one of the newer generation rock bands that can take over the banners of the older guard, if they decide to call it a day. As far as I'm concerned, I already knew some of their music, but after seeing this show they certainly won my musical heart and gained another fan. I am convinced that I will most certainly not be the only one who will fall for their qualities during this European festival tour. I'm already looking forward to the next gig that I can attend!!!
SETLIST FIVE FINGER DEATH PUNCH
Inside Out
Trouble
Wash It All Away
Jekyll And Hyde
Sham Pain
Bad Company (Badcompany cover)
Lift Me Up
Far From Home
A Little Bit Off
Wrong Side Of Heaven
Burn MF
Coming Down
Welcome To The Circus
Under And Over It
The Bleeding
All photos by Raymond Helebrand