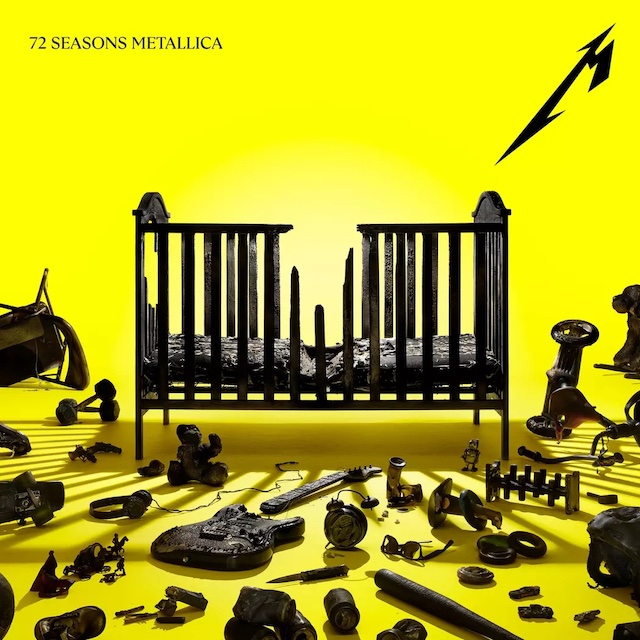 Review | Metallica – 72 Seasons
Blackened Recordings/Universal Music
Any new Metallica album dropping is a start of a decade long ongoing controversy. The biggest metal band to roam the earth is surrounded by opponents as well as fans, one embracing their new music while the other crushes anything from the Bay Area Thrashers. True, since the drop of their successful `Black Album', the band has gained gigantic following, but it is almost as if their break from the metal sub-culture is followed by hate rather than praise. Fact; since this breakthrough album, the band has established themselves at the top ranks without maintaining their metal-drive. Diverting more and more from their roots, distancing from classic gems like `Kill 'em All' and `Master of Puppets' the band since released albums with questionable contents and sound quality; I admit.
But still; this is METALLICA!
WHO AM I?
`72 Seasons' is bridging the story of mankind developing their nature towards their adulthood at 18. The seasons that impact on who you are and will be as benchmark for personality. Your do's and don'ts as blueprint for your life's path. Thus, the story bridges to the agony and personal challenges of anyone, especially James Hetfield, who makes this another emotionally charged record that cuts deep. His personal reflections and resonate through its lyrical content, packed with emotion-charged vocal delivery from Jaimz himself.
`72 Seasons' is the vehicle that carries the story, and this vehicle, no matter how one personally feels about it, is conveying the lyrics. Not always on par, but the drive and combustion are present, felt throughout. It is Hetfield who flexes his vocals around the songs and rounds up with personal introspection and reflection, scattering from his delivery.
THE WALL OF DEATH
Tons of breaks, classic progressive elements propelling, the music steers around steep cliffs, going up and down the mountains carving the sonic landscape. Reviving the classic era ,,Shadows Follow" combusts with drum and guitar interaction, strumming into a ponderous execution that stands pretty darn close with their ,,Master of Puppets" craggy propulsion. Breaks and hooks with James and Ulrich aligning in multiple tempo changes. It is classic, perhaps one of their best songs appealing to the old school fans. Those tracks are the ones that hold up firmly amidst the late era sound implemented.
Anger-laden growling and with tremendous poise, ,,Screaming Suicide" is crafted around typical Ulrich drum strums and snare fills, with a roaring throbbing bass underscore from Trujillo. The vibe is ,,Four Horsemen", but packed in a different modern parcel. Dominated by the same vigorous pace of riff and drum, the single ,,Lux Æterna" instantly warps you into the wall of death. Whirling with power and Hammett and Hetfield in fine form, the song bears the 'Big 4' mark. Kirk's solo full of notes and wah-wah stretched wails is benchmark.
THE RETURN OF THE CLASSIC GUITAR SOLO
,,Chasing Light" fuses the classic slow burning howl with urging strut and power, before firing up the old engines once again. Hetfield packs his vocal punch and makes it radiant all over. Bass and drum in line, it creates great dynamics for urging guitar riffs and Hammett's intricate wah-wah frequently taking the helm. It's also key in this concoction of power to see the return of the classic guitar solo and trade off duties between Hetfield and Hammett. Ominous welling guitar hooks pitch in the glooming ,,You must Burn!", creeping forward into drum dominated Metallica prowess. Hetfield's consoling roar at the end of the chorus is imposing wallow, with drums picking up its radiant scatter underneath riffs in jagged form. Wailing choir eludes towards the wonderful guitar melody pitching.
The agony radiates from ,,Crown of Barbed Wire", which is held up by great drum rolls and fills, with overly active cymbal usage. Yes, we complain a lot about his dominant presence, but luckily, he now takes the helm in a positive way, with his drums impelling and full of diversity. Also, the balance of production in regard to the drum sound is excellent. It's open and transparent, without the tin-can and barrel noise resonating. It is solid and powerful and provide a groove the riffs are keenly weld to. The breakdown of ,,Crown…" even holds a break and riff interaction reminiscent to the old days.
It is the drums positioning at the right point and Lars more than once opens with salvos like on ,,If Darkness had a Son", accumulating the loud ravishing poise needed to kick ass. The song wells with howling guitar licks and raw riffage, over great drum rolls and signature Ulrich breaks. Trujillo displays his insane skills with low growling chords and raw plunder.
METALLICA BETWEEN PAST AND PRESENT
The title track fuses between past and present. More distorted 'modern' guitars and scattering drums, before diving into a classic thrash riff evoking mosh pit madness. ,,Sleepwalk My Life Away" is far from numb in its performance. It radiates classic roar, meanwhile touching the modern distortion and reverb. They tip the balance modern, but it's songs like the last three that really stoke the listener. 'Safe the best for last', must be the band's new credo as they harken in more experimental directions. ,,Too Far Gone" is held up by great drum and riff interaction and roars with drum rolls while riffs intensify jagged and Hetfield belts his daunting "uh!" while roaring and moaning. Solos discharging and the countering sonics elude in the harmonized part, displaying Hetfield-Hammett's well-seasoned interplay.
Outdoing its predecessor ,,Room of Mirrors" opens progressive with its break and increases speed with Rob opening the throttle together with Lars. Reviving the old days, James wails while belting and almost poppy transparent register in scatting rapidness. It is the perfect pitch toward ,,Inamorata" that is the longest Metallica track to date. An ,,Am I Evil" pace kicks into action with echoing licks deployed atop its glooming strut. Hetfield moans and roars like in his prime when tempo shifts slightly. The bridge and chorus are instantly gripping, and augmenting going forward. "Misery, she kills me" roars Jaimz with sincerity hitting the gut as much as the low toned riffs deployed.
Kirk's solo jowls lamenting before the song breaks into a meandering bass-pulled section. Trujillo injects a colourful discharge of notes with Lars riding his crash before drums hammer the song back into action. Action that comes with an epic solo with constant trade off parts and fluent twins reverbing. It is by far the most intense guitar exploration in the history of Metallica, extremely rich in melody and with piercing harmonies. The track's breakdown is also a tremendous breakdown for the album, going out on helium-height.
METALLICA – THE CONCLUSION
Since `Load' the band was looking for direction, maintaining their stadium filling abilities. They crystalized, even though many were disappointed, a sound gradually finding path. `Death Magnetic' went back to square one partially, a conveyance rounded on `Hardwired… To Self-Destruct'. `72 Seasons' builds from these previous 'new-era' Metallica albums, but feels more generic and fluent in its overall deliverance. Hinting at the past, glances of the old thrash institute shine through constantly, without lacking the modern twist. Dominated by Metallica's benchmark ingredients, the album is a powerful statement to those peeing vinegar, gripping back at their elusive past and creating an album that sounds far more organic and cohesive that any of their later albums.
There's a ton of freshness, though the band maintains their frontrunner role and dominance. With ,,Inamorata" they delve onto new territory without dropping the band's specific tone. An 11-minute song that doesn't feel too long. Unfortunately, that is my only point-of-attention; some songs are stretched overly in typical Metallica fashion, where more focus pointy execution would likely be beneficial.
Yes: please let me have my moment…
One thing is 110% sure, `72Seasons' is unmistakably METALLICA firing on all cylinders again!
Release date: 14 April 2023