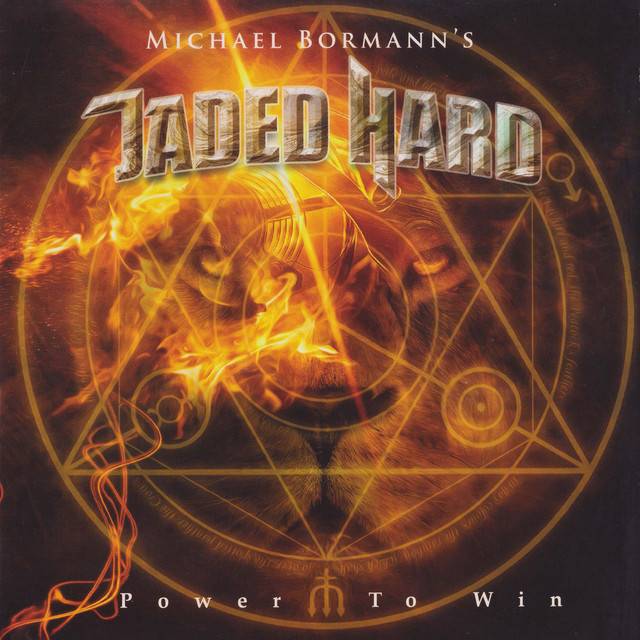 Review | Michael Bormann's Jaded Hard – Power to Win
RMB Records
If 2019's debut `Feels Like Yesterday' from Michael Bormann's Jaded Hard was a culmination of expectation based on its title, the new `Power to Win' album sets out to be a winner, correct?
At HBLS we reviewed the album concluding it was a unification of his past with Jaded Heart as well as a blend of modernity, stacking clichés on one another, but delivering an astounding and refreshing outcome. Fast forward almost 3 years, `Power to Win' summarizes the pretentions set by Bormann and his band, avalanching a winner of a record, that (again) is strongly rooted in his past.
LUSH MELODIC SONG-STRUCTURES
,,Nothing But A Photograph" stacks, and sticks. Indeed, it is cliché laden, but it breathes with the freshness of the previous album. Nice soloing and great melodies pull the song forward, with Bormann impressing. Little flat, but perfectly matching the song's appeal, he rocks out. Little dabs of modern keys and tones, align well with the lush melodic song-structures, continued throughout the album. Jaded Hard (still love the spin off to the initial band) soars onwards with action packed melodic hymns. ,,Our Sweet Lullaby" parades, ,,When I look in Your Eyes" struts and swings
The melodic oozing magnitude of ,,Heaven" is towering with Joe Elliott tone and soar mounted onto classic eighties melodies throughout. The chorus is ravishing melodic, ,,Hysteria" meeting Bon Jovi.
Turning the tables on ,,A Step away from Heaven", Bormann injects the Def Leppard lushness with Dokken reminiscent guitar sheds. And it works. Especially during the loud chorus and when the guitars double up on the harmony briefly. ,,Domino" opens with expectations firing high, delving into a louder and wilder melodic rock spectrum, without lacking the typical ingredients. It pumps, it pushes, and it rocks. Great bass vibe and drum interaction, build towards the nesting bridge and chorus that pack tremendous melody. Little clinical, but overall, very enjoyable, especially how the raining lick is fused onto the dabbing keys.
ENGLISH ROCK BRIGADE
,,Hysteria – Wrong and Right" opens modern and maintains this freshness. Though expecting the Lep reference, the song only refrains to the English rock Brigade with the repetitive and dense layered powerhouse chorus. Bormann switches between Elliott phrasing and his natural raw voice, making it highly enjoyable, yet recognizable. The title track reveals a louder approach and the riff and lick are excellent. Bormann drawing his typical vocal sound from his toes, with chords echoing towards the memorable bridge and chorus. Little thin and flat in production it reminds of the `Inside Out'. Gripping back to that era `Little White Lies' displays Bormann's typical vocal sound, reminiscent to Jon Bon Jovi's. The song is constructed around his voice and throbs with pulsating heartbeat.
,,When She's Good" goes over the top in the chorus. Too slick, too cliché-laden predictable.  Another track that flies this flag is the melodic rocker ,,We Must Stand Together (Duisburg United)", that is mega melodic and packs intensity. The song unites the Duisburg scene for a trade off in vocals and guitar solos and harmonies, addressing the situation in his hometown of musicians affected by the pandemic and decision making of townhall. It is an outcall but radiates a positive vibe, and even though it wasn't intended to be featured on the album, positive response made Bormann and his Jaded Hard decide to enclose it. A very good choice!
HEARTFELT BITTERNESS
Key feature of Bormann's wide array of bands where the extraordinary rock ballads he crafted. Again, Michael and his band nail it with the powerful semi-piano power ballad ,,Just Wanna Fall In Love", that wells with heartfelt bitterness and melodies swirling. `Power to Win' is a winner for the fans, though it won't draw in many others. It is passionate and the songs are well-constructed, cliché-laden and mega melodic, but the production misses a real kick and punch frequently. Like we previously stated, it doesn't necessarily bring a lot of new features to the plate, but Bormann and his men always deliver. Small adjustments enhance the songs, and the direction is very much what we expect from a Bormann album.
High quality, A-graded melodic tunes, executed with good riddance.
Release date: 28 October 2022