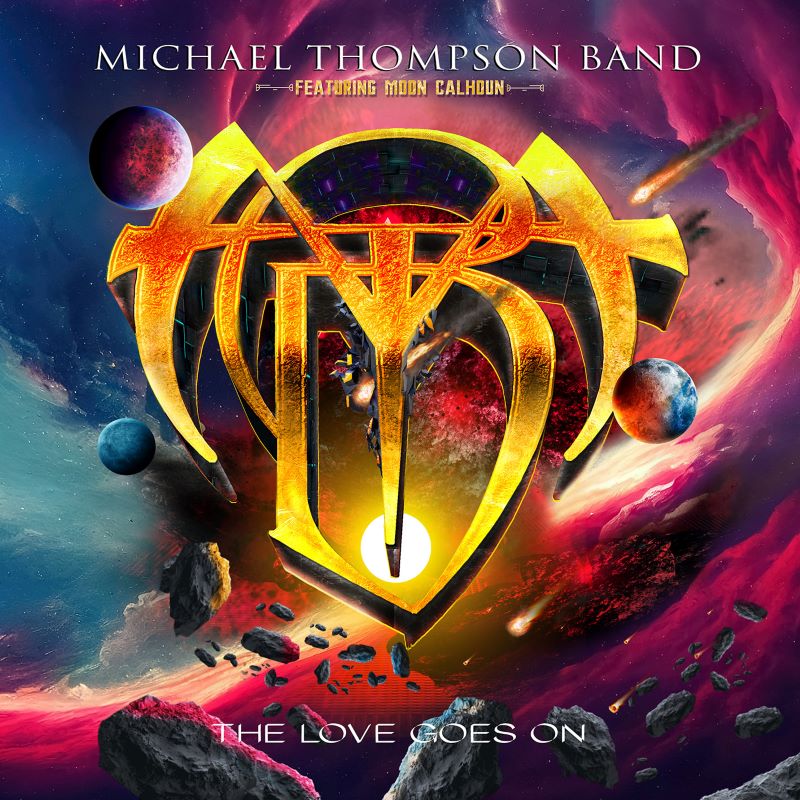 Review | Michael Thompson Band – The Love Goes On
Frontiers Music srl
Pure AOR/West Coast rock bands are not so easy to find these days but Frontiers Records always manages to find some like for instance Generation Radio and of course the Michael Thompson Band.
TOP FIVE SONGS
If you would ask me which are my top five AOR songs one of them would be ,,Give Love A Chance'', originally recorded by Michael Thompson Band in 1989 on the album 'How Long'. He used a singer called Richard 'Moon' Calhoun for this album, a man with the perfect voice for the smooth AOR songs. After two solo-albums and numerous amounts of session work for big artists like for instance Celine Dion, Richard Marx, Bryan Adams, Seal and Shania Twain he started up the Michael Thompson Band again and released the albums 'Future Past' (2012), 'Love And Beyond' (2019) and 'High Times – Live In Italy' (2020) using the services of vocalist Larry King (Soleil Moon), singer Mark Spiro and bass player/singer Larry Antonino (Unruly Child). All these mentioned albums are absolute must have records for anyone who calls him or herself an AOR-fan.
RETURN OF MOON CALHOUN
Some 34 years after that epic 'How Long' album vocalist Moon Calhoun makes a triumphant return to the line-up, although the word 'triumphant' might not be the right word to describe the situation. Calhoun has had a turbulent life and suffered a severe accident on his push bike, breaking his neck, confining him to a wheelchair. But with an iron will he managed to make the best of his situation and here he is singing again, just as good as he did all those years ago. He wrote all the songs on 'The Love Goes On' together with Michael Thompson and bass player Tom Croucier with drummer Annias Aliaf completing the latest line-up of the Michael Thompson Band. It is great to hear Richard 'Moon' Calhoun again although I must say that previous singers Larry King and Larry Antonino also did outstanding work.
TOUCHING MOMENT
Calhoun has written some lyrics that have given me goose bumps. The last song of the album is called ,,Wheelchair'' and here he sings about what has happened to him. Especially the phrase 'I'll be travelling at the speed of light when I leave this wheelchair' is truly a touching moment. Singing again with his brothers has given him new courage. This is truly an autobiographical lyric that goes deeper than deep. ,,My Forever June'' is another personal moment as Calhoun sings about his wife June who passed on. The solo in this song is superb. Have a listen and think about what this man must have gone through in his personal life. Here he is again, doing what he does best.
SMOOTH
All sentiments set aside 'The Love Goes On' is a typical Michael Thompson Band album, filled with smooth yet rocking AOR-songs and so much gorgeous guitar work by the master. Starting with the title track this band just oozes through the music with ease, class, and style. Some of the vocal arrangements are absolutely breath taking. Yes, it is a bit on the soft side perhaps but this is AOR and West Coast rock the way it is supposed to be and nobody does it better than Michael Thompson. I know that his work tempo is not that high but after hearing this pure and super honest album I can only hope that this time Thompson and his crew up their pace a bit more and that a new studio-album does not take another four years. Masterful and highly recommended if you are into this genre.
Release date: 12 May 2023