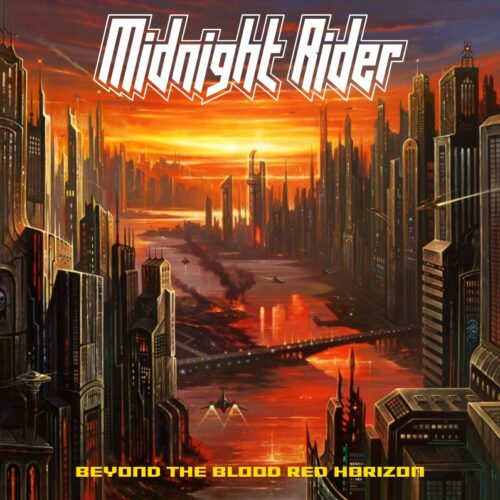 Review | Midnight Rider – Beyond The Blood Red Horizon
Massacre Records
This quartet comes from the German city of Koblenz and started out in 2004. You would expect that in the last 18 years Midnight Rider would have produced a bunch of albums but except for an EP in 2008 and their first album 'Manifestation' in 2017 the band that was founded by guitarist Blumi has only these two releases on their CV. Singer Wayne and bass player Cliff joined after a few years while the latest recruit Tim (drums) arrived somewhere in 2016. Their musical influences are far from modern. This band likes the sound of the seventies, early Priest and Budgie to be more specific.
ANALOGUE RECORDINGS
In order to get as close to that old fashioned seventies sound as possible Midnight Rider have used some old tricks and recording techniques. While these days everything is digital and done with computers these boys have gone via the good old analogue way to put their songs on to tape. I must say that 'Beyond The Blood Red Horizon' certainly has a certain charm. This band really takes you back to those old days, not only in sound but also in song structures and even the singing of our friend Wayne has got these old-fashioned 'desperate' features.
AGELESS
Although the tempo of the whole album is practically the same (all mid-tempo) it certainly does not sound boring. It might be the case that not a whole army of fans will be able to relate to Midnight Rider but if you are a fan of this ageless kind of music, I suppose you should check it out. It would have been beneficiary to the album if Midnight Rider would have recorded a few more songs in the vein of ,,Always Marching On'', that is by far the heaviest and fastest album track.
OUTDATED
Modern day rock fans will most likely say that Midnight Rider sounds too outdated, but although they have a point, there is also room for bands like these who bring something to the table that is far from modern but it has that typical heart and rock soul feeling that a lot of bands never have heard of. So, to put it out there: Midnight Rider has captured a certain something on this record, a certain something that has luckily not been forgotten about. If you dig these old seventies simple yet effective sounds you might find that Midnight Rider could be the band for you.
Release date: 7 October 2022