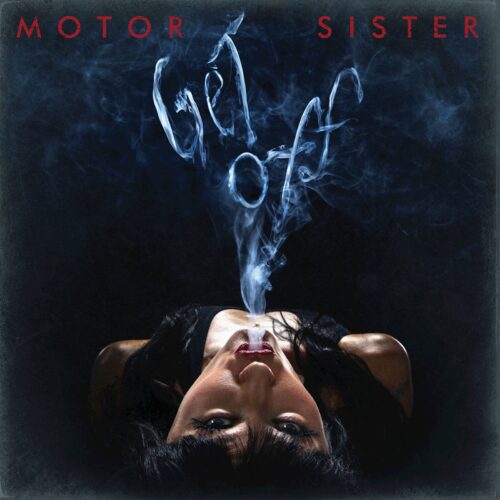 Review | Motor Sister – Get Off
Metal Blade Records
In 2015 this outfit with some big names in the line-up recorded the album 'Ride', a record filled with covers from the band Mother Superior. Guitarist/singer Jim Wilson of Mother Superior started this group together with Joey Vera (bass-Armored Saint, drummer John Tempesta (The Cult), guitarist Scott Ian (Anthrax) and singer Pearl Aday, who is married to Scott Ian, member of the band Pearl and the adopted daughter of the one and only Marvin Lee Aday, also known as Meat Loaf who died a few months ago. Their first gig was a birthday party show for Scott Ian when he became 50 and soon after Metal Blade offered them a deal. They decided to rework a bunch of old Mother Superior songs.
HIATUS
After that Motor Sister went on some sort of hiatus, every now and then taking the stage when possible. There were plans to do more, but all members had their own band careers as well. And when they finally found the time and wrote the songs something like Covid-19 struck while they had just finished drums, bass and most of the guitar parts, forcing a time-out that lasted almost a year before they could resume and finish the album with (again) Jay Ruston (Anthrax) overseeing the production site of things.
ROCK AND ROLL
'Get Off' has only one old Mother Superior re-recording this time, the rest is all self-penned material by the members. The two openers ,,Can't Get High Enough'' and ,,Coming For You'' set the tone for a fierce and reasonably brutal heavy metal rock and roll album with extremely loud guitars, pounding drums and a no-nonsense attitude you can feel throughout the whole album. The voices of Pearl Aday and Jim Wilson are complimentary to each other and as always Scott Ian is the perfect rhythm guitarist laying down some kick as riffs. Pearl has a very aggressive voice that really does the songs justice. Tempesta and Vera provide swing, power and drive.
FORMULA
The musical formula of this band is actually quite simple. Metal with attitude, at times with a slight punky touch. 'The world is going to fucking hell and we are making rock and roll' is the start line for ,,Right Here, Just Like That'', another scorcher that gives you a good rumble and tumble. As the album progresses Motor Jesus does tone down it a bit (,,Sooner Or Later'') and shows a different, more melodic site of itself while ,,Time's Up'' is a song that is meant as a tribute to Kiss. To cut a long story short: Motor Sister play their music in overdrive but also at moments where they are not going full speed ahead, they have something to offer. Simplicity can have its advantages and 'Get Off' might be a perfect example.
Release date: 6 May 2022